Amazon Studios head Jennifer Salke looks to grow streamer's movie business after years of struggles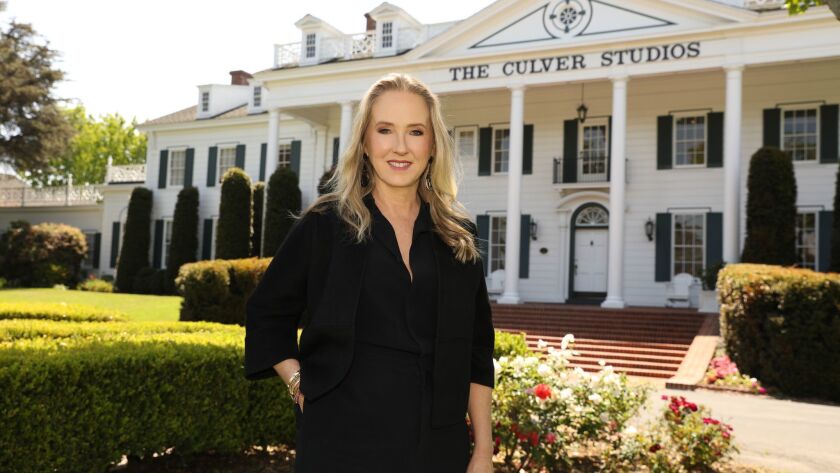 Amazon Studios head Jennifer Salke had just returned to her Beverly Hills home from the Sundance Film Festival, commiserating with her black poodle mix after losing a hard-fought bidding war for the feel-good drama "Brittany Runs a Marathon."
But then she got a surprise text from an agent showing a photo of the film's screenwriter, Paul Downs Colaizzo, lying facedown on the floor, despondent because he wanted to work with Amazon.
Salke quickly texted back with a selfie of her and her dog lying on the floor. Soon after, they made a deal for Amazon to pay an estimated $14 million for the worldwide rights to release the movie produced by Tobey Maguire.
"I jumped for joy," Salke told The Times. "Tears were shed. It's such a special movie."
The courtship of "Brittany" is just one example of how Salke — a year into her tenure at Amazon after leaving her job running NBC Entertainment — is trying to turn the e-commerce giant Amazon.com into a formidable force in the movie business after years of struggles. Amazon wants exciting movies and television shows to help drive subscribers to its Amazon Prime service, which gets users free two-day shipping on online goods as well as access to its streaming service.
Under Salke, Amazon's strategy in both TV and film is to expand beyond art-house fare into more broadly appealing movies and shows, and to carefully populate the service with more material that attracts international audiences. Salke's aim is to attract producers, directors and writers who want to make both television shows and movies — and who are interested in different ways of releasing films, whether a traditional theatrical release, or a straight-to-streaming rollout.
"The whole thing should be a unified home for talent," said Salke, 54. "You have a wide variety of taste and ambition with these creators."
Amazon's track record in film has been mixed so far. Under the prior regime run by Roy Price and film head Jason Ropell, Amazon had some early successes such as Oscar winner "Manchester by the Sea" and indie comedy hit "The Big Sick." However, recent efforts, such as horror remake "Suspiria" and "Beautiful Boy," struggled to attract audiences. Dan Fogelman's "Life Itself," acquired by Ropell after Price's ouster, was a major flop.
Meanwhile, streaming rival Netflix has quickly spent its way to dominance in the streaming-video business, with 139 million paid subscribers (Amazon doesn't say how many people watch Prime Video, but the audience is believed to be much smaller). Netflix is up for 15 Oscars this month, including 10 for Alfonso Cuaron's best picture front runner "Roma." Amazon has three nominations this year for the acclaimed Polish historical drama "Cold War."
Amazon, run by the world's richest man, Jeff Bezos, hasn't been willing to outspend Netflix on content. Los Gatos, Calif.-based Netflix spent up to $15 billion on programming in 2018, according to estimates, far more than the roughly $4.5 billion that Seattle-based Amazon was predicted to spend. And competition for talent is intensifying as Walt Disney Co. and WarnerMedia owner AT&T Inc. prepare to launch their own streaming platforms later this year.
But Amazon's aggressive moves at Sundance sent a message that the company is not to be counted out. Amazon acquired five movies, spending an eye-catching $46 million on films at the festival. Amazon acquired Mindy Kaling's workplace comedy "Late Night" ($13 million for U.S. rights) and the documentary "One Child Nation," about China's one-child policy. Amazon also bought the drama "Honey Boy," written by and starring Shia LaBeouf, and "The Report," a thriller featuring Adam Driver, Annette Bening and Jon Hamm. By comparison, Amazon didn't buy any movies at Sundance last year.
Attendees took notice.
"What you saw was a group that had a clear strategy," said film and television producer Joe Pichirallo, who teaches film at New York University's Tisch School of the Arts, and attended Sundance. "They clearly knew what they wanted to do, and they went out and got it, and it was impressive."
Amazon has 10 films slated for 2019, compared with eight last year. The studio has high hopes for Mike Leigh-directed "Peterloo," set for release in April, and "The Aeronauts," starring Eddie Redmayne and Felicity Jones as two hot-air balloonists.
The Hollywood push is part of a major expansion of Amazon in Los Angeles, which occupies the historic Culver Studios. One of its white bungalows houses Nicole Kidman's production company. In the backdrop is a massive construction project to turn Culver Studios into a 280,000-square-foot campus housing Amazon divisions such as TV production, audiobooks unit Audible and IMDb. The full campus is expected to be completed by mid-2020.
The mood on the lot is strikingly different from a year ago when Price was ousted after facing allegations of sexual harassment in the wake of the Harvey Weinstein scandal. Ropell also left. The studio was hobbled by low morale and confusion over the direction of the company.
The first priority for Salke was to fix the unit's culture. Though she came to Amazon with no experience in film, Salke is known in Hollywood as a gregarious leader with strong relationships with talent and good taste. At NBC, she oversaw hits including "This Is Us" and "The Good Place." Earlier in her job at Fox's TV studio, she shepherded shows including ABC's "Modern Family" and Fox's "Glee."
"When I came in, there was a lot of mistrust in the ranks, a lot of dysfunctional leadership," Salke said. "The happiness and job satisfaction level was very low, and that was concerning to me. I set a very clear model for how I want people to behave."
The revamp started with Amazon's television arm, which has received substantial attention for "The Marvelous Mrs. Maisel" and "Transparent," but had largely catered to niche audiences.
Salke has expanded the business with production deals with the likes of Jordan Peele, Michael B. Jordan and Reed Morano. In its biggest salvo, Amazon paid $250 million for the TV rights to the "Lord of the Rings" franchise. The company has been tight-lipped about the series, which is expected to be a prequel set in Middle-earth, but Salke said at the recent Television Critics Assn. conference in Pasadena that the writers are "making great progress."
Also at TCA, Amazon announced an ambitious lineup of 17 new shows, mostly made up of international productions. The upcoming projects include a British series adaptation of the feminist sci-fi novel "The Power" and a Mexican crime thriller based on the 2015 FIFA corruption scandal.
Salke in September promoted Julie Rapaport to oversee more commercial, mid-budget films aimed at wider audiences. Indie film production veteran Ted Hope, who joined in 2015, remains in charge of prestige films for Amazon. Rapaport and Hope are co-heads of movies at Amazon Studios, along with co-head Matt Newman, who oversees day-to-day operations and strategy for films, including release plans.
The overhaul has not been without complications. Woody Allen recently sued Amazon for $68 million for breach of contract, alleging the company wrongly pulled out of a film deal after renewed allegations against him of sexual abuse, which Allen has denied. Amazon declined to comment on the lawsuit.
One of Amazon's selling points for filmmakers is its willingness to give its movies a traditional wide theatrical release. Amazon has typically given movies exclusive windows between their release in cinemas and availability on its Amazon Prime video-streaming service. In contrast, Netflix until recently put its movies on its service simultaneously with theaters.
Amazon is becoming more flexible in its model, recently signing a deal for Jason Blum's Blumhouse Television to make eight thrillers to go straight to streaming. Blossom Films, the production company founded by Kidman and Per Saari, is also expected to make movies targeted to the streaming audience, with an eye toward dishy movies to watch late at night.
"[Kidman] was like, 'Where are the sexy movies like for a Saturday night, like "No Way Out" and "Cruel Intentions"?' " Salke said, recalling their meeting about the deal.
Kaling said she was won over by Amazon's film strategy and the enthusiasm Salke showed for "Late Night," which stars Kaling and Emma Thompson. The "Office" star said she was impressed by Amazon's ambitious plan to give the film a full-on theatrical run before putting it on the Prime streaming service.
"I felt Jen really went out of the way to let me know her personal connection to the film," Kaling said. "I loved the kind of confidence she had."
Salke said it's important for filmmakers to know they can trust their projects are in the right hands with Amazon.
"You're not talking about a widget," Salke said. "It's such an emotional jacked-up thing for them. … It's about how we feel about the movie and how we can protect it."
---
From the Emmys to the Oscars.
Get our revamped Envelope newsletter, sent twice a week, for exclusive awards season coverage, behind-the-scenes insights and columnist Glenn Whipp's commentary.
You may occasionally receive promotional content from the Los Angeles Times.