For the anime industry, the streaming revolution is both a blessing and a curse
A dedicated anime fan, Josh Mayer of San Jose enjoys watching some of his favorite series on the streaming services CrunchyRoll and Hulu because of the wide selection of Japanese cartoons that both platforms provide.
Among his favorite titles is "My Hero Academia," a superhero series about a shy middle-school boy who dreams of one day possessing a Quirk, a genetic twist that gives extraordinary powers.
His friends, who are in their twenties and are joining him for the annual Anime Expo running at the Los Angeles Convention Center through Tuesday, said they enjoy watching other titles that are only available on competing services. "Scum's Wish," a series about unrequited high school love, is available for streaming exclusively on Amazon, while "Little Witch Academia" is only on Netflix.
"In the end, none of them has everything," said Alonzo Zavala of Concord, Calif.
Anime devotees have more content than ever at their fingertips thanks to the abundance of digital streaming options that make thousands of series and movies from Japan accessible with the click of a remote or tap of a game controller.
But the streaming revolution isn't necessarily good news for anime consumers, who face an increasingly fragmented set of choices, or for domestic distributors that specialize in the genre. With competition for streaming dollars heating up, the anime industry is dealing with rapid change as Netflix and Amazon muscle their way into the once niche market.
The two giants are stepping up their anime game in significant ways. Amazon launched its own subscription service, Anime Strike, earlier this year, while Netflix is starting to produce its own original anime content.
"It's gotten more competitive," said Lisa Holme, vice president of content acquisitions at Hulu. "There are more folks at the table in terms of licensing the best anime series."
Hulu, which is based in Santa Monica, has long been a major player in the field, outpacing its larger competitors by offering an extensive library of anime series that it licenses from smaller, U.S.-based distributors.
There are more folks at the table in terms of licensing the best anime series.
— Lisa Holme, vice president of content acquisitions at Hulu
As they play catch-up, Amazon and Netflix are betting that their market clout will enable them to cut out the middleman and negotiate their own deals with Japanese producers, according to industry insiders.
An Amazon spokeswoman said it licenses anime content directly from Japan and from U.S. companies. She declined to say if Amazon plans on producing original anime shows. Netflix declined to comment.
Their growing presence has created uncertainty for smaller, domestic distributors that have long dominated the space.
"What has become challenging for us is acquiring content from Japan," said Brian Ige, vice president of animation at Viz Media, a San Francisco-based anime distributor. "Now these major players are going directly to Japan. Netflix and Amazon are doing deals. That has been increasingly difficult for us."
Small distributors still have an advantage over these goliaths when it comes to other areas of the American anime market, especially the lucrative field of merchandising. Viz partners with local manufacturers to create anime-themed toys, snacks and other consumer products.
The streaming giants "are looking to gain subscribers. We're a brand-building company," he said.
For fans, the plethora of streaming options can create a headache since services frequently negotiate exclusive deals for the most popular shows, resulting in a highly segmented market.
"Normally, competition is good for consumers," said Christopher Macdonald, publisher and CEO of the Anime News Network, an industry news site. But anime buffs — many of whom are young with limited disposable income — are now forced to make hard choices or shell out more money in order to catch all of their favorite titles.
"The loser is the consumer, unfortunately."
It's a phenomenon that also affects the general viewing population as more Americans cut the cord to save money on hefty cable bills, only to face mounting monthly charges as they shop for streaming alternatives a la carte.
Anime fans can take advantage of a handful of free, ad-supported streaming services, but Netflix and Amazon don't provide free options.
Distributors that once held a lock on the domestic anime market are trying to figure out how to compete in a more crowded landscape.
One way is by joining forces. Two former competitors — CrunchyRoll and Funimation — embarked last year on a distribution partnership in which their streaming subscribers will have access to shows from both services. The former specializes in subtitled shows while the latter focuses on dubbed content.
The unusual deal is seen by industry experts as a sign that anime distributors won't be able to survive alone against Amazon and Netflix.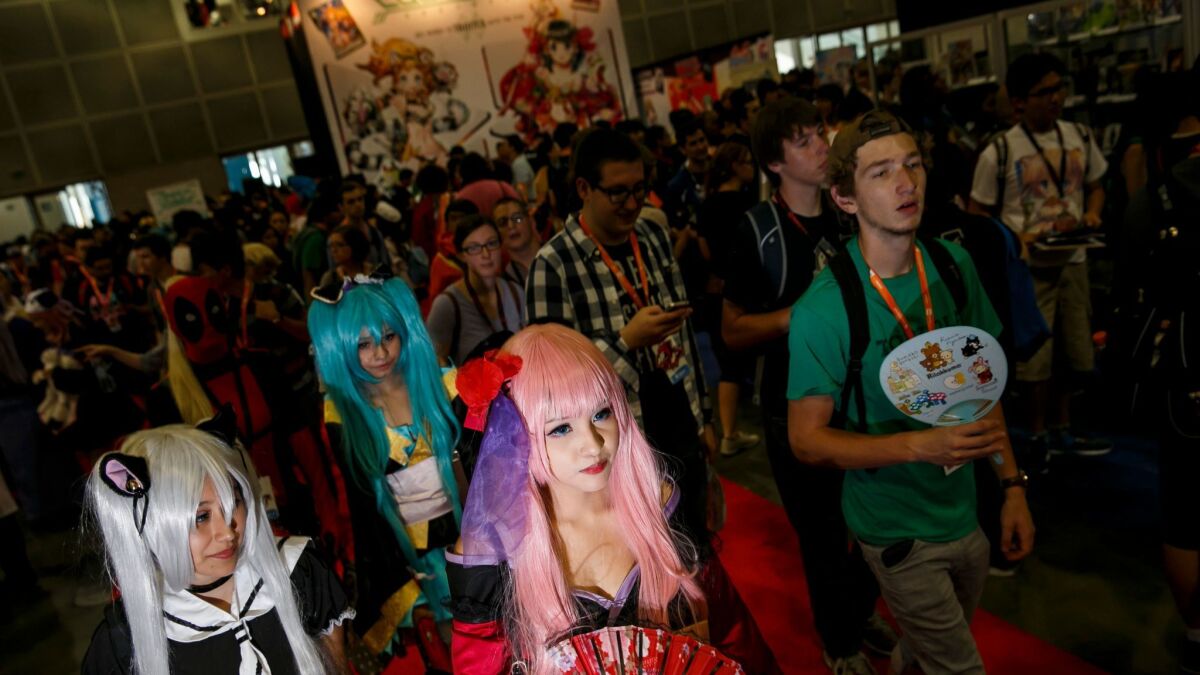 CrunchyRoll, based in San Francisco, is the most popular dedicated anime streaming service in the U.S., according to a 2016 ranking by Parks Associates, a market research firm. The platform even ranks in the top 10 overall subscription services, just below HBO Now and ahead of Showtime.
"There's no question that consumption is changing," said Colin Decker, chief operating officer at CrunchyRoll. The company differentiates itself by building online fan communities and hosting its own anime convention — initiatives that bigger streaming companies don't do.
"They don't wake up in the morning asking, how do I be everything to an anime fan? It's an expertise. It's a commitment to the community."
Netflix is also causing anxiety for home video distribution, which is still an important market segment in the anime industry. Netflix negotiates anime streaming windows for up to two years, which can prevent distributors that hold the DVD and Blu-ray rights from releasing the titles during peak fan interest.
"It creates a negative effect downstream," said Kelly Fay, senior marketing manager at Sentai Filmworks, a U.S. anime distributor that licenses titles to streaming services like Amazon and puts out DVDs and Blu-rays.
Amazon is attempting to attract more fans by rolling out download capabilities for Anime Strike that would allow subscribers to view content off-line. CrunchyRoll currently doesn't offer this functionality.
The often overwhelming array of choices has created a siloing effect for customers, with their favorite shows hidden behind multiple paywalls. CrunchyRoll costs $6.95 per month for premium access while a Funimation subscription is $5.99 per month. Anime Strike will set you back $5 per month but requires an Amazon Prime membership, which costs $99 a year. Daisuki, another popular service, charges $5 per month.
This has driven many fans to piracy and torrent sites, which they use as a centralized place that meets all of their anime needs. Companies like Funimation have sought to shut down these illegal sites, but they remain popular among fans.
As the fight for subscribers continues to escalate, anime companies are trying to reduce the window of time between a title's release in Japan and the rest of the world. "Simulcasts" on CrunchyRoll and other anime services currently allow U.S. viewers access to subtitled shows within hours of their initial release.
But Netflix and Amazon once again have the competitive advantage with their ability to release entire seasons simultaneously across multiple territories. One of Netflix's most eagerly awaited anime titles is "B: The Beginning," an original series it is producing with Production I.G., the Japanese studio behind the popular "Ghost in the Shell" franchise.
The new series, about a group of scientists who create a race of "new humans," is scheduled to be released next year in 190 countries.
MORE FROM COMPANY TOWN
SAG-AFTRA negotiations are extended as contact deadline passes
White House threatened Joe Scarborough and Mika Brzezinski with a National Enquirer story, the two allege
Inside the business of entertainment
The Wide Shot brings you news, analysis and insights on everything from streaming wars to production — and what it all means for the future.
You may occasionally receive promotional content from the Los Angeles Times.