Disney's Bob Iger criticizes gun violence in wake of Las Vegas shooting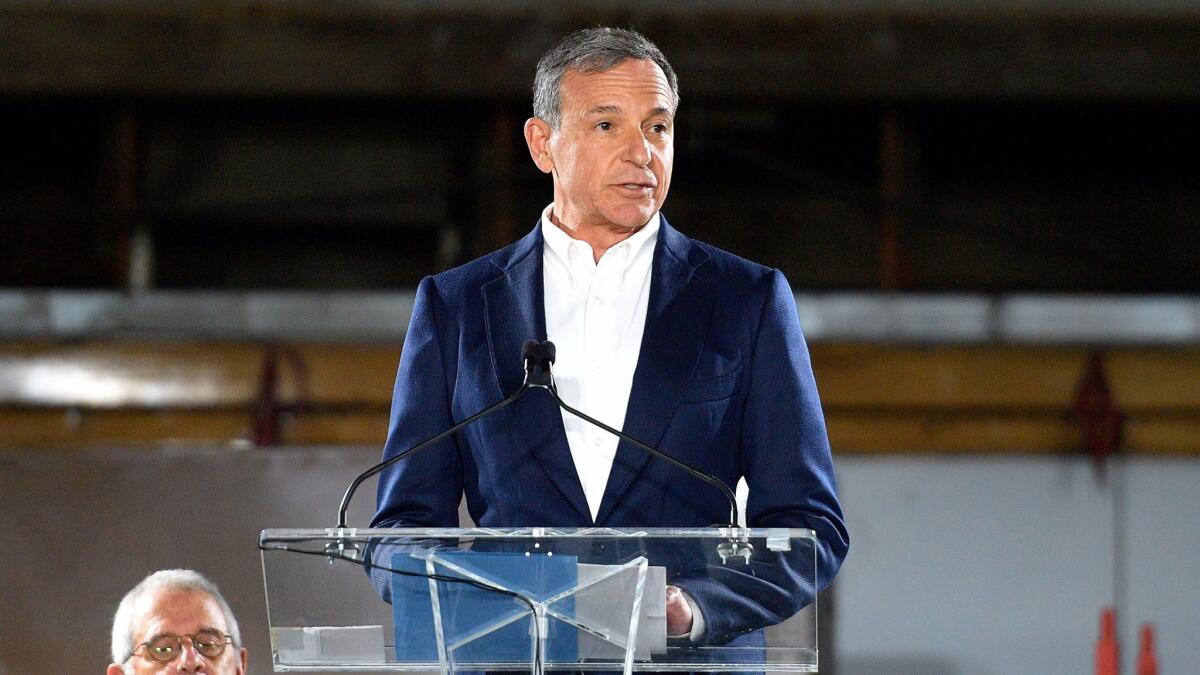 Walt Disney Co. Chief Executive Bob Iger took the unusual step of wading into political waters after the Las Vegas gun massacre that killed at least 59 people and left more than 500 injured.
The chief of the Burbank entertainment giant, speaking Tuesday at Vanity Fair's new establishment summit in Beverly Hills, said Disney executives spent the bulk of Monday sorting out which of its many employees were in Las Vegas over the weekend, and who might have been in harm's way. About 70 employees were in Vegas, with many of them attending the country music concert that the shooter targeted. One Disney employee was killed and a handful were injured.
America must face its problem with gun violence, he said, citing the long list of mass shootings in the United States, including the 2012 Sandy Hook school shooting in Newtown, Conn., and last year's Pulse nightclub shooting in Orlando, Fla. Those shootings prompted little in the way of legislation.
Where is the outrage here? This is a huge crisis for our country. We should demand a dialogue about this from our politicians.
— Disney Chief executive Bob Iger on strengthening gun control
"These are incidents that touch everybody," Iger said. "Where is the outrage here? This is a huge crisis for our country. We should demand a dialogue about this from our politicians."
Iger also talked business, saying Disney did consider buying the social media platform Twitter last year, but ended up acquiring Bamtech instead. The company plans to use the platform, which will be renamed, to launch an ESPN-branded streaming service next year and a Disney entertainment platform in 2019. Disney movies will be fed to the new service after their runs in theaters.
Vanity Fair staff writer Nick Bilton tried to coax Iger into a discussion about President Trump, but Iger just smiled. Iger resigned from Trump's panel of corporate leaders earlier this year after the president announced that he was withdrawing the United States from the Paris climate accord. Bilton said it took a while before Trump weighed in on sports, which just happens to be one of Disney's largest businesses.
"I don't think Donald Trump touched sports — I think sports touched Donald Trump," Iger said, noting that sports is a huge component of American pop culture.
Disney's sports juggernaut has been accused of being too political this year, as conservative fans simmer over ESPN's coverage of NFL players kneeling during the national anthem. Iger said he stands for the national anthem and would prefer that others do as well, but that people have a 1st Amendment right to express themselves.
ESPN faced an even bigger backlash after it refused to fire analyst Jemele Hill — despite calls from the White House to do so — after she accused Trump of being a white supremacist on Twitter.
Iger said that he personally got involved in the decision about whether to discipline Hill for her comments. (She later apologized for her remark, saying she was expressing her "personal beliefs," and for putting ESPN in a difficult spot). Iger said Disney has policies barring employees from making statements that reflect poorly on the company.
Jemele Hill is an ESPN employee and she can't separate herself from that when she speaks publicly.
— Iger
"Jemele Hill is an ESPN employee and she can't separate herself from that when she speaks publicly," Iger said. But the company stopped short of reprimanding her.
"We had to take context into account," Iger said. He noted that following the racial clashes in Virginia, many people within ESPN were upset, particularly African Americans, feeling that they have not been afforded the same constitutional protections as white people.
"I have not experienced prejudice, and certainly not racism," Iger said, adding that some employees were expressing their feelings about experiencing racism.
"We have to take into account what we are seeing in society and how people are feeling," Iger said.
Iger said he plans to retire from Disney in 2019. "This time I mean it," he said. Many people suspect he might be looking for a post-Disney career in politics.
Bilton asked the audience at the Wallis Annenberg Center for the Performing Arts if they would support an Iger campaign. The crowd applauded.
"That sounds tepid — so maybe that's a sign," Iger said. "And my wife is out there somewhere and I can guarantee that she's not cheering. … I will figure it out when I have to figure it out."
Twitter: @MegJamesLAT
Inside the business of entertainment
The Wide Shot brings you news, analysis and insights on everything from streaming wars to production — and what it all means for the future.
You may occasionally receive promotional content from the Los Angeles Times.