Can Sony's 'Men in Black: International' avoid summer Hollywood franchise problems?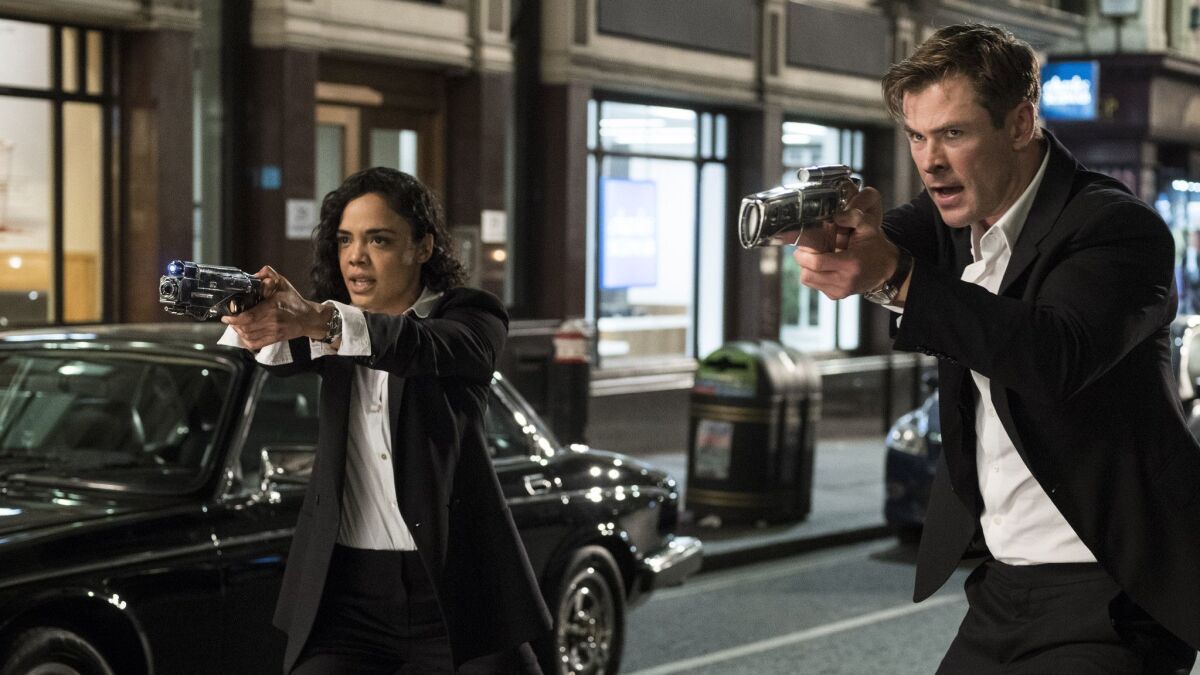 The summer box office has not been kind to Hollywood sequels in recent weeks. For every success like "John Wick: Chapter 3 — Parabellum," there have been disappointments such as "Godzilla: King of the Monsters" and "Dark Phoenix."
Enter Sony Pictures' "Men in Black," the latest Hollywood franchise to test its durability at the box office at a time when studios are banking on their ability to remix familiar intellectual property in ways that draw people to the multiplex.

For the record:
1:50 p.m. June 17, 2019This article says the film "Men in Black: International" was co-financed by Miami-based Hemisphere Media. It was co-financed by a different entity, Los Angeles-based Hemisphere Media Capital.
The Culver City studio's "Men in Black: International" attempts to inject new life into the 22-year-old series with a fresh cast of alien-snooping secret agents, replacing stalwarts Will Smith and Tommy Lee Jones with Tessa Thompson and Chris Hemsworth. With the fourth "MIB" film, the studio set out to attract a younger, more international audience, while also reducing production costs.
Will the gamble work? Here are the factors at play.
Low costs
The PG-13-rated "Men in Black: International," which hits North American theaters Thursday evening, is expected to collect about $30 million in the U.S. and Canada through Sunday, according to people who have reviewed pre-release audience surveys.
That would be the lowest opening yet for the series that began with 1997's sci-fi comedy hit "Men in Black," which introduced audiences to the concept of a secret organization of government operatives "protecting the Earth from the scum of the universe." The first movie opened with $51 million and ended up with $250 million in domestic grosses (more than $490 million in today's ticket prices, according to Box Office Mojo).
For the latest installment, Sony wagered on the chemistry of Thompson and Hemsworth, who had a big win with Marvel Studios' "Thor: Ragnarok" in 2017. It waged a marketing campaign that included clever ads during the NBA finals, featuring hoops stars as aliens in disguise.
Sony also limited its financial burden by co-financing the film with Chinese tech giant Tencent and Miami-based Hemisphere Media. The estimated $110-million production budget for "Men in Black: International" is less than half that of 2012's "MIB 3," which cost $225 million to make.
However, mostly poor reviews could hinder "Men in Black's" performance. The movie also faces heavy competition, including Warner Bros.'s new reboot of "Shaft" with Samuel L. Jackson, which is poised to open with roughly $15 million this weekend.
Sequel overload
Then there's the fact that "Men in Black" is entering a box office market that has not been kind to sequels.
Last weekend, the latest big budget "X-Men" movie, "Dark Phoenix," produced by 20th Century Fox, was crushed under the weight of lousy reviews and lingering odor of its poorly received predecessor "X-Men: Apocalypse." That same weekend, Universal Pictures' "The Secret Life of Pets 2" fell short of expectations with a $46.7-million launch, less than half of the opening of the first "Pets." (The $80-million picture is still expected to be profitable.)
That was after the $170-million "Godzilla: King of the Monsters" opened with a disappointing $47.8 million and took a steep 68% tumble in its second weekend. The lackluster performance prompted Warner Bros. Pictures chairman Toby Emmerich to suggest that the next monster film, "Godzilla vs. Kong," may be delayed from its anticipated March release date.
'International' for a reason
U.S. grosses are not the only metrics to consider. The subtitle for "Men in Black: International" feels like meta-commentary on the state of the studio business, as the U.S. audience increasingly becomes just one part of Hollywood's global strategy.
Sony is releasing the sequel in a big swath of countries including Japan, Australia, Brazil and Mexico this weekend, representing 92% of the global marketplace. "Men in Black: International" will also debut in China, the world's second-largest box office market.
Hollywood movies this year have posted mixed results in the fast-growing Chinese film market, which American studios still depend on to bolster business. "Dark Phoenix" posted a so-so $44.9 million in the country last weekend, according to consulting firm Artisan Gateway. "Godzilla: King of the Monsters" came in just behind it with $41.4 million, bringing its total China grosses to $111.7 million, the firm said.
The U.S. film industry's share of the Chinese box office is up 22% so far this year, according to Artisan Gateway, but that's largely because of the huge performance of "Avengers: Endgame."
---
Inside the business of entertainment
The Wide Shot brings you news, analysis and insights on everything from streaming wars to production — and what it all means for the future.
You may occasionally receive promotional content from the Los Angeles Times.