Warner Bros. cuts ties with Brett Ratner after sexual misconduct allegations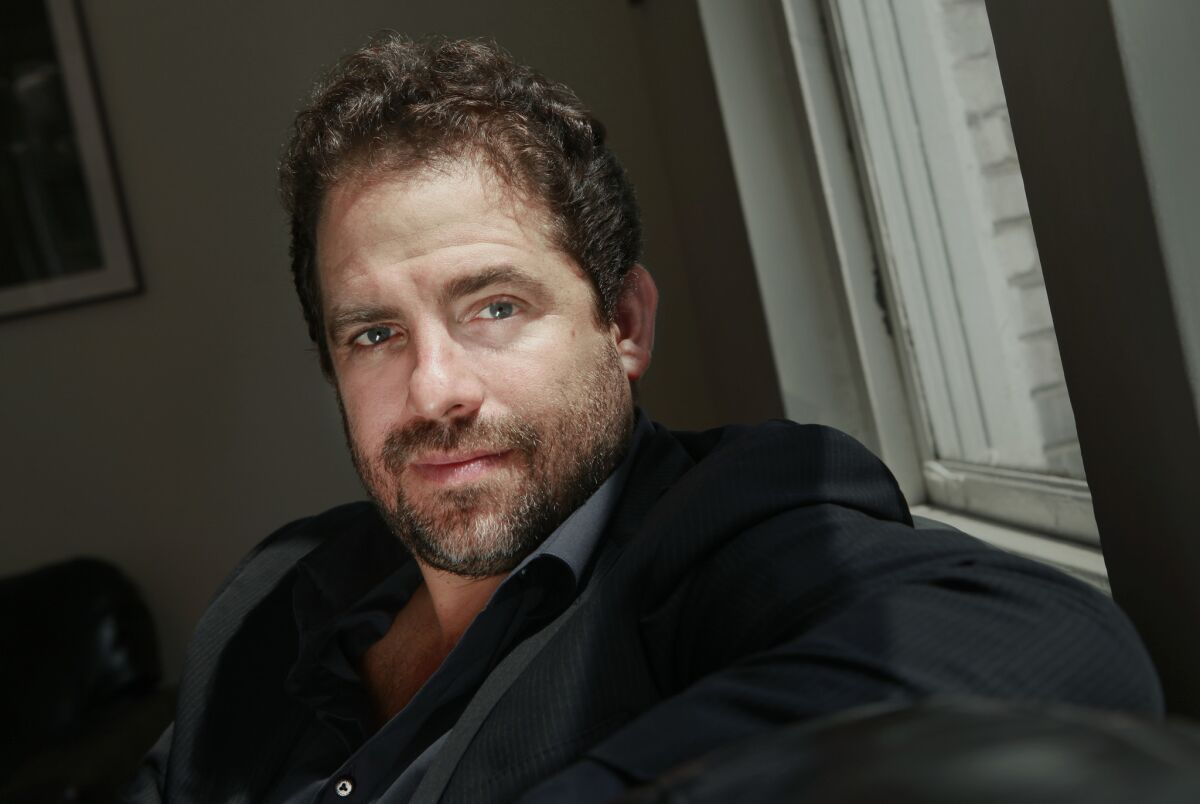 Warner Bros. is severing ties with embattled filmmaker Brett Ratner after six women publicly accused him of a range of sexual harassment and misconduct.
A person with knowledge of the matter said the Burbank studio will not renew its production deal with Ratner and the fate of his company's $450-million co-financing agreement beyond 2018 is unclear.

For the record:
12:00 a.m. Nov. 1, 2017
An earlier version of the story incorrectly said that Warner Bros. had ended its $450-million co-financing deal with RatPac-Dune Entertainment. The pact runs through spring 2018.
The Time Warner Inc.-owned studio's decision comes the same day as a Los Angeles Times report detailing allegations by actresses including Olivia Munn, Natasha Henstridge and Jaime Ray Newman.
Ratner, through his attorney, Martin Singer, "categorically" disputed the women's accounts.
"In light of the allegations being made, I am choosing to personally step away from all Warner Bros.-related activities," Ratner, 48, said in a statement. "I don't want to have any possible negative impact to the studio until these personal issues are resolved."
For the last several years, Ratner has been an integral part of Warner Bros.' moviemaking machine.
The "Rush Hour" director, along with Australian billionaire James Packer and now-Treasury Secretary Steven Mnuchin, struck the co-financing deal with the studio after it lost longtime partner Legendary Entertainment in 2013. That made their venture, RatPac-Dune Entertainment, one of Warner Bros.' most important financial partners, helping fund blockbuster films including "Gravity" and "The Lego Movie."
The allegations against Ratner come at a sensitive time for the studio, whose parent company is in the process of being acquired by AT&T.
Warner Bros. was under pressure to act quickly.
Several high-profile Hollywood figures — including Jessica Chastain, Ashley Judd and Judd Apatow — took to social media Wednesday to discuss the claims about Ratner. Patty Jenkins, director of the hit Warner Bros. movie "Wonder Woman," said via Twitter that she was "extremely distressed to read these terrible allegations."
Jenkins, who presented Ratner with the Jewish National Fund's highest humanitarian award at a gala Sunday, said, "I have never witnessed nor been aware of anything that is now being described. To be very clear, I am definitely not okay with this kind of behavior."
She was tapped to present the award to Ratner after "Wonder Woman" star Gal Gadot backed out of the event. As The Times was working last week on a story about Ratner's alleged sexual misbehavior, the actress' publicist announced she would not appear at the gala because of a scheduling conflict. The Jewish National Fund did not respond to requests for comment.
Ratner has deep ties to Warner Bros. The studio's deal with RatPac-Dune, which was created by his production company, RatPac Entertainment, and Mnuchin's Dune Entertainment, covers roughly 25% of costs of the movies in which it invests.
RatPac Entertainment, which was founded by Ratner and Packer in 2012, also had a first-look deal with Warner Bros., meaning the studio got first dibs to fund and release its movies. Ratner's company holds office space on Warner Bros.' Burbank lot — in a bungalow once occupied by Frank Sinatra. Ratner will no longer keep an office there, according to a person close to the studio.
Other filmmakers and companies could distance themselves from Ratner in the wake of the controversy. Playboy Enterprises has halted plans to team with Ratner to produce a biopic about the colorful life of the company's founder, Hugh Hefner.
"We are deeply troubled to learn about the accusations against Brett Ratner," a spokesperson from Playboy Enterprises said. "We find this kind of behavior completely unacceptable. We are putting all further development of our projects with RatPac Entertainment on hold until we are able to review the situation further."
The filmmakers had announced plans last month to produce the movie, which they hoped would feature Oscar-winning actor Jared Leto as Hefner. But now, that is not going to happen.
"Jared Leto is not and was not attached to a Brett Ratner directed Hugh Hefner film, nor will he be working with him in the future," his representative Robin Baum said in a statement.
William Morris Endeavor, the talent agency that represents Ratner, also is reviewing its relationship with the filmmaker, according to a person with knowledge of the matter at WME. The agency declined to comment.
Some Hollywood organizations that Ratner belongs to have not weighed in on the allegations surrounding the filmmaker. The Producers Guild of America and the Directors Guild of America did not respond to requests for comment. The Academy of Motion Picture Arts and Sciences declined to comment, but referred The Times to a letter written last month by Chief Executive Dawn Hudson that expressed concern over "sexual harassment and predatory behavior in the workplace." The letter sent to academy members said that the organization is taking steps to establish a code of conduct for its members.
RatPac-Dune's co-financing agreement with Warner Bros. is set to expire in spring 2018, said two people with knowledge of the deal who were not authorized to speak publicly.
RatPac-Dune's investment in the Warner Bros. slate has had mixed results. As with similar deals at other studios, RatPac-Dune is not able to invest in certain high-profile film projects, such as Warner Bros.' lucrative "Fantastic Beasts and Where to Find Them" franchise. Also, RatPac-Dune's money has been used to finance flops, including "Jupiter Ascending," which had an estimated budget of about $175 million. The film grossed $184 million worldwide and cost tens of millions of dollars more to market.
Warner Bros. could replace RatPac-Dune with one of Hollywood's many deep-pocketed financiers. The studio already has co-financing and distribution deals with other companies including Village Roadshow Pictures and Alcon Entertainment.
"They'll have to find other financing to protect their legendary brand," said Danny Deraney, a Los Angeles-based public relations expert who has worked with entertainment industry clients. "It's the logical move for them."
Several people close to the studio said the pending acquisition by AT&T may allow Warner Bros. to cut ties with RatPac-Dune without replacing the funding source.
Packer, a casino magnate and the largest shareholder of Crown Resorts, in April sold his stake in RatPac Entertainment to Access Industries, the investment company owned by billionaire Len Blavatnik. Packer grew weary of losing money in the venture, according to people familiar with the matter who were not authorized to comment publicly.
Packer could not be reached for comment. Access, which also owns record label giant Warner Music Group, declined to comment.
Mnuchin unloaded his stake in RatPac-Dune after he was confirmed as Treasury secretary in February. He did not say who bought the stake, or for how much.
"Mr. Ratner was an investor in RatPac-Dune Entertainment, and Secretary Mnuchin was the Managing Partner. Beyond having read allegations in the press, Secretary Mnuchin is unaware of any misconduct by Mr. Ratner," a Treasury spokeswoman said in a statement.
The allegations against Ratner emerged after hundreds of women have come forward in recent weeks with claims of sexual misconduct at the hands of producer Harvey Weinstein, director James Toback and numerous other powerful men.
Raised in Miami Beach, Ratner got his big commercial break in Hollywood directing the 1998 action-comedy "Rush Hour," starring Chris Tucker and Jackie Chan. He directed two sequels to the hit, along with 2006's "X-Men: The Last Stand."
ryan.faughnder@latimes.com | @rfaughnder
daniel.miller@latimes.com | @danielnmiller
Times staff writers Victoria Kim, Josh Rottenberg and Meg James contributed to this report.
---
UPDATES:
6:05 p.m.: This article was updated with additional reaction to Ratner's alleged misconduct.
This article was originally published at 8:45 a.m.
---
Inside the business of entertainment
The Wide Shot brings you news, analysis and insights on everything from streaming wars to production — and what it all means for the future.
You may occasionally receive promotional content from the Los Angeles Times.