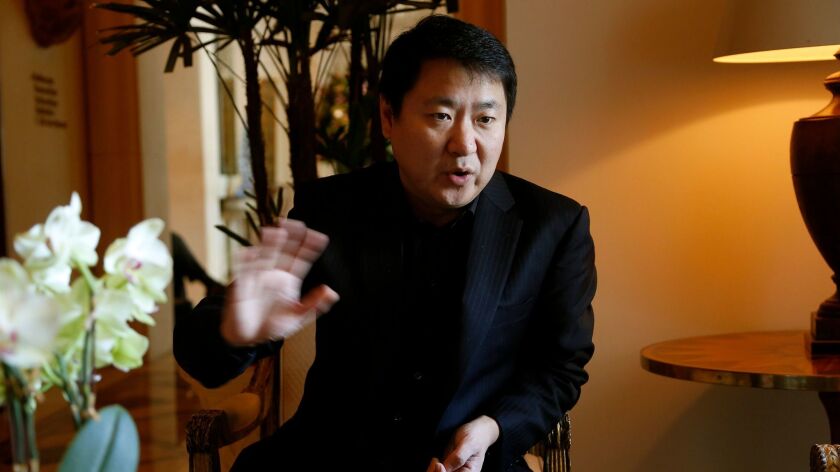 Hollywood talent giant Creative Artists Agency and Chinese studio Bona Film Group have created a fund to finance movies with an initial investment of $150 million, the firms said Thursday.
The fund, co-managed by CAA and Bona, will focus on English-language films, Chinese co-productions and Chinese-language movies. The deal marks the latest move by CAA to increase its business in China, the second-largest film market behind the United States and Canada.
Though CAA has long secured Chinese backers for English-language movies — it has lined up more than $500 million of Chinese investment into English-language film and television — this will be CAA's first investment vehicle to finance Chinese-language films, the company said. Bona will handle distribution in China for all movies financed through the fund.
The first film to be financed through the new fund is Roland Emmerich's World War II epic "Midway," which the filmmaker recently announced at the Cannes Film Festival. Bona is set to release the movie in all countries except the United States.
In Bona, CAA has partnered with one of the most prominent Chinese film distributors and production companies. The 17-year old company, run by Chief Executive Yu Dong and based in Beijing, also owns 41 movie theaters in China.
"With Bona, we have a strategic partner that brings an unmatched level of expertise of the Chinese film distribution landscape and a shared commitment to helping grow the Chinese film market," Roeg Sutherland, head of CAA's Global Film Finance & Sales Group, said in a statement. "The fund creates and expands opportunities for the agency's filmmaker and talent clients on a global basis."
The Los Angeles agency already has a significant presence in the country, where it first opened its office 12 years ago and employs more than two dozen people. The agency has packaged, sold or raised financing for about 75 Chinese-language movies and represents local stars, including Donnie Yen from "Rogue One: A Star Wars Story."
CAA recently expanded its presence in China through a deal with CMC, a Shanghai-based investment fund. CAA and CMC last month announced a joint venture called CAA China to capitalize on the growing Chinese entertainment market and increasing power of local talent. CMC took a minority stake in CAA for an undisclosed amount.
Co-productions have long generated interest in the entertainment industry, partly because U.S. studios reap a larger portion of the Chinese box office from films that qualify as co-productions. However, the strategy has failed to result in global hits so far. This year's "The Great Wall," the biggest China co-production to date, was widely considered a disappointment.
While Chinese companies have been investing heavily in Hollywood companies and content, the deal market has become more subdued in recent months because of a Chinese government crackdown on overpriced acquisitions and the flow of capital out of the nation. There's also uncertainty about how the Trump administration's trade policies will affect deal-making between the two countries.
Twitter: @rfaughnder
---