E. Jean Carroll is accusing Trump of rape, but is anybody listening?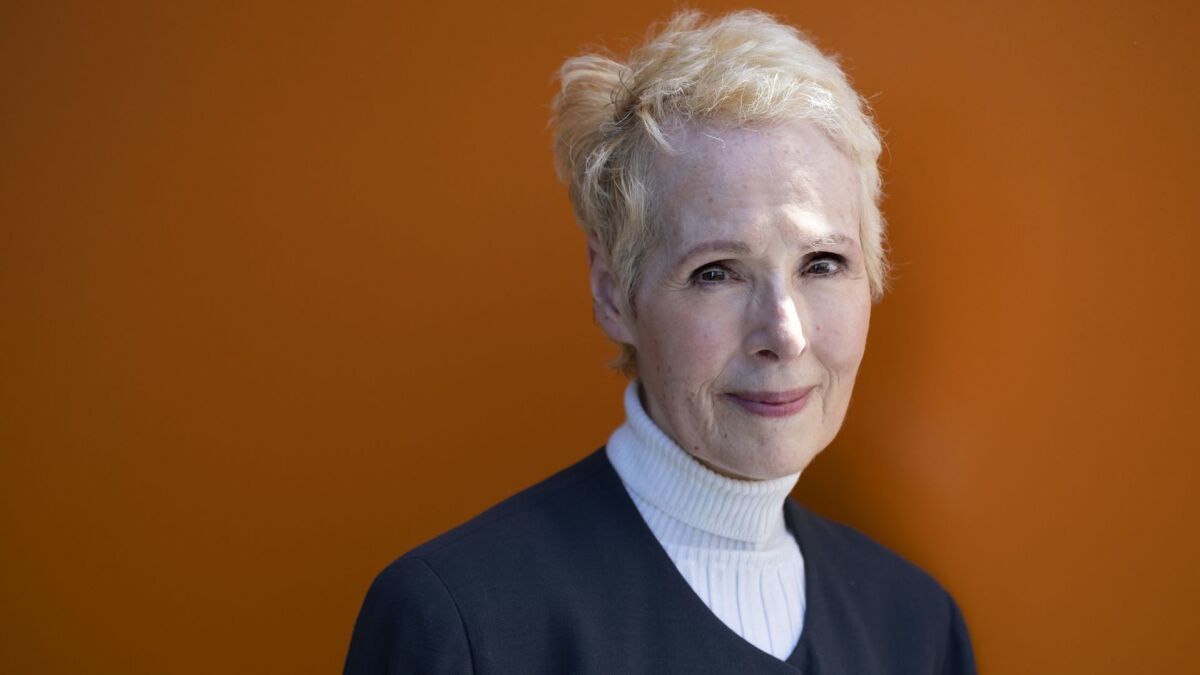 Author E. Jean Carroll's allegation that she was raped by President Trump 23 years ago is having trouble making its way to the top of the news food chain.
In a forthcoming memoir by Carroll, she describes an encounter with Trump in 1996 — when he was still a high-profile New York real estate mogul — at the Bergdorf Goodman department store in Manhattan. Carroll wrote that she was assaulted by Trump in a store dressing room after a friendly encounter.
Carroll is among more than a dozen women who've accused Trump of sexual assault or making unwanted advances. Trump has denied the claims.
But Carroll's story, which first appeared in a New York Magazine excerpt released Friday night, got little traction on a busy weekend for political news — which included Trump's response to Iran shooting down a U.S. military drone and Democratic presidential candidate South Bend Mayor Pete Buttigieg dealing with a police shooting crisis in his city.
As of Monday, Carroll had done interviews on two MSNBC programs with Lawrence O'Donnell and Joy Reid — both staunch critics of Trump — and an appearance on the CNN morning program "New Day." Carroll also gave an interview to "NBC Nightly News with Lester Holt," and her story was reported on "CBS Evening News."
(Trump has said he never met Carroll. But a photo in the New York Magazine piece shows them chatting at an event around the same time as the alleged incident.)
Carroll's appearances were not enough for a number of media critics who started weighing in on Monday that the story had gotten short shrift — most notably by not getting discussed on the influential Sunday morning public affairs programs. (Trump taped an interview on NBC's "Meet The Press" before Carroll's story broke Friday night.)
"Carroll's story got about as much coverage as the average Trump tweet," Ryan Cooper wrote in The Week.
Representatives of CBS, ABC and NBC declined to comment.
"I can't say I know what the correct amount of press coverage for this story should be," added Jonathan Bernstein in Bloomberg Opinion. "I can say that if the president is a rapist, it should have scream-from-the-mountaintops importance."
Major newspapers were cautious as well. The story did not appear on the Saturday print front pages of the New York Times, the Wall Street Journal or the Los Angeles Times, which picked up a New York Daily News report on the allegation.
After hearing complaints from readers, New York Times editor in chief Dean Baquet issued a note on Monday saying Carroll's story "should have been presented more prominently, with a headline on the Times' home page."
Baquet said that the Times — which has led the way in covering the #MeToo movement — was not able to find independent sources corroborating Carroll's story beyond the two friends she cited in her book. But Carroll being a well-known figure making a public allegation against a sitting president "should've compelled us to play it bigger."
"People want a certain outcome, and they substitute tonnage and coverage for justice, and that's not what it is," said one network news executive who spoke on the condition of anonymity.
But after three years, there is also a sense that accusations or reports on Trump's behavior no longer capture the attention of the public. Trump was elected in 2016 despite the leak of an "Access Hollywood" tape on which he bragged about sexually assaulting women.
"It could be a case of fatigue," the Columbia Journalism Review wrote in its missive complaining that Carroll's story was being ignored. "We are hit so often with claims of Trump's misconduct — and liberals, at least, have such low expectations of him — that horrifying allegations lose their shock value and slide off."
A representative for Carroll did not respond to a request for comment.
It's possible the story could get new life after Trump's Monday interview with The Hill in which he denied the incident with Carroll. "I'll say it with great respect: Number one, she's not my type," the president said. "Number two, it never happened. It never happened, OK?"
Inside the business of entertainment
The Wide Shot brings you news, analysis and insights on everything from streaming wars to production — and what it all means for the future.
You may occasionally receive promotional content from the Los Angeles Times.