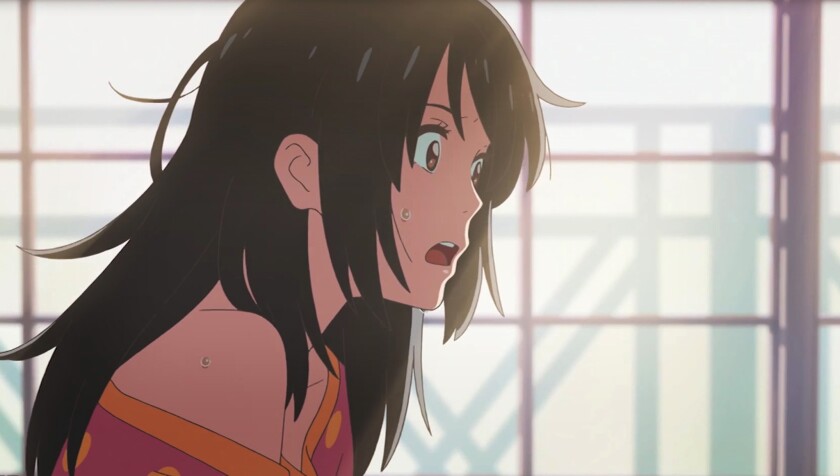 Reporting from Beijing —
The Japanese fantasy animation "Your Name" continued to top China's box office, adding $15.7 million to its tally this week.
Chinese entertainment group Enlight Pictures distributed the movie, which accumulated $71.4 million in 10 days, according to film industry consulting firm Artisan Gateway.
The youth animation movie, produced by Toho International Co., was released in Japan in June, grossing more than $174 million and ranking as the sixth-biggest-grossing film ever in Japan's box office.
The film achieved such fame elsewhere that pirated DVDs appeared on city streets before its official release in China. Chinese downloaded the online version in high-definition tens of thousands of times on Baidu cloud, a cloud-storage service provided by tech giant Baidu.
Whether they watched it legally or not, the film received an average of 9.3 out of 10 on the Chinese fan-rating site Maoyan.
Mel Gibson directed the week's second-most-popular film, "Hacksaw Ridge," which racked up $17.1 million. The war drama opened Thursday and tells the story of Army medic Desmond Doss, the first man in American history who received the Medal of Honor without using a gun.
The fantasy film "Suddenly Seventeen," directed by Zhang Mo, daughter of Chinese director Zhang Yimou, ranked third, earning $10.6 million in four days. Produced by Le Vision Pictures, the film stars Ni Ni, who is also the leading actress in Zhang Yimou's 2011 film "The Flowers of War."
Fourth place went to the Harry Potter spinoff "Fantastic Beasts and Where to Find Them," with $10.1 million in receipts, bringing its 17-day total to 82.5 million.
The Tim Burton-directed fantasy film "Miss Peregrine's Home for Peculiar Children", a 20th Century Fox production, rounded out the top-five chart, drawing $5.6 million in its second week of running.
Despite a weaker yuan, China's box office has racked up $6.2 billion in 2016, increasing by 6% compared with the same period a year earlier, according to Artisan Gateway.
---