The surprising success of 'xXx' sequel in China offers marketing lessons for Hollywood
Paramount Pictures and its marketing partners wanted to make sure China's young, digitally-inclined moviegoers were excited for the new action sequel "xXx: Return of Xander Cage."
So the team made a music video for an original song by "xXx" star and Chinese heartthrob Kris Wu. The video, which featured Vin Diesel and clips from the film, scored more than 40 million views online. The stars also did live video chats on Chinese social media, and took selfies with followers from Weibo, a massively popular social media site.
The marketing paid off. The film opened last weekend at No. 1 in China with $61 million in its first three days, tripling its soft debut last month in the United States and Canada.
Vin Diesel is back as thrill-seeker-turned-government-agent Xander Cage in 'xXx: Return of Xander Cage'
The deluge of digital promotion for "xXx" highlights fundamental differences in the way movies are marketed in China as compared to Hollywood. Though China's film industry is nascent, movie marketing efforts in the world's most populous country often are more targeted — and effective — than in the United States.
"We all think Hollywood is far more advanced than China in terms of content production," said Terry Qian, director of Chinese online ticketing company Weying Technology Inc. "But in terms of doing marketing and trying to more effectively spend print and advertising dollars, China is growing to be more advanced than the U.S."
That's mainly because of the dominance of mobile Internet technology in the country, especially among young urban consumers whose business the studios crave. Online ticket sales account for more than 70% of the Chinese box office, compared with roughly 20% in the United States, according to industry estimates.
The heavy digital sales in China, where young people buy virtually everything online, give marketers access to detailed consumer data they can use to adjust their marketing materials mid-course. The popularity of advance ticket sales also lets marketers use online services such as WeChat to send promotions directly to consumers. Executives say that is far more powerful than ads on broadcast TV, which is unpopular among Chinese youth.
Because they don't need to buy expensive TV ads, distributors have much lower costs in China. Marketing budgets for big films in China typically total $6 million to $15 million, executives privately said. Studios often spend more than $30 million on U.S. television advertising for a single movie.
"There is almost no TV or radio advertising for movie marketing in China," said Xian Li, director of international productions for 20th Century Fox Film. "Digital marketing, along with some print, outdoor and in-theater marketing, are the key efforts, out of which digital marketing is the most cost effective."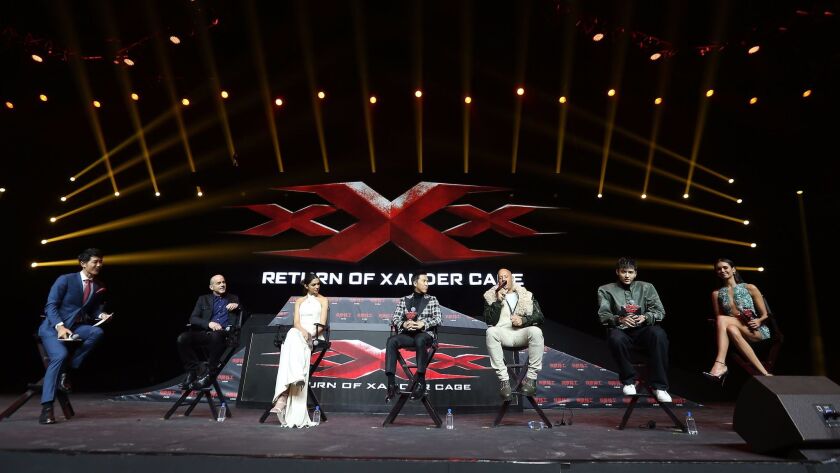 That fact partly explains why U.S. studios have been so eager to partner with Chinese tech companies that invest in Hollywood movies.
Selling stakes of films to deep-pocketed Chinese companies not only buttresses studios' finances, but also gives them powerful allies when advertising their hoped-for blockbusters. For their part, Chinese companies are hoping their investments will teach them more about the film business.
Just last month, China studio Shanghai Film Group and distribution and marketing giant Huahua Media agreed to invest up to $1 billion in Paramount's slate over the next three years. And Steven Spielberg's Amblin Partners last year secured a deal to co-produce movies with Alibaba Pictures, the film and TV arm of e-commerce titan Alibaba Group.
Hollywood studios still face big challenges when promoting new films in China. Foreign pictures undergo a rigorous censorship review from the government before they're approved for release, and prime release dates are often reserved for local films. Studios typically don't know their release date until less than four weeks before, turning their marketing efforts into a sprint, whereas Chinese companies get months to build anticipation for their films. Paramount had just 11 days to promote its movie "Arrival," for example. On top of that, there's heavy competition for attention in a market that often delivers 10 new movies in a single week, making it difficult for some movies to get attention.
"You end up spending a lot of money very fast," said one studio executive who has worked with Chinese companies and who didn't want to be named in order to protect business relationships. "That sometimes means less bang for your buck."
Additionally, some in Hollywood have become increasingly cautious about their future prospects in China, after a dramatic box office slowdown last year. Some say tough talk on trade by the Trump administration has dampened hopes that the Chinese government will loosen its 34-film limit on a revenue-sharing program for foreign pictures.
But still, Hollywood remains eager to tap into the growing marketplace. That's because when a film works in China, it still can mean the difference between a flop and a hit, as Paramount proved last weekend with "xXx."
The movie, starring Diesel as an extreme-athlete-turned-special-agent, cost $85 million to produce and surpassed $100 million in Chinese receipts this week.
Megan Colligan, president of worldwide distribution and marketing for Paramount, said digital marketing efforts were key, as was its international cast that included Chinese martial arts star Donnie Yen.
"The audience is young and highly mobile," Colligan said. "There's very open social engagement between the stars and the fans. That's how audiences in China want to engage with these properties."
Hollywood's desire to take advantage of China's growing online marketing opportunities has increased business for companies that partner with studios to distribute movies there. Chinese entertainment company Le Vision Pictures, for example, analyzes local demographic data to see what types of people go to which theaters. The company has five different marketing teams focusing on particular audience groups, such as children and college students, to make sure they are booking movies where the target audience is likely to show up.
"You have to know where the audience is," said Le Vision Chief Executive Zhang Zhao. "With an animated kids movie, you don't put it in every theater. You put it in theaters near kindergartens and schools."
Le Vision also comes up with unusual marketing tactics for specific films. For the local-language film "Coming Home," the company offered a Mother's Day deal that let people buy a pair of tickets for their parents, along with a set of flowers and a car service to take them to and from the theater, all for $15.
Qian's Weying Technology has proved adept at using data from online pre-sales — including age, location, gender, marital status and monthly income — to adjust campaigns on the fly.
In one recent example, Weying realized Sony's Chinese release of the Blake Lively shark movie "The Shallows" would face immense competition from Paramount's "Star Trek Beyond," a well-known franchise there. But while "Star Trek" was dominating pre-sales in the biggest cities such as Beijing and Shanghai, "The Shallows" was tracking surprisingly well in second- and third-tier cities. So the studio reduced its number of big-city screenings for "The Shallows" and focused its efforts in lower-tier areas. "The Shallows" grossed $15 million in China, a respectable result for a movie lacking international stars.
For "London Has Fallen," released last April, Weying wanted to make the movie look more woman-friendly after discovering 90% of advanced sales were coming from men. One online and mobile poster featuring a menacing Gerard Butler was changed to show the actor holding a teddy bear along with his assault rifle.
David U. Lee, founder and chief executive of film producer and marketer Leeding Media, said his company had to get creative when promoting "The Divergent Series," a Lionsgate franchise based on a young adult book series that was little-known in China. For the third movie, "Allegiant," released last May, they re-created a storyline from the dystopian film by sending out street teams representing the different "factions" in the books to engage with locals. China's "Allegiant" box office gross was more than 50% higher than the original "Divergent," while the franchise declined in the United States.
"When we release films, we need to be as innovative as possible with our marketing campaigns," Lee said.
Many executives now say U.S. marketing and ticket-selling strategies are starting to look more like those in China, a departure from the still-entrenched method of having people buy tickets in person. Lionsgate has backed Atom Tickets, a Santa Monica-based ticket-selling startup that uses data and social media to encourage group buying. Los Angeles-based online seller Fandango in September partnered with Facebook to let people buy movie tickets on the social network.
"We're still playing catch-up," said Paramount's Colligan. "But that's part of being a 100-year-old business."
Twitter: @rfaughnder
---
Inside the business of entertainment
The Wide Shot brings you news, analysis and insights on everything from streaming wars to production — and what it all means for the future.
You may occasionally receive promotional content from the Los Angeles Times.