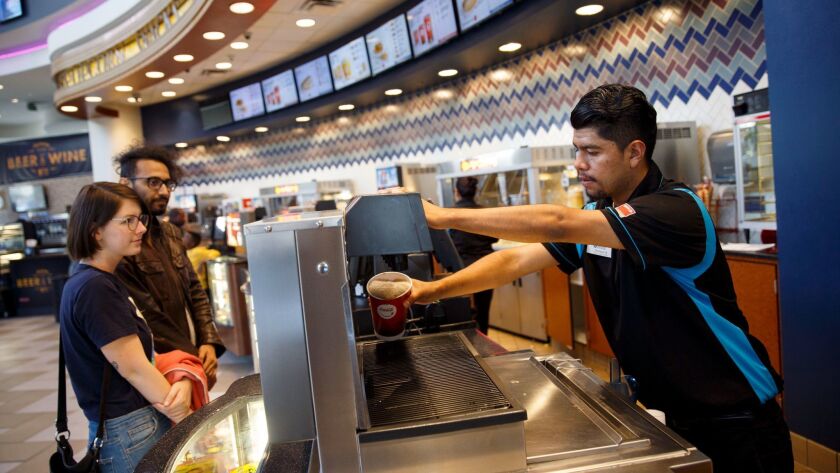 Regal Entertainment Group, the second-largest theater chain in the U.S., has agreed to sell itself to British exhibitor Cineworld Group in a deal valuing Regal at $3.6 billion, the company said Tuesday.
Cineworld, Britain's biggest cinema operator, would pay $23 a share for Regal, which runs 561 theater locations. If the deal closes, it would turn Cineworld into the world's No. 2 exhibitor, instantly putting it in direct competition with industry giant AMC Entertainment.
Cineworld, headquartered in London, operates 232 theaters in Britain, Ireland and other countries. Buying Regal would instantly give it huge access to the world's largest movie market, noted Eric Handler, an analyst at MKM Partners.
"It's not often you can come into a market and be one of the biggest players," Handler said.
Regal's stock surged 9% to $22.68.
If consummated, Cineworld's purchase of Regal would be the latest example of consolidation in the cinema business. Theater chains are combining as they face growing competition from at-home entertainment, including streaming services such as Netflix.
It also means the two biggest U.S. movie theater chains would be owned by foreign players.
Leawood, Kan.-based AMC Entertainment — owned by China's Dalian Wanda Group — bought Carmike Cinemas last year for $1.2 billion, thereby surpassing Regal as the United States' largest cinema operator. AMC has also bought London-based Odeon & UCI Cinemas Group, as well as Nordic Cinema Group, to expand its international presence.
"With what AMC is doing in Europe, it seems to me Cineworld was compelled to respond," said Tuna Amobi, a media and entertainment analyst at CFRA Research. "For cinema owners, cross-boarder deals are going to be the way to play this scale game."
Greater size could help both Cineworld and Regal weather an increasingly difficult climate for theater chains, which have faced long-term declines in admissions and swift changes in consumer behavior.
U.S. cinema owners have struggled this year as multiple major films flopped. Ticket sales in the U.S. and Canada are down 4% from the same time a year ago, according to ComScore. The sluggishness, especially during the key summer months, has depressed theater stocks.
Regal's profit dropped to $11 million during the three months that ended Sept. 30, down 73% from the same quarter last year. This year, Regal shares had fallen about 15% before the sale talks became public last week.
Theater chains including AMC and Regal have been investing in amenities such as recliner seating, gourmet food and alcohol to entice customers.
"Regal is a great business and provides Cineworld with the optimal platform on which we can continue our growth strategy," Cineworld Chief Executive Mooky Greidinger said in a statement. "Consolidation is an important move forward and the best practices we have successfully rolled out across Europe will be the key driver to continued success."
Knoxville, Tenn.-based Regal, which is controlled by billionaire Philip Anschutz, said last week that the company was in talks to be acquired by Cineworld.
Anschutz has been looking to sell for years. The company in 2014 said it was exploring options including a sale, but that did not result in a deal. His Anschutz Corp., which holds 67% of Regal's voting power, has agreed to support the deal with Cineworld, the company said.
"We believe the transaction announced today provides compelling value for our stockholders," Regal CEO Amy Miles said.
Under the agreement, Regal can seek and consider offers from other bidders until Jan. 22. Cineworld's offer price represents a 43% premium over Regal's 30-day average share price of $16.06, the company said.
MKM's Handler said he does not expect other bidders to come to the table.
"There aren't a lot of players out there that are the size of Regal," Handler said. "I don't really see anyone else stepping up."
Because Regal is bigger than Cineworld, the latter will have to take on significant debt to complete the transaction. Cineworld, in a shareholder presentation about the deal, said it would finance the acquisition with $4 billion in new debt, and raise $2.3 billion in equity from existing investors.
---
UPDATES:
1:45 p.m.: This article was updated with Regal's closing share price.
12:45 p.m.: This article was updated with analysts' reaction and more details about the deal.
This article was originally published at 8:10 a.m.
---