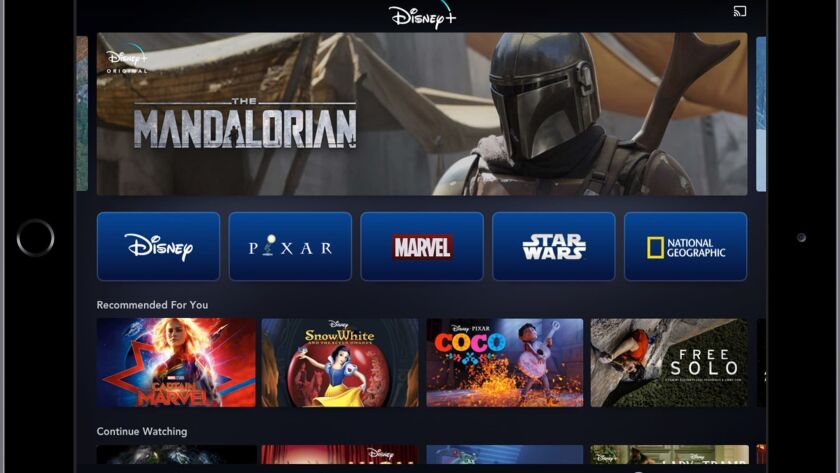 Walt Disney Co. stock surged Friday to a record high after the entertainment company offered more information than expected about its strategy to succeed in the burgeoning streaming video market.
Disney's stock shot up 11.5% to $130.06 a share — an all-time high — on Friday, representing its biggest one-day jump in a decade.
The leap follows Thursday's investor meeting on the company's Burbank lot where executives shared plans for Disney+, an ad-free subscription service intended to compete with Netflix.
In a 3½-hour presentation, the company announced a robust lineup of original shows and movies for the service, which is to cost $6.99 a month and launch Nov. 12. Disney also said the new app would become the streaming home of Disney animated classics, films from Pixar, Marvel and the "Star Wars" saga, as well as "The Simpsons" and National Geographic programming.
The company expects the service to reach 60 million to 90 million subscribers and become profitable in 2024.
"The aggressive numbers … are a direct result of us being all in from the beginning," said Chairman and Chief Executive Robert Iger.
The projections came as a pleasant surprise to analysts who have been waiting months for Disney to offer more clarity about its streaming ambitions.
"We didn't think Disney would give guidance," Bernstein & Co. analyst Todd Juenger said in a research note. "Boy were we wrong."
Meanwhile, Netflix stock tumbled amid the intensifying competition. The Los Gatos, Calif., streaming giant's shares fell 4.5% to $351.14.
Netflix's standard pricing plan charges users $13 a month for ad-free access to a wide selection of original shows and films, plus licensed content from other studios. The tech firm has a significant head start in the subscription space, with nearly 150 million subscribers worldwide.
Disney+ will launch first in the United States, followed by a steady global rollout. Reflecting its aggressive plans to stay relevant in the fast-changing media landscape, Disney plans to spend more than $1 billion on original content for the streaming service in fiscal 2020. The company expects one-third of its subscribers to be in the United States, with the rest coming from international markets.
CFRA analyst Tuna Amobi said the service could be a major draw. Disney, coming off the acquisition of 21st Century Fox, has a deep selection of popular family-friendly brands that could be powerfully attractive, especially to people with children.
"With a seemingly aggressive price point of $6.99 per month, Disney+ could be a potential game changer in a rapidly evolving streaming landscape, with possible bundling options with its complementary ESPN+ and Hulu streaming offerings," Amobi said in a research note.
---