Murdochs sidestep reports of a possible asset sale to Disney, saying Fox can compete on its own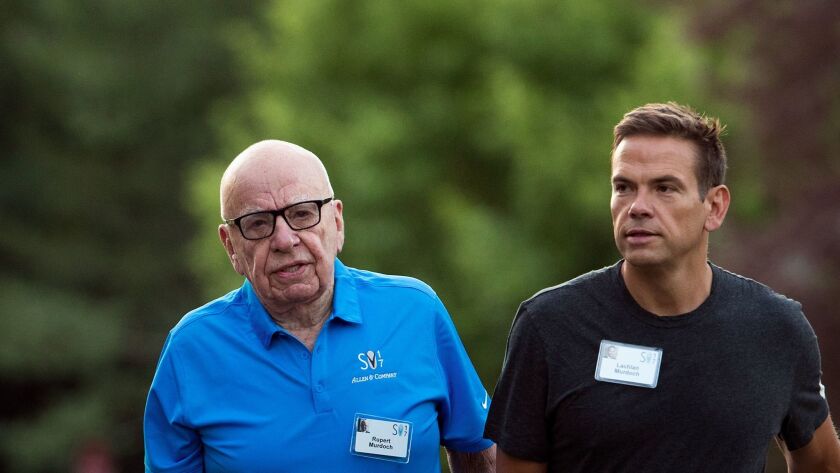 Despite reports of a possible sale of 21st Century Fox's movie and TV studios to Walt Disney Co., Fox Executive Chairman Lachlan Murdoch said Wednesday that his company is equipped to stay the course in a changing media landscape.
"Let me be very clear — Fox does have the required scale to continue to both execute on our growth strategy and deliver increased returns to shareholders," Murdoch said at the start of a call with Wall Street analysts on the company's strong fiscal first-quarter earnings. "Our businesses and brands are stronger than ever."
Lachlan Murdoch and his brother James, chief executive of 21st Century Fox, said they would not comment on reports that it had engaged in discussions with Disney about selling its film and TV programming assets. But they gave a vote of confidence in the company's brands and management team, clearly aimed at calming any internal fears that a for-sale sign might be in front of the 21st Century Fox lot on Pico Boulevard in Los Angeles.
The reports of discussions with Disney are seen as a reflection of the challenges of entertainment companies competing against well-funded tech players including Netflix, Apple and Amazon. The competition is increasing while audiences for traditional live TV viewing on platforms such as the Fox broadcast network continue to decline due to video streaming and the erosion of satellite and TV subscribers.
Driving home the new TV reality shortly before the earnings call was a report that Apple landed a new TV series starring Jennifer Aniston and Reese Witherspoon, with an estimated budget of more than $10 million an episode — a number that's likely to cause some sticker shock among Hollywood TV executives.
But the Murdochs said they remain committed to growing their assets, noting that they are already seeing benefits in streaming video-on-demand services. They said any loss of cable and satellite TV customers is being offset by gains from those signing up for direct-to-consumer streaming services such as Hulu.
"The so-called pay-TV universe is actually going to grow," James Murdoch said.
For the three months ending Sept. 30, 21st Century Fox reported income from continuing operations attributable to stockholders of $839 million, or 45 cents a share, compared with $827 million, or 44 cents, a year earlier.
Revenue for the quarter came to $7 billion, up 8% from the first quarter of 2016. The increase was due to growth across all operating segments, led by higher affiliate revenues for cable and broadcast TV networks. The film studio saw higher revenues as well, from TV licensing fees for theatrical hits "X-Men: Days of Future Past" and "The Martian."
Profit for the company's cable programming assets, which include FX and Fox News Channel, saw a year-over-year increase of 9%, to $151 million, driven by higher fees from cable and satellite providers and growth in ad revenue.
Earnings at the TV stations and the broadcast networks came in at $122 million, a 36% drop from a year earlier, when the television industry benefited from heavy political ad spending. Higher rights fees for National Football League games and college football also kicked in during the quarter, driving up costs.
The company said it expects its $15-billion takeover of the stake in European TV service Sky it does not own will close by June 2018.
Twitter: @SteveBattaglio
---
Get our daily Entertainment newsletter
Get the day's top stories on Hollywood, film, television, music, arts, culture and more.
You may occasionally receive promotional content from the Los Angeles Times.