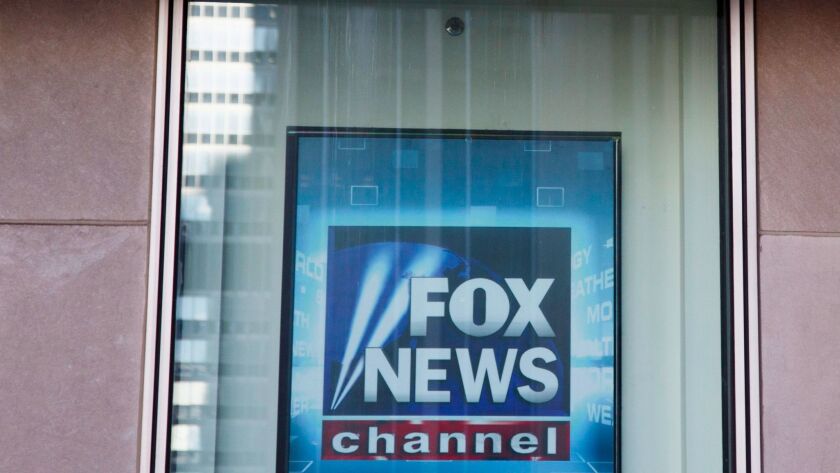 Two black employees of Fox News have filed a racial discrimination suit against the company and the recently fired executive they worked under.
The suit filed Tuesday in New York State Supreme Court is the latest legal action to hit the 21st Century Fox unit, which has either settled or litigated a number of sexual harassment cases lodged against its executives, including its ousted chief Roger Ailes.
The latest complaint is aimed at Judy Slater, the controller for the accounting department at Fox News for 18 years, who was fired Feb. 28 amid allegations that she regularly made racist and inappropriate comments to her black employees. Slater worked on the second floor of the Manhattan headquarters where Ailes and other top Fox News executives also operated.
"While Fox executives were busy either participating in or looking the other way at the barrage of sexist, demeaning conduct hurled at its female employees, these same executives allowed this repugnant racial discrimination to go unchecked," says the suit filed by Tabrese Wright, a payroll coordinator at Fox News, and Tichaona Brown, a payroll manager. They are asking for unspecified punitive damages
The suit alleges that Wright was demoted and Brown terminated in retaliation for complaining about Slater's behavior.
The company has disputed the allegation. A Fox News representative said Wednesday that Wright was moved to a comparable position in another department at the same salary and that Brown remains on the company payroll.
According to the suit, Slater mocked black employees in her department for the way they spoke and often used unflattering stereotypes about black people in office conversations about politics, news events and popular culture.
Slater is accused of belittling black employees for mispronouncing words and of forcing the workers to practice saying the words correctly in front of white employees.
Slater claimed that the Black Lives Matter movement against police brutality in inner cities is racist and asked what would happen if there were a parallel White Lives Matter movement, according to the suit. The suit says she also asked Brown why there needed to be a cable channel called Black Entertainment Television.
When a video surfaced online showing NFL star Ray Rice striking his then-fiancee, the lawsuit alleges, Slater said, "Why are all black men women-beaters?" and also pointed to O.J. Simpson, Mike Tyson and Chris Brown.
Slater called the payroll department — which is largely made up of black employees — the "southern payroll department" and the "urban payroll department," the suit says.
The suit says Slater asked Wright if all three of her children "were fathered by the same man."
It also alleges that Slater made similar insensitive remarks to members of other ethnic groups who worked in her department.
Fox News defended its handling of the situation, noting that it had fired Slater.
"We take complaints of this nature very seriously and took prompt and effective remedial action before Ms. Brown and Ms. Wright sued in court and even before Ms. Wright complained through her lawyer," a Fox News representative said. "There is no place for inappropriate verbal remarks like this at Fox News. We are disappointed that this needless litigation has been filed."
Brown and Wright are represented by Douglas H. Wigdor and Jeanne Christensen of the New York employment litigation firm Wigdor.
Slater could not be immediately reached for comment. A Fox News representative said the company had no information on who is representing her in the case.
The matter is coming to light at a time when Fox News' biggest star, Bill O'Reilly, is under fire for an on-air remark he made about Rep. Maxine Waters (D-Los Angeles), who is black.
During his analysis on "Fox & Friends" of a Waters speech criticizing President Trump, O'Reilly said, "I didn't hear a word she said. I was looking at the James Brown wig."
O'Reilly later apologized on his program about the gibe comparing the congresswoman's hair to the soul singer's. He said that the comment was "dumb" and that he respects Waters for her "sincere beliefs."
Twitter: @SteveBattaglio
---
UPDATES:
2:45 p.m.: This article was updated with the names of the attorneys representing the plaintiffs.
This article was originally published at 1:25 p.m.
---