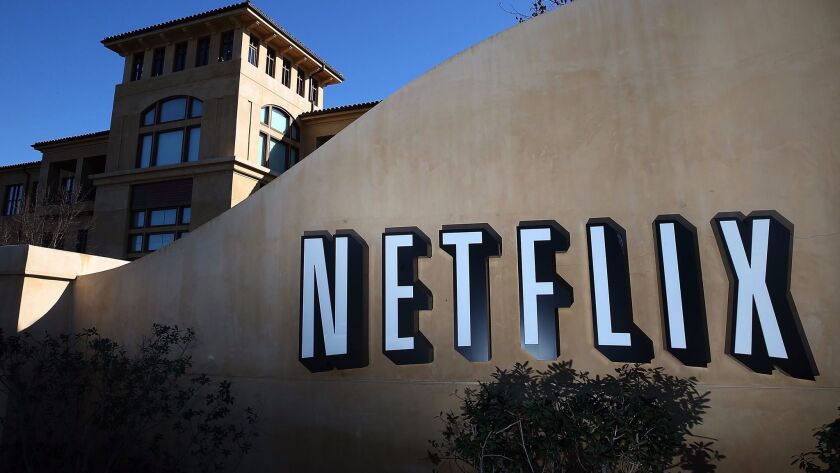 Netflix Inc. helped make binge-watching a national pastime with its tens of millions of subscribers eagerly gobbling up their favorite shows. But now the streaming giant is facing accusations of a different kind of binging — the poaching of executives from the competition.
The company's recent hiring of two 21st Century Fox executives has set off a complex legal battle that has captured the industry's fascination, offering a rare glimpse into the inner workings of two entertainment giants at a time when streaming continues to disrupt the industry.
As Netflix gains ground against traditional TV and cable, beefing up its original content production and increasing its customer base, the company's hunger for experienced executives is also expanding. But Netflix's aggressive hiring tactics are rubbing Hollywood the wrong way. The case has the potential to upend longstanding hiring practices in an industry where contracts have historically played an important role as a way to retain top artistic and executive talent.
Although employment disputes are common in Hollywood, rarely do they escalate to such a public level, underscoring the high degree of tension between major studios and Netflix.
"It's a systematic, targeted campaign," said Daniel Petrocelli, the attorney representing Fox in the suit, which was filed in September in Los Angeles Superior Court. "Any company would take action to protect its interests."
He said Netflix has poached a number of employees at Fox in recent months and that the studio didn't make a fuss. But the two executives at the heart of the dispute were under fixed-term employment contracts, which Fox argues are ironclad. Though Netflix tends to offer smaller base salaries than studios, it attracts prospective employees with stock options.
"The issue is contractual," Petrocelli said. Fox contends Netflix induced the two executives to break their contracts — tortious interference, in legal parlance — and is seeking damages and an injunction against Netflix to halt the poaching.
Netflix, which declined to comment, filed a cross-complaint in October asserting that Fox's employment contracts aren't enforceable because they impede employee mobility and stifle the competition for skilled employees, thereby violating the California Business and Professions Code.
The streaming company is asking for a court to prevent Fox from enforcing the contracts. Fox contends that if granted, the request would not only allow Netflix to resume its head-hunting campaign, but also set an influential precedent that could affect industries beyond film and television.
The dispute shows no signs of ending any time soon.
The clash is another signal of the degree to which Netflix is provoking hand-wringing throughout corporate Hollywood. The Los Gatos, Calif.-based company is expected to reach 91.9 million subscribers worldwide during the current quarter, up more than 20% from the same period last year.
Consumers continue to cut the cord, ditching pay-TV in favor of cheaper streaming services. So far this year, the pay-TV industry has lost 1.3 million subscribers, according to a recent report from SNL Kagan, a consulting firm. That represents a year-to-date record loss for the industry. The trend hurts companies like Fox's parent company, 21st Century Fox, which derives significant revenue from channels including FX and Fox News. At the same time, studios such as Fox license content to Netflix.
Experts say that Fox faces an uphill battle to prove its case.
"California has been strongly in favor of labor competition and mobility," said David Lewin, professor emeritus at the UCLA Anderson School of Management, where he taught human resource management. "Fox is trying to argue that employment isn't quite at-will. It's the concept of mobility and a free labor market that this kind of case goes against."
Fixed-term employment contracts are common throughout the entertainment industry, since they provide a degree of stability for both the company and employee, said Kate Gold, a partner at Drinker Biddle & Reath, where she specializes in employment law.
But for Fox to succeed, it will have to produce concrete evidence. "Who initiated contact?" Gold said. "Is there an email? Sometimes the proof isn't there." In corporate Hollywood, hires are often made "with a wink and a nod," she added.
The dispute began in February when Fox sued Marcos Waltenberg, a former marketing executive who left for Netflix before the expiration of his employment contract. Fox asked the court to rule that the contract was binding, but Waltenberg's attorneys fought that request.
A settlement was reached in July that didn't involve monetary payment, according to Fox. A lawyer for Waltenberg said she was unable to comment.
Two months later, Fox was back in court after a second employee — Tara Flynn, a creative executive working in the company's TV division — jumped ship to Netflix before her contract was up. This time when Fox sued, it argued that Netflex was "engaged in a brazen campaign to unlawfully target, recruit, and poach valuable Fox executives by illegally inducing them to break their employment contracts."
In some cases, studios will grant their employees early releases from their contracts, but typically only if a consensual agreement is reached, Petrocelli said.
No such negotiations took place with Netflix, he said, adding that the company ignored Fox's cease-and-desist letter before the suit was filed.
The lawsuit comes at a sensitive time for many studios, which have been downsizing. Fox offered buyouts this year that cut an estimated 300 to 400 jobs. Far more applicants than expected took the buyouts, including some high level executives, according to people with knowledge of the situation not authorized to comment.
In its suit against Netflix, Fox may look to two prominent California cases involving employee poaching, though both were eventually settled.
Last year, four prominent technology companies — Adobe, Apple, Google and Intel — agreed to pay $415 million to settle a case in which they were accused of conspiring not to hire each others' employees. The plaintiffs, who were former employees, alleged that the agreement impeded their career mobility.
In 2007, CRST Van Expedited Inc., a trucking company, reached a settlement in a case in which it accused a competitor, Werner Enterprises Inc., of hiring away drivers who were under contract. Prior to the settlement, an appeals court overturned a lower court's order to dismiss the case, saying CRST adequately alleged violations of intentional interference with a contract.
Fox is arguing that Netflix overstepped its legal bounds by deciding on its own that the studio's employment contracts were unenforceable.
"It is not within their rights to make that judgment on their own," said Petrocelli, adding that this represented a direct assault on California's labor code. "If someone wants to change that law, go for it. But it has to be done in the legislature."
Twitter: @DavidNgLAT
ALSO
Universal Studios Hollywood drops 3-D from Harry Potter attraction
The rise of sports TV costs and why your cable bill keeps going up
American Apparel warns 3,500 Southern California workers of possible layoffs
---