Ex-Hallmark Channel host sues, claiming he was fired for backing colleagues who alleged harassment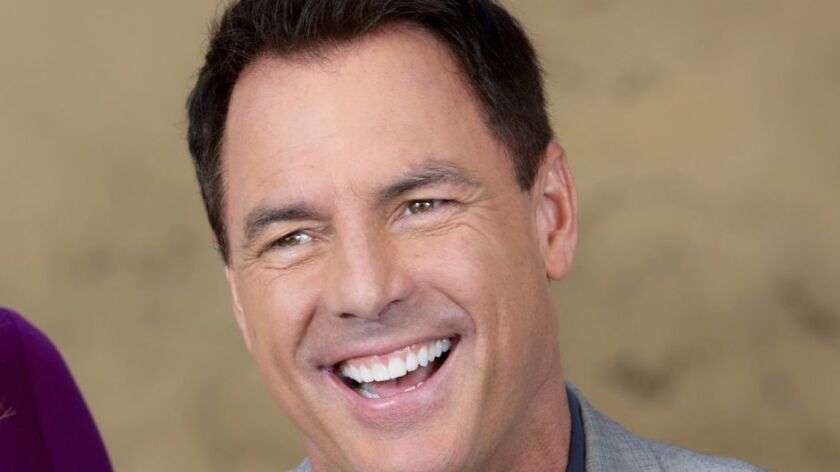 Television host Mark Steines is claiming that Hallmark Channel management retaliated against him and ultimately fired him after he supported female colleagues who alleged they were sexually harassed on the job, according to a new lawsuit.
Steines, who used to co-host the Hallmark morning show "Home & Family," alleges in a complaint filed Thursday in Los Angeles County Superior Court that he informed Hallmark leaders that executive producer Woody Fraser had harassed and verbally abused producers on the show. He also alleges that he told management about a female co-worker, who alleged that she was sexually harassed by Fraser.
In the suit, Steines said he supported two female producers on "Home & Family" after they came forward last year with sexual harassment complaints against Fraser.
Steines claims that the network terminated him from the show this year because of his support for his colleagues.
Studio City-based Crown Media, which is the parent organization of the Hallmark Channel, said Steines' suit is without merit and also questioned the role of his attorney, Lisa Bloom.
"The decision to replace Mark Steines was a measured, strategic and difficult decision for Crown Media to make, but was necessary given that the ratings for the show had declined," the company said in a statement.
"Further, the results of third party research indicated that Mr. Steines was perceived negatively. There is no merit to the legal claims Mr. Steines is asserting against Crown Media. Crown Media is also surprised that Lisa Bloom is representing Mr. Steines in this matter since she has a consulting agreement with Crown Media."
Bloom, the daughter of attorney Gloria Allred, has represented numerous women in sexual harassment complaints, including women who have lodged accusations against former Fox News host Bill O'Reilly and President Trump.
Bloom was criticized for advising producer Harvey Weinstein shortly after harassment allegations against him became public last year.
Bloom represented the two female show producers who alleged harassment in 2017, according to the suit. Steines said he cooperated with Bloom on the cases.
In his complaint, Steines alleges that the Hallmark Channel allowed Fraser, the "Home & Family" executive producer, to create a "vulgar, demeaning and hostile work environment, especially for women." He also accuses Fraser of "running a fear-based operation" in which he regularly "bullied, verbally abused and harassed cast and crew members."
Before his departure from the network, Steines claims, executives cut his pay and his voice-over work as part of their retaliation against him for cooperating with Bloom.
Steines was a longtime co-host of the syndicated "Entertainment Tonight" before jumping to the Hallmark Channel in 2012. He served as co-host of "Home & Family," a lifestyle-themed talk show, for close to six years until he abruptly left the channel in May.
Steines is seeking unspecified damages, including punitive damages.
---
Inside the business of entertainment
The Wide Shot brings you news, analysis and insights on everything from streaming wars to production — and what it all means for the future.
You may occasionally receive promotional content from the Los Angeles Times.