'Selena' producer is building theaters for underserved Latino moviegoers, despite challenges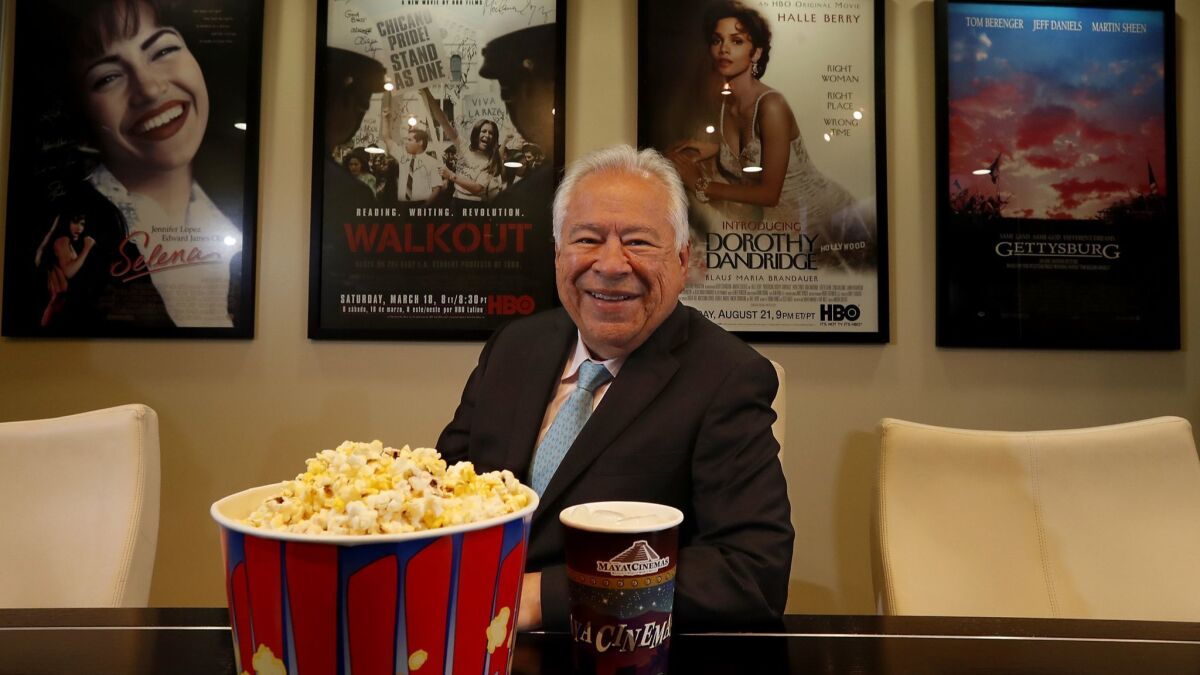 Latino moviegoers make up a disproportionate share of the U.S. box office, boosting the ticket sales for films such as Pixar's "Coco" and Universal's "The Fate of the Furious."
Yet, according to cinema owner Moctesuma Esparza, the film industry suffers from a persistent, vexing problem: a lack of movie screens in predominantly Latino neighborhoods.
That disparity is where the "Selena" producer and former student activist sees an opportunity. His theater chain Maya Cinemas has spent more than a decade courting underserved moviegoers by opening cineplexes in working-class neighborhoods of Fresno, Bakersfield and other cities.
Maya Cinemas continued its expansion on Thursday with the opening of its fifth theater — a $20-million multiplex in Delano, Calif., about 35 miles north of Bakersfield.
Delano, with a population of about 52,700 and a rich history of farm labor activism, was attractive because it hasn't had an operational theater in 10 years, Esparza said. Residents have to drive for more than a half hour to go to the movies. Now they will have a new nearby destination with 12 screens and 1,182 recliner seats.
"My business model is to put movie theaters where there aren't any," Esparza said in an interview at Maya's Pasadena headquarters. "You can imagine coming home from work on a Friday night and having to drive 35 miles. That's a hardship for families."
Building a chain of multiplexes in relatively small markets is risky at a time when Hollywood is contending with long-term declines in attendance. Independent cinema operators have struggled to compete with the major chains that are consolidating the industry. And Maya's expansion to date has fallen far short of Esparza's initial goals.
But Esparza says he can succeed because his target audience has a voracious appetite for movies. Latinos accounted for 24% of frequent moviegoers in 2017, though they represented 18% of the total population, according to a recent report by the Motion Picture Assn. of America. (The MPAA defines frequent moviegoers as people who go to the cinema once a month or more.)
Santiago Pozo, founder of the Los Angeles-based, Latino-focused marketing firm Arenas Entertainment, said Esparza's plans make sense.
"The market is underserved, and it's the market that contributes more than any other to the bottom line of Hollywood," Pozo said. "It's a community that really goes to movies."
Esparza is not the first person to try to build a business putting theaters in locations neglected by the major chains. Former Los Angeles Lakers star Earvin "Magic" Johnson advocated for more entertainment options in largely black communities, opening the Magic Johnson Crenshaw 15 in Baldwin Hills in the mid-1990s. Johnson sold his theater chain in 2004, and the Baldwin Hills theater was closed, renovated and reopened as a Rave Cinemas.
Maya has struggled to expand as fast as Esparza hoped after he opened his first theater in Salinas in 2005. In a 2010 interview, he told The Times he expected to eventually open 40 locations with a total of 500 screens around the country.
He now estimates Maya Cinemas' circuit will include 10 theaters within the next two years, including locations in Phoenix and Las Vegas. He is also working on opening a theater in Compton, but the project faces challenges, he said, because of limited land available for parking.
He chalks up his early struggles to the difficulty of persuading lenders to believe in him, and a longtime reluctance by financial institutions to back major developments in working-class communities. That hesitation only magnified after the last recession, when commercial lending dried up.
"I'm not doing little tiny projects," Esparza said. "It's serious dollars. My projects cost $25 [million] to $30 million each."
The first construction loans for his theaters came from Far East National Bank, a Chinatown-based lender recently acquired by Cathay Bank. Construction of the new Delano theater, part of a larger development by El Monte-based real estate company YK America Group, was financed by Chase Bank, he said.
Despite the challenges, Eric Handler, an analyst at MKM Partners who follows the theater business, said Maya Cinemas could succeed by catering to a niche and keeping tickets affordable.
"It's an interesting approach for a theater chain," Handler said. "The theaters just need to be scaled appropriately for the audience…. It seems like you can make a decent return in certain markets."
Regular adult tickets at Delano's new theater will cost $9 each, which is less than the upscale cinemas in major cities such as Los Angeles, Esparza said. Though Maya offers cushy amenities such as reclining seats and large-format screens, the company eschews increasingly trendy luxury perks, such as in-seat dining.
Maya Cinemas declined to disclose its finances, but Esparza said the company is profitable. Revenue and attendance at his theaters was virtually flat last year, he said, despite a 6% drop in admissions for the industry in the United States and Canada.
The new theater in Delano, where Cesar Chavez helped organize a landmark labor strike in 1965, is symbolic for Esparza. As a young man in 1944, Chavez was arrested for sitting in the "whites only" section of a segregated Delano movie theater.
Esparza was a teenager when he took part in the 1966 farm workers march Chavez led from Delano to Sacramento.
"I have a deep emotional connection to the history of Delano," Esparza said. "It was inspirational to see him, to see this social action, and to participate in that."
The opening of Maya's Delano theater follows a Wednesday VIP event, featuring screenings of "Cesar Chavez," starring Michael Peña; "Dolores," the recent documentary about activist Dolores Huerta; and "The Milagro Beanfield War," which Esparza produced.
Esparza's career was influenced by his background. His father, a Mexican immigrant who ran the kitchen at La Scala in Beverly Hills, regaled him with stories about the movie stars who came to dine, such as Clark Gable and the Mexican actor Pedro Armendáriz.
Growing up in Boyle Heights, Esparza and his family frequented downtown Los Angeles venues such as the Orpheum Theatre and the Million Dollar Theater. He said that experience inspired him to build his own cinemas.
"We put in theaters that are nicer than the expectations of the community, theaters that would be welcome in the most affluent communities in the United States," Esparza said. "The theaters are movie palaces, and that re-creates part of the experience I had as a kid. That's part of what I knew would inspire the communities I'm going into."
Esparza was one of the organizers of the 1968 Chicano student walkouts to protest inferior education and prejudice in East Los Angeles. He was charged with conspiracy to disrupt public schools, and the charges were dismissed on appeal after a two-year court battle. The 2006 HBO film "Walkout," on which Esparza served as an executive producer, tells the story of the 1968 Chicano "blowouts."
He was struck by the lack of theaters in Latino neighborhoods when he toured the country in support of 1988's "The Milagro Beanfield War," directed by Robert Redford. About a decade later, during a similar tour for "Selena," he noticed the theaters that once played Spanish-language films had closed.
"The cinema chains were building theaters in the suburbs and in new shopping developments, not where the working-class people lived," he said.
Esparza mostly programs his theaters with mainstream Hollywood commercial fare, but reserves one or two screens for specialty movies, including documentaries, Spanish-language films and films specifically targeted at American Latinos. A popular choice in his theaters was the recent remake of "Overboard," starring Eugenio Derbez and Anna Faris.
But more than 20 years after "Selena," Esparza argues that Hollywood's doors still haven't opened up enough for Latino actors and filmmakers, despite efforts to pressure studios to diversify through movements such as #OscarsSoWhite.
"I am hopeful that Hollywood is waking up and that changes will come, and that [the] Hollywood-so-white [movement] will soon also mean thinking about Latinos," he said.
Twitter: @rfaughnder
---
UPDATES:
3:30 p.m.: This article was updated to include the opening ceremony of the Delano theater.
This article was originally published on May 16 at 2:40 p.m.
Inside the business of entertainment
The Wide Shot brings you news, analysis and insights on everything from streaming wars to production — and what it all means for the future.
You may occasionally receive promotional content from the Los Angeles Times.