Treasury candidate is a Wall Street executive who has backed movies such as last summer's 'Suicide Squad'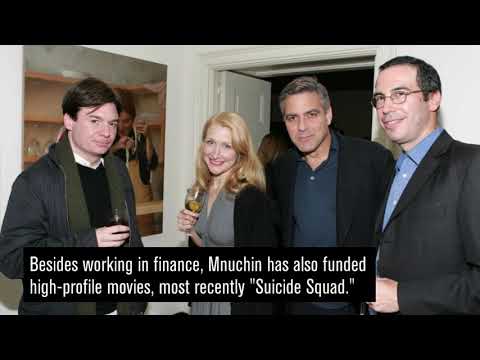 A bit of background on Steven Mnuchin's professional history. Nov. 14, 2016. 
Much of liberal Hollywood may be lamenting the prospect of a Donald Trump presidency, but one prominent industry player could wind up getting a high-profile position in the new administration.
Steven Mnuchin, 53, a wealthy Wall Street executive and successful film financier who served as the national finance chairman of Trump's campaign, is widely considered one of the leading contenders to become the next Treasury secretary, along with Rep. Jeb Hensarling (R-Texas), head of the House Committee on Financial Services, and JPMorgan Chase & Co. Chief Executive Jamie Dimon.
Mnuchin, chief executive of New York-based hedge fund Dune Capital Management, spent 17 years early in his career at Goldman Sachs, where he was a partner and eventually chief information officer, before leaving in 2002. He then started an investment fund with billionaire investor George Soros, a prominent Hillary Clinton supporter, before co-founding Dune. Mnuchin, along with other investors, made a windfall after purchasing the failed bank IndyMac in 2009 in the wake of the financial crisis, and selling it for a substantial profit in 2015.
In addition, Mnuchin has long been a financial backer of high-profile movies, most recently the August hit "Suicide Squad," a dark comic book film from Warner Bros. that grossed nearly $750 million worldwide. Via Dune, Mnuchin has cut slate financing deals with 20th Century Fox and Warner Bros. over the years, leading to his executive producing credits on several critical and commercial hits, including "American Sniper" and "Mad Max: Fury Road."
But some of his business associations have been controversial, including dealings with the once high-flying film and TV studio Relativity Media and OneWest Bank, which he and others created out of the assets of IndyMac.
Mnuchin, a divorced father of three children, owns a $26.5 million mansion in Bel Air and previously lived at New York's 740 Park Avenue, a tony cooperative apartment building, according to public records and news reports. In 2011, the lawn of his 22,000-square-foot L.A. residence was the site of demonstrations by dozens of "Make Banks Pay" activists, including a foreclosed homeowner whose loan was serviced by OneWest, which had drawn scrutiny for its eviction tactics.
Mnuchin, who was named Friday to Trump's Presidential Transition Team, did not respond to phone calls and emails seeking comment. Trump campaign spokeswoman Hope Hicks did not respond to requests for comment.
Few people in the entertainment industry whose business has intersected with Mnuchin were willing to speak about him after Tuesday's election. Those that would talk about Mnuchin described him as smart, savvy and serious.
Jon Landau, who produced Fox's "Avatar," got to know Mnuchin during the making of the blockbuster 2009 film, which the businessman helped finance. Typical of a financier, Mnuchin did not have a hands-on role in the making of the movie, Landau said. But in their limited dealings Mnuchin was a "smart, personable guy."
"He has certainly proven himself in the business world," said Landau, who has attended Los Angeles Lakers games with Mnuchin over the years.
Entertainment industry attorney Peter Dekom, who had a preliminary meeting about a prospective film financing pact with Mnuchin earlier this year, said he "understands the finance side of Hollywood as well as anyone."
But unlike many in Hollywood, Mnuchin is said to avoid the limelight.
Lionel Chetwynd, a filmmaker who co-founded Friends of Abe, a group for Hollywood conservatives, called Mnuchin "a very sober individual." He said he'd met the financier at black-tie functions over the years.
"He's not Mark Cuban," said Chetwynd, referring to the flamboyant billionaire investor. "There are people who operate in Hollywood but who do so in a very pristine manner, who don't show up every night at the right restaurants, and he would be one of those. Not flashy people, but very solid business people whose interests stretch very far beyond movies and movie stars."
Mnuchin has East Coast pedigree. The Yale University graduate grew up in a powerful New York family: He is the son of Robert Mnuchin, a former Goldman Sachs banker who became a prominent Manhattan art gallerist, and the late Elaine Cooper, a former vice president of the International Directors Council of the Solomon R. Guggenheim Museum. And Mnuchin's brother, Alan, worked at Goldman Sachs and Lehman Bros. before founding his own investment advisory firm, AGM Partners.
Despite Mnuchin's New York business credentials, one of his most notable financial bonanzas came via a regional commercial bank based in sleepy Pasadena.
Mnuchin and other wealthy investors, including Michael Dell and a hedge fund run by Soros, bought failed IndyMac in March 2009, putting up about $1.6 billion in cash and renaming it OneWest Bank.
Investors bought the bank's assets at a bargain price, and also arranged a deal whereby the Federal Deposit Insurance Corp., which had seized the savings and loan in mid-2008, agreed to cover as much as 75% of the losses from IndyMac's already discounted loan portfolio.
The FDIC often agrees to such deals when trying to sell a failed lender, but bank analyst Bert Ely said the insurer gave Mnuchin's group a particularly sweet deal. "It was certainly richer than average," he said of the arrangement, describing it as a combination of good deal-making by Mnuchin and bad decision-making by the FDIC. The insurer, Ely said, seemed keen on keeping IndyMac an independent institution and did not want to sell it to another big bank.
"I'm certainly not going to be critical of Mnuchin," Ely added. "He took advantage of what I think was a bad policy decision by the FDIC. The deal was as sweet as it was because the FDIC limited the field of potential acquirers."
Mnuchin and other investors sold OneWest to New Jersey lender CIT Group last year for $3.4 billion. The deal was delayed — and nearly derailed — by complaints about OneWest's foreclosure practices.
As part of its arrangement with the FDIC, Mnuchin's group had agreed to participate in a mortgage-modification program, but community groups charged that the bank was aggressive when it came to foreclosing on homeowners. The California Reinvestment Coalition, which pushes banks to offer fair and equal access to credit, claimed that the bulk of OneWest's estimated 35,000 foreclosures took place in minority communities and that the bank was notoriously difficult when dealing with homeowners and housing counselors. It was alleged practices like those that drew the ire of the "Make Banks Pay" protesters who visited Mnuchin's home.
Regulators, too, went after OneWest's foreclosure practices. In 2011, two years after Mnuchin's group came in, the Office of Thrift Supervision hit the bank with a regulatory order saying it had failed to follow various procedures when foreclosing on homeowners.
CIT Group did not respond to requests for comment.
OneWest and Mnuchin also were embroiled in the saga of Relativity Media, the studio co-founded by flashy Hollywood executive Ryan Kavanaugh. Mnuchin had invested in the studio via Dune, and served as nonexecutive co-chairman of the board from October 2014 to May 2015, exiting just ahead of the company's Chapter 11 bankruptcy.
According to documents from Relativity's bankruptcy proceedings, OneWest, a lender to the studio, was repaid $50 million it lent to the company just before it filed for bankruptcy protection. A July 2015 filing by Relativity's financial adviser at Blackstone Group, which was hired to advise the studio before its bankruptcy, said that this repayment exacerbated its "already problematic liquidity situation."
Adviser Timothy Coleman of Blackstone wrote in the filing that this caused Relativity to "largely have to stop paying many vendor bills, to postpone production of certain film projects, and to postpone the release of certain completed films."
Typically, bankruptcy courts look askance at large payments to one creditor shortly before filing for Chapter 11, because companies aren't supposed to favor one creditor over another. Nonetheless, Relativity's plan to reorganize its business was approved by a New York bankruptcy court judge in March, wiping hundreds of million of dollars of debt from its balance sheet.
But the issue of the $50 million repayment also surfaced in a civil lawsuit filed by RKA Film Financing, an investor in Relativity, against Kavanaugh, Mnuchin and others. The case, which was filed in New York County Supreme Court and included allegations of fraud, claimed that money RKA lent to Relativity was used for purposes other than those it was earmarked for. The lawsuit alleged that at least some of RKA's money was likely included in the funds paid to OneWest.
The complaint, which was first filed last year and amended in March, claimed that Mnuchin "was in a unique position, affording him knowledge of both Relativity's precarious financial position and the ability to ensure certain creditors — namely, OneWest Bank — were able to siphon away funds that had been commingled with RKA's [money]."
In separate June court filings, Kavanaugh and Mnuchin asked the court to throw out the case. It was dismissed Oct. 11 by Judge Charles Ramos, according to court documents. Ramos has given RKA, which sought damages of more than $110 million, the chance to replead the case.
Mnuchin's attorney, Robert Sacks, said that claims made about Mnuchin in the lawsuit were "preposterous." He said that the contract between RKA and Relativity was entered into before Mnuchin invested in the studio, adding that RKA has "no basis whatsoever to assert a claim against Steve Mnuchin and they've articulated none." Sacks dismissed RKA's claim that Mnuchin's connection to OneWest and Relativity uniquely situated him to ensure the bank was repaid ahead others.
"The bank had whatever rights the bank had based on [having] provided funds to Relativity," Sacks said. "Steve Mnuchin did not have a dual role with regard to that."
In a statement, Beverly Hills-based Relativity said it was pleased with Ramos' Oct. 11 decision.
But the dispute may not be over. Attorney Benjamin Naftalis, who represents RKA, said his client plans to soon file an amended complaint. "RKA has and will allege a fraud claim," Naftalis said. "And Steve Mnuchin played an integral role in executing that fraud and misappropriating RKA's investment to his and others' benefit."
Mnuchin would be an out-of-the box choice for Treasury secretary, having neither served in government nor risen to the top ranks of corporate America. Treasury secretaries appointed by Barack Obama and George W. Bush all worked for the federal government at some point in their careers.
And the three secretaries appointed by Bush were all chief executives of major corporations. Henry Paulson, for example, worked in the Defense Department in the 1970s and was chief executive of Goldman Sachs before being named Treasury secretary.
Follow @DanielNMiller on Twitter for film business news.
Times researcher Scott Wilson contributed to this report.
ALSO
A primer on executive power: What Trump can and can't do
Why did Trump win? Because Democrats stayed home
Clinton and Trump supporters come from different Americas. Between them lies bitterness and distrust
Inside the business of entertainment
The Wide Shot brings you news, analysis and insights on everything from streaming wars to production — and what it all means for the future.
You may occasionally receive promotional content from the Los Angeles Times.