MoviePass escalates its battle with AMC Theatres by dropping 10 cinemas — and customers are not happy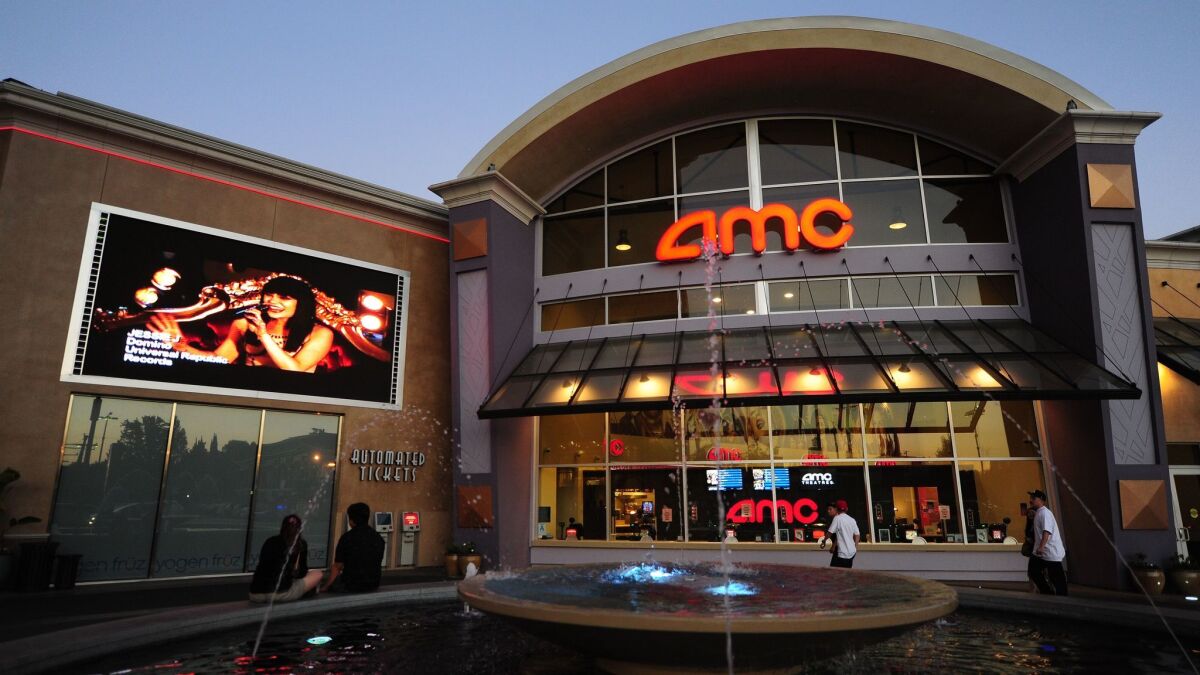 Subscription film ticket company MoviePass has ratcheted up its longstanding battle with AMC Theatres by dropping its service from 10 of the chain's busiest cinemas, including major locations in Los Angeles and New York.
New York-based MoviePass, which offers one movie ticket a day to customers who use its red debit cards, has soared in popularity since it dropped its monthly fee to $9.95 last August. But AMC, the world's largest cinema operator, blasted the new pricing, saying the startup's model was unsustainable and could do long-term harm to the film industry. It also threatened legal action to block the service from its theaters.
The feud has only intensified since then. MoviePass, majority owned by data firm Helios and Matheson, now wants a cut of theater owners' box-office and concession sales, according to people familiar with the matter who were not authorized to comment. MoviePass is seeking $3 per ticket sold through its app, and 20% of concession sales to its customers, these people said.
MoviePass, which counts more than 1.5 million subscribers (up from as little as 20,000 in December 2016), says it has significantly increased attendance at theaters, driving increases in concession sales for exhibitors at a time when domestic admissions are in decline. MoviePass wants to participate financially in that bump.
"We've pulled 10 AMC theaters — less than 2% of theaters," said Ted Farnsworth, chairman and chief executive of Helios and Matheson. "Other theater companies have seen this attendance resurgence and have approached MoviePass to collaborate. Since the get-go, AMC has not been interested in collaborating with MoviePass — a move that is not in the interest of our subscribers and AMC theater-goers."
Theaters no longer available on the MoviePass mobile app include AMC Century City 15, AMC Mercado 20 in Santa Clara, AMC Mission Valley 20 in San Diego and AMC Empire 25 in New York. The change also affects locations in Chicago; Boston; Orlando, Fla., and other metropolitan areas.
The latest flareup comes just months after AMC publicly stated that the idea of forking over a cut of its sales to MoviePass was a nonstarter. AMC Chief Executive Adam Aron in November told analysts that MoviePass paid AMC $11.88 for each ticket it purchased in September, but he ruled out the possibility of a revenue-sharing agreement.
"We appreciate their business, but I think it's also important to make clear that, despite claims they've made to the contrary, AMC has absolutely no intention — I repeat, no intention — of sharing any — I repeat, any — of our admissions revenue or our concessions revenue with MoviePass," Aron said.
MoviePass customers on Thursday began to notice that their local theaters had gone dark on the service, before MoviePass had publicly disclosed its decision. Many customers tweeted their frustration on both companies' social media accounts, demanding answers.
"I don't understand why you would take my favorite movie theater away from your service," one Florida user tweeted to MoviePass' Twitter account.
Many vented their frustration at AMC, before MoviePass put out its statement on the decision to drop theaters from its network. An AMC spokesman declined to comment on the matter Friday, but the theater chain's customer service Twitter account replied to angry customers, saying the restriction was not AMC's fault.
"AMC has not restricted MoviePass acceptance at our theatres, nor have we heard from MoviePass about this," the Leawood, Kan.-based company told customers on Twitter. "MoviePass customers should contact MoviePass for clarification."
Helios & Matheson Analytics Inc., a publicly traded company based in New York, said in August it agreed to pay up to $27 million for a controlling stake in MoviePass, which then dropped its price to $9.95 a month from roughly $40. The company's rapid growth caused a backlog of orders, and customers complained when it took weeks for the company to send their cards in the mail. Helios in November said it would raise $100 million in capital to invest in MoviePass.
MoviePass has recently expanded its business to partner with independent film distributors to help acquire movies and promote them on its app when they hit theaters. At the Sundance Film Festival this week, MoviePass teamed with distributor the Orchard to acquire the distribution rights for filmmaker Bart Layton's latest movie "American Animals."
"As we continue to strive for mutually-beneficial relationships with theaters, the list of theaters we work with is subject to change," said MoviePass CEO Mitch Lowe, who previously sparred with Hollywood studios as an executive at Redbox and Netflix. "We advise customers to always double check the MoviePass app for the most up-to-date list of participating theaters."
Twitter: @rfaughnder
Inside the business of entertainment
The Wide Shot brings you news, analysis and insights on everything from streaming wars to production — and what it all means for the future.
You may occasionally receive promotional content from the Los Angeles Times.