Are the Murdochs 'fit and proper'? 21st Century Fox awaits British watchdog's decision on its Sky bid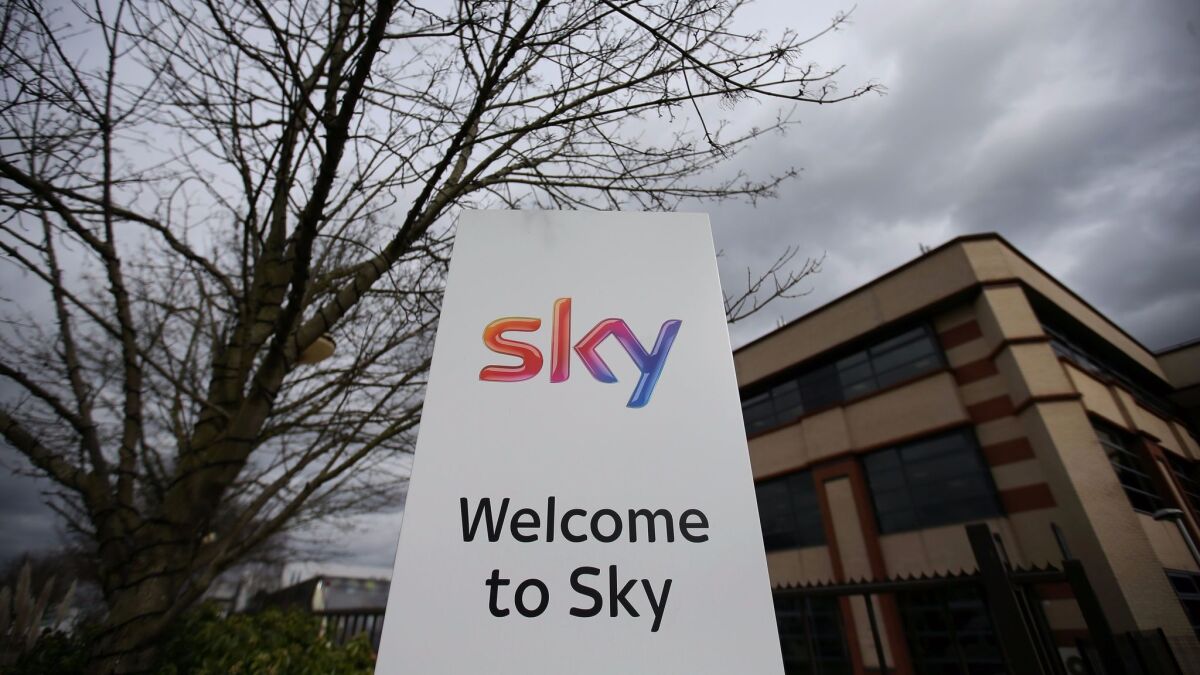 Rupert Murdoch's 21st Century Fox media company has spent nearly a year cleaning up a sexual and racial harassment scandal at its influential and politically conservative Fox News.
Across the Atlantic Ocean, the media company has waged a separate campaign: trying to persuade a powerful British media watchdog that the problems at Fox News and a nearly decade-old phone hacking scandal in Britain represent isolated incidents and that Fox should be trusted to fully control one of the jewels of European broadcasting, the satellite TV giant Sky.
On Tuesday, the British Office of Communications, known as Ofcom, is expected to complete its review of whether Fox's proposed takeover of Sky should be approved. The group will also determine Tuesday whether Fox executives pass the "fit and proper" test required for British broadcasters.
Sky reaches 22 million pay-TV subscribers — including in Germany, Austria, Italy and Ireland — with a bounty of entertainment channels, including HBO and Showtime, popular sports including soccer, cricket and Formula 1 racing, and the Sky News channel.
21st Century Fox, based in New York and controlled by Rupert Murdoch, owns 39% of Sky and has offered nearly $15 billion to acquire the 61% that it does not own. Taking full control of Sky would fulfill the Murdoch family's goal to consolidate a lucrative enterprise that Murdoch launched 28 years ago to compete with the venerable British Broadcasting Corp.
But the U.S. scandal has cast a cloud over its ambitious growth plans. Attorneys representing women who alleged they were sexually harassed at Fox News have urged British regulators to nix the deal. And a prominent group of British politicians — including the former head of Britain's Labor Party — have asked that the deal be blocked, saying in a recent letter: "This bid goes to the heart of who wields influence in our media and who is fit to do so."
The 86-year-old media baron has long been a controversial force in British politics. The Sky deal has rekindled memories of an earlier scandal, in 2011, when the Murdoch family was forced to abandon its previous takeover of the satellite TV service after explosive revelations about phone hacking. Brits were appalled to learn that operatives of Murdoch's since-shuttered News of the World tabloid had listened to voice mail messages on the cellphone of a murdered 13-year-old girl. Reporters also listened in on conversations of celebrities, including Hugh Grant, and members of the royal family.
Murdoch and his son, James Murdoch, now Fox's 44-year-old chief executive, were called before a committee of Parliament investigating the scandal.
"These media companies have a corrosive effect on our society and culture, and we feel that if they take over Sky, that will send our media standards plummeting," said Alex Wilks, a member of the global activist group Avaaz, which has led the campaign to thwart the Fox bid.
Fox representatives declined to comment.
Fox's deputy general counsel, Jeffrey Palker, wrote in a March letter to Britain's Department for Culture, Media and Sport: "We welcome a thorough and thoughtful review.… For the past 30 years, 21st Century Fox and Sky have been broadcasters of good standing in the UK, a responsibility we take seriously."
On Tuesday, Britain's secretary of state for culture, Karen Bradley, announced that she had received Ofcom's report and its separate "fit and proper" assessment.
"I will consider these reports in detail before coming to an initial view on whether or not I am minded to refer the merger," Bradley said in a statement. She said she would decide by June 29 whether Fox's proposed takeover of Sky would undergo another round of regulatory scrutiny, this time from the Competition and Markets Authority.
"My priority remains -- as it has throughout this proposed merger -- to make my decision independently, following a process that is scrupulously fair and impartial, and as quickly as possible," Bradley said.
Financial and legal analysts in Britain do not expect the deal will be blocked because there are a variety of news and entertainment outlets in Britain, and Sky is not the dominant provider.
In addition, Sky News has only 5% of the British market for TV news viewership; the BBC commands the lion's share. And, according to analysts, Sky has an unblemished record of operating within rules for media conduct, and Ofcom typically doesn't scrutinize workplace issues such as sexual harassment. The transaction has already received the blessing of the European Union.
Nonetheless, regulators could still impose restrictions to limit the Murdoch family's control over Sky News.
Murdoch has wielded great power in British politics for decades through his stable of newspapers: the over-the-top Sun tabloid, which agitated for Britain's withdrawal from the European Union, and the more respected Times of London. But his standing may be weakening after British Prime Minister Theresa May and her Conservative Party lost a majority of seats in Parliament this month. On election night, the deputy leader of the opposing Labor Party crowed that Brits "saw through the lies of the Murdoch machine who tried to frighten people" into supporting Conservative candidates.
Late last month, when top Fox executives met with the head of Ofcom, Sharon White, Rupert Murdoch's sons, James and Lachlan Murdoch, made the case for 21st Century Fox's takeover of Sky. Rupert Murdoch did not attend the meeting.
Although the elder Murdoch still controls Fox, "James and Lachlan are the ones who are in charge of the company, so they are trying to emphasize the fact that Rupert Murdoch is not a driver around this transaction or of 21st Century Fox," said Alice Enders, a prominent British media analyst.
The two brothers have been trying to move the company beyond a scandal that erupted last summer when former anchor Gretchen Carlson sued Fox News, alleging she lost her job because she resisted the advances of former Fox News Chairman Roger Ailes. Fox fired Ailes, who died last month.
In the last year, several other women came forward with similar complaints against Ailes and former star host Bill O'Reilly, who left last month. Fox has paid about $45 million in settlements to alleged victims of sexual harassment. Federal prosecutors also have been investigating whether settlement payments were properly disclosed.
Britain's media watchdog has heard plenty about the scandal. Los Angeles radio host Wendy Walsh, who alleged that she was denied a position at Fox News after she refused to have sexual relations with O'Reilly, traveled to London with her attorney to share her story.
"Actions should have consequences — and not just individuals, but also corporations," said Walsh's attorney Lisa Bloom. "Fox News has allowed its workplace to become a cesspool of sexual harassment and retaliation for decades."
British regulators are examining two issues: whether Fox would exert too much control over British media and whether its leaders pass what is known as the "fit and proper" test, a loosely defined measure of the moral character of people in leadership positions.
"Fit and proper is a term of art," said Duncan Lamont, a longtime media attorney in London. "We all know it when we see it."
Regulators could recommend a framework so that Sky News operates with a degree of editorial independence, according to Enders. Regulators, or even Fox, could propose that a board, with several independent directors, would oversee Sky News.
Among the concerns is that Sky News might morph into the European version of Fox News. "There is a danger of the Fox-ification of Sky News," said Wilks of Avaaz. "We don't want to rile up the people of the U.K. with divisive and nasty coverage."
But others consider that unlikely because of Britain's stiff rules governing broadcasters.
"You can't have extremely right-wing commentary," Lamont said. "At Sky News, you just don't get that. It has to be fair, accurate and impartial. There's just no appetite for that kind of thing."
ALSO
Fox News harassment claims threaten Murdochs' deal to take over Sky
Rupert Murdoch reaps $34 million in compensation
Fox's earnings rise despite fallout from sexual harassment scandal
---
UPDATES:
8:40 a.m. This article was updated to include a statement from Britain's Secretary of State for Culture, Karen Bradley.
This article was originally published at 2 a.m.
---
Inside the business of entertainment
The Wide Shot brings you news, analysis and insights on everything from streaming wars to production — and what it all means for the future.
You may occasionally receive promotional content from the Los Angeles Times.