Netflix joins MPAA in a sign of the streaming company's film growth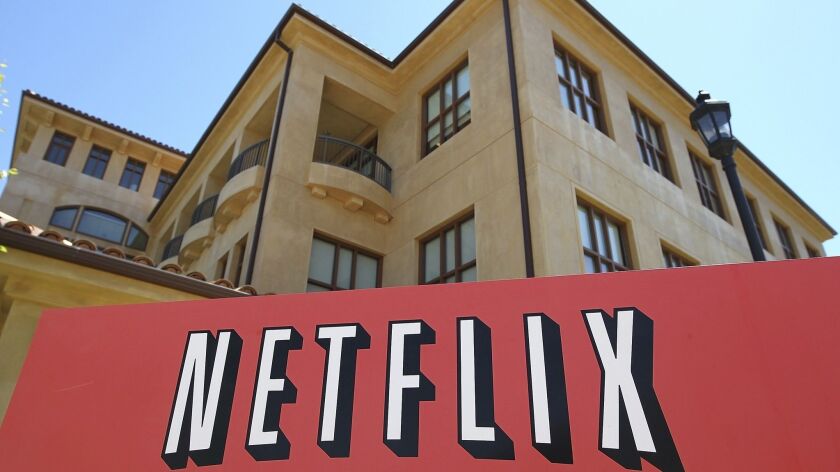 In a coming-of-age moment for the movie industry's biggest source of disruption, Netflix is joining the Motion Picture Assn. of America, the Washington lobbying arm of the traditional major Hollywood studios.
The Los Gatos, Calif., streaming video company joins the ranks of film stalwarts Disney, Fox, Warner Bros., Universal, Sony and Paramount in an organization whose duties include advocating legislation, fighting piracy and assigning parental-guidance ratings to feature films, the group said Tuesday.
The move comes as the MPAA is facing the realities of a fast-changing industry in which streaming plays an increasingly significant role. Netflix is spending billions of dollars a year to create TV shows and movies, and it has been willing to pay top dollar for talent.
The MPAA, led by former U.S. ambassador to France and Monaco Charles Rivkin, has been considering bringing Netflix into its ranks for months in an effort to adapt to the viewing habits of modern audiences.
The group is poised to lose a member to industry consolidation early this year when Walt Disney Co. finalizes its $71.3-billion purchase of 21st Century Fox. Studios pay annual dues of about $15 million each to the nonprofit organization, so the loss of the 21st Century Fox film company would represent a serious financial hit.
The addition of Netflix could further complicate the group's work at a time when its members already disagree on significant issues, including how to shorten the traditional window between a movie's theatrical release and its availability on home video.
However, Netflix has already shown a willingness to work with the MPAA on one of its priorities: battling piracy. Netflix, along with streaming competitor Amazon.com Inc., joined with the studios in 2017 to form a global anti-piracy alliance, which has waged several legal attacks on companies allegedly engaged in copyright theft.
"Adding Netflix will allow us to even more effectively advocate for the global community of creative storytellers, and I look forward to seeing what we can all achieve together," Rivkin said in a statement.
Netflix's induction arrives as the company basks in its 15 Oscar nominations, announced Tuesday. The company is the distributor of Alfonso Cuaron's intimate cinematic drama "Roma," which was nominated for 10 awards, including best picture.
The mainstream recognition for the film, as well as Netflix's Coen brothers western anthology "The Ballad of Buster Scruggs," came despite resistance from major theater owners, which refused to show the films in their cinemas. Nonetheless, "Roma" has played on more than 900 screens worldwide, including multiple runs in 70mm, according to Netflix. AMC Theatres and Regal Entertainment said they will not include "Roma" in their best picture showcase events.
Netflix is still viewed as a film industry outsider because of its unorthodox practices. Unlike the traditional studios, it does not release box office figures for its movies, to the chagrin of rival distributors. It has angered theaters with its release strategy for "Roma," putting it in theaters a mere three weeks before making it available for streaming. For Netflix, though, that was a compromise because it usually allots no exclusive window for theaters.
---
Inside the business of entertainment
The Wide Shot brings you news, analysis and insights on everything from streaming wars to production — and what it all means for the future.
You may occasionally receive promotional content from the Los Angeles Times.