'ABC World News Tonight' takes ratings crown, but broadcast news audiences continue to shrink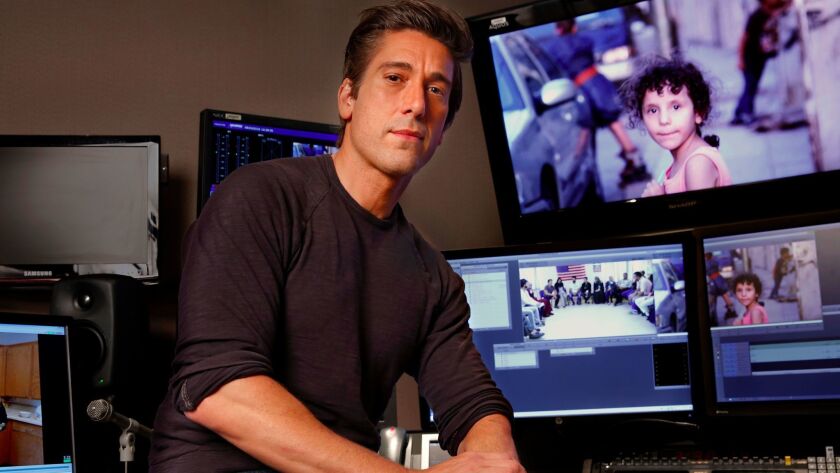 ABC and NBC claimed ratings crowns for their news programs in the 2016-17 TV season that ended last week, but their kingdom of viewers is still getting smaller.
The average number of viewers watching network evening newscasts each night during the 2016-17 season was 23.1 million, down 4% from the 2015-16 season. In the morning, the three networks' total was 12.2 million viewers, a decline of 5% from the previous year.
The drop in the overall number of viewers shows how broadcast news is facing the same disruption that has occurred in the rest of the TV business. More choices for viewers means less time with the traditional programs that have been cornerstones of the network TV business.
"I don't think there is any media genre on the planet that is immune to the way technological change has shifted people's consumption habits," said NBC News President Noah Oppenheim. "The reality of it is we are all walking around with devices in our hands that give us information to all that is happening in the world at any given time."
Still, the networks touted their wins for bragging rights for their morning and evening programs. Nielsen data showed "ABC World News Tonight With David Muir" was the most-watched evening news program with 8.3 million viewers, even with its audience in the 2015-16 season. It breaks a 21-year streak of seasonal wins for "NBC Nightly News," which had 8.2 million viewers, down 6%.
ABC's "Good Morning America" finished first among the morning shows for the fifth straight season with 4.4 million viewers, a decline of 7%.
"ABC World News" was down 6% in the 25- to 54-year-old demographic, while "Good Morning America" lost nearly 12% of that audience.
NBC's morning program "Today" and "NBC Nightly News" topped ABC's programs in the 25- to 54-year-old group that advertisers seek. But "Today" was down 10% in the demographic while "Nightly News" was off 7%.
CBS' programs finished third in both overall viewers and in the 25- to 54-year-old demographic. "CBS This Morning" held up better than its two competitors with 3.56 million viewers but declined 11% in the demographic.
"We're maintaining the highest level that CBS has seen in the morning in 30 years," said Ryan Kadro, executive producer of "CBS This Morning, which had seen annual audience growth in the previous four TV seasons.
"CBS Evening News," which is currently fronted by interim anchor Anthony Mason, finished the season with 6.6 million viewers, a 6% decline. It was off 11% in the 25- to 54-year-old demographic.
Network broadcast news has also faced an unexpected challenge as cable news ratings continued to surge over their record levels in 2016 during the presidential race.
The expectation was that the ratings for CNN, MSNBC and Fox News would decline in 2017 without the boost of the campaign. But the abundance of news out of the Trump White House has created an ongoing saga that has lifted the ratings and likely pulled viewers away from the broadcast networks.
In 2017, Fox News is up 46% from 6 to 9 a.m., when it airs President Trump's favorite morning show "Fox & Friends." CNN's "New Day" is up 31% while MSNBC's "Morning Joe" has gained 46% over last season. In the 6 to 7 p.m. hour, the cable news audience has increased by 16%.
NBC News is a beneficiary of those cable news gains as it operates MSNBC. Rivals have said that the left-leaning politics of the cable channel's prime-time hosts such as Rachel Maddow have turned off conservative viewers from its broadcast programs.
But Oppenheim disagrees. "I'm proud of our association with MSNBC and viewers are sophisticated enough to make a distinction between the news that our correspondents are reporting throughout the day and the more analytical programming that appears in prime time," he said.
Oppenheim also disputes the notion that the evening news broadcast cannot drive the country's conversation about politics as effectively as cable news.
He cited "Nightly News" anchor Lester Holt's interview of President Trump in which the president said he fired FBI Director James B. Comey because of the bureau's investigation into his election campaign's alleged collusion with the Russian government.
"I still think broadcast news is in a pretty healthy place and is still a relevant part of the conversation," he said.
ABC News President James Goldston noted that "ABC World News Tonight" had as many viewers in the 2016-17 season as it did 10 years ago, despite the increased competition and audience fragmentation.
"It's an extremely effective aggregator of what's happened in the world during the day," Goldston said. "It's a straight down-the-line broadcast. It doesn't take sides; it doesn't play favorites."
Twitter: @SteveBattaglio
---
Inside the business of entertainment
The Wide Shot brings you news, analysis and insights on everything from streaming wars to production — and what it all means for the future.
You may occasionally receive promotional content from the Los Angeles Times.