Toronto has been a film and TV hub for decades. Now Guillermo del Toro may give the Canadian city an edge
Reporting from Toronto —
Guillermo del Toro, the Hollywood director most famous for bringing weirdly sensual and subtly human monsters to the big screen, owes some of his success to Toronto.
His latest dystopian fantasy, "The Shape of Water," for which he received best picture and director Oscars this year, was shot in and around the sprawling metropolis. Now he's there prepping for his next feature film, "Scary Stories to Tell in the Dark," the latest in a long list of Toronto credits in Del Toro's Goth and horror-infused oeuvre.
A surge in film activity by Del Toro and other filmmakers in Canada's largest city is fueling a major expansion at Pinewood Toronto Studios, located on 33 acres in the Port Lands on the city's eastern waterfront. Over the next year, about $38 million will be invested to increase capacity from 11 to 16 soundstages spread over 500,000 square feet. When complete, the studio will be Canada's biggest production complex, overtaking Canadian Motion Picture Park Studios in Burnaby, British Columbia.
"The main complaint of American and Canadian producers is that they can't find enough studio space in Toronto," says Paul Bronfman, chairman of Pinewood Toronto and cousin of Edgar Bronfman Jr., the former vice chairman of Vivendi Universal. "We're turning down productions because we can't find space for them, but that's going to change."
Multicultural and immigrant-friendly Toronto has been a film and television hub for decades, a position enhanced by the influential Toronto International Film Festival. But the city only recently achieved critical mass, bolstered by major Hollywood titles such as Warner Bros' "Suicide Squad" and the popular television series "Star Trek: Discovery," both of which shot at Pinewood Toronto.
In the hunt for Hollywood jobs, Canadian cities compete with each other and not just with U.S. locales. But Toronto, Vancouver and Montreal have each experienced rapid growth in the last few years, thanks to growing output from streaming services such as Netflix and Amazon, attractive tax credits, and a favorable exchange rate that has made filming north of the border cheaper.
Spending on film and TV productions in Toronto reached a record $1.53 billion in 2016, up from $1.18 billion in 2015, according to city officials. Production spending fell slightly to $1.37 billion last year, but 2018 is on track to be another strong year and could tie the record, city officials say.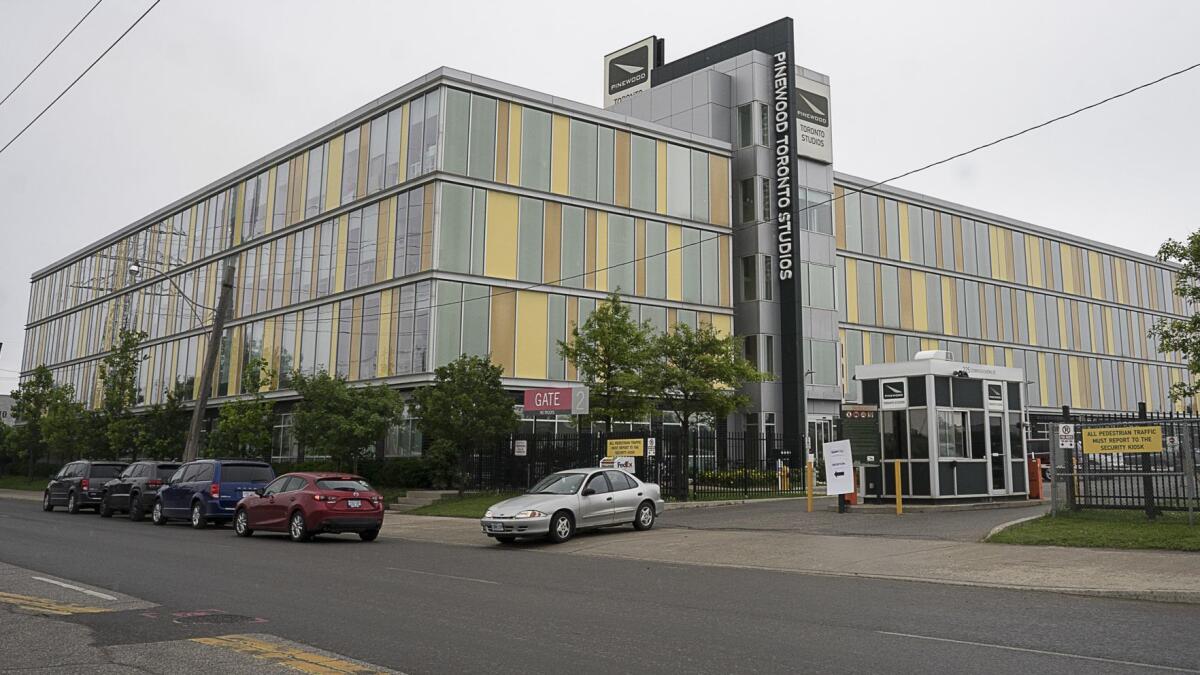 The Ontario Media Development Corp., or OMDC, the government agency responsible for attracting domestic and foreign producers to the province, offered $570 million in tax credits during the latest fiscal year ended in March. Foreign production companies, including Hollywood studios such as Sony Pictures and Universal Pictures, typically receive a 21.5% rebate on all expenditures made in Ontario.
"We're weakest in purpose-built studio space," says Karen Thorne-Stone, chief executive of OMDC, which is based in Toronto. "Pinewood's expansion will make a world of difference in our ability to attract high-end tentpole productions."
Simultaneously, Cinespace Film Studios is converting two marine terminals in the Port Lands to add 165,000 square feet of new space.
"It all brings a sense of stability to the marketplace," says Zaib Shaikh, film commissioner for the city of Toronto.
Pinewood Toronto has operated under a licensing and marketing agreement with Pinewood Studios Group since 2009. The London-based studio, where James Bond movies were filmed in the '60s and '70s, has in recent years hosted movies such as "Star Wars: The Force Awakens" and "Jurassic World: Fallen Kingdom." Its other North American partner, Pinewood Atlanta Studios, which opened four years ago, has become a big draw for major movies shooting in Georgia.
About half of the expansion at Pinewood Toronto will be paid for by Bell Media, owner of Canada's highest-rated television network, CTV, 30 specialty channels and digital assets. The media company in March acquired a majority stake in Pinewood Toronto.
"Hollywood is very interested in the fact that we now own a studio because it creates exciting new opportunities for producing joint-venture content," said Randy Lennox, president of Bell Media, a division of BCE Inc., Canada's equivalent of communications giant AT&T.
Similar to Netflix, Bell Media produces 80 hours of live and taped programming each week, some of which has a global footprint thanks to international deals. For example, the crime drama "Cardinal," a worldwide co-production with distributor EOne, is licensed in 102 countries with broadcast partners such as Hulu, French cable channel Canal+ and the BBC. "The Indian Detective," starring Canadian comedian Russell Peters, is a joint venture between Bell Media's CTV and Netflix.
Lennox plans to use this collaborative model for as many shows as possible, using Pinewood Toronto as his production nucleus.
Beyond world-class facilities and economic incentives, a third less easily defined X-factor is needed to ensure the city's longevity in the fickle movie business, according to Pinewood Toronto's Alfredo Romano, who is both a shareholder and the studio's development manager.
His plan is to transform a portion of Toronto's Film Studio District, a sleepy industrial park that feels detached from the city, into a vibrant and hip community with amenities to support the industry. This will include a hotel with long-term stay apartments, co-working spaces for film and television similar to WeWork, and a smattering of retailers and restaurants. Live-work rental housing for people in the industry is also under discussion.
"We need all the things a thriving business community wants to see," says Romano, a business veteran on Toronto's waterfront. "Tax credits and rebates are important, but so is the quality of the work environment. It's what keeps people coming back and will make the industry sustainable over the long term."
David Bergman, an urban planner at MR+E of Santa Monica, says a diverse mix of facilities would provide an important buffer against exchange rate fluctuations, competing tax credits and cross-border trade friction.
"The infrastructure and availability of space in the Port Lands makes it ideal for expansion of the city's cultural and knowledge industries," says Bergman, who helped write a study more than a decade ago proposing that Toronto's film and television industry locate in the then-empty Port Lands.
For his part, Del Toro has been returning to Toronto and Pinewood for years. He has an office at the studio and a permanent parking spot emblazoned with the initials GDT, opposite the main entrance on Commissioners Street.
Three of his earlier projects, "Pacific Rim," "Crimson Peak" and "Mama," were all filmed at Pinewood Toronto Studios, as was part of "The Strain," a television series based on his vampire horror trilogy that shot there over a four-year stretch ending in 2017. "Scary Stories to Tell in the Dark" begins shooting at the studio in August.
"More than any other person in the last decade, Guillermo del Toro has pushed Toronto to another level of filmmaking and television," says Romano, explaining the symbiotic relationship between the Mexican-born auteur and North America's third-largest urban center with a population of 5.9 million.
Miles Dale, who has been Del Toro's producing partner for years, said the filmmaker views Toronto as his second home outside Los Angeles.
"He doesn't feel like an outsider in Toronto," he says.
Inside the business of entertainment
The Wide Shot brings you news, analysis and insights on everything from streaming wars to production — and what it all means for the future.
You may occasionally receive promotional content from the Los Angeles Times.