Tronc clears L.A. Times publisher Ross Levinsohn of wrongdoing, names him CEO of new unit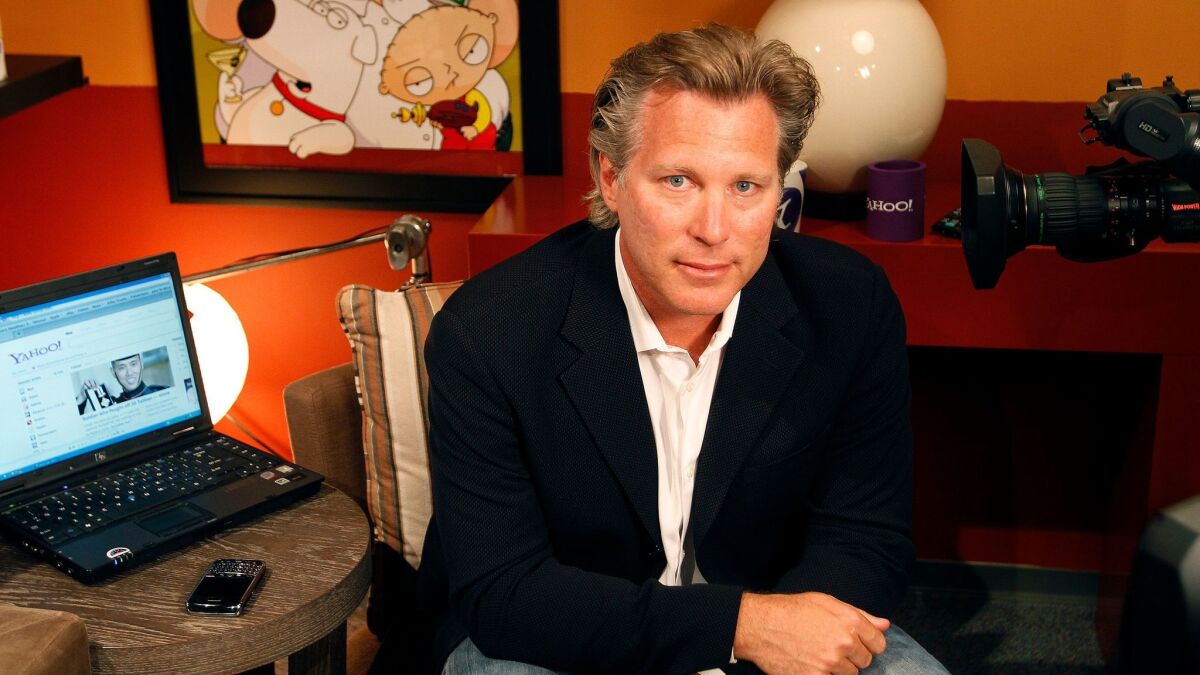 Los Angeles Times Publisher and Chief Executive Ross Levinsohn has been cleared of wrongdoing following an investigation into his conduct, and he will move into a new role within the paper's parent company, Tronc announced Wednesday.
Levinsohn has been on unpaid leave since Jan. 19 following a report by National Public Radio that he was the defendant in two sexual harassment lawsuits. NPR said Levinsohn engaged in "frat-boy" behavior when he was an executive at other media companies. It said he testified that he had rated the "hotness" of female colleagues and speculated whether a female subordinate had a side job as a stripper.
Tronc said Wednesday that Levinsohn will become chief executive of Tribune Interactive, a business unit that Tronc plans to form following the sale of The Times and the San Diego Union-Tribune to Los Angeles billionaire Patrick Soon-Shiong. In an SEC filing Wednesday, the company also noted that Levinsohn stepped down as publisher and chief executive of The Times.
Tronc separately announced the $500-million agreement to sell The Times and Union-Tribune to Soon-Shiong's investment firm, Nant Capital. That deal is expected to close in March or April, Tronc said.
The Chicago company also announced that Levinsohn would be returning to Tronc after the nearly three-week review.
"Following an independent investigation and a report to the board of directors finding no wrongdoing on the part of Mr. Levinsohn, the board determined to reinstate Mr. Levinsohn and appoint him chief executive officer of Tribune Interactive," the company said in a statement.
Levinsohn will report to Tronc CEO Justin Dearborn, the company said.
"We are pleased that Ross will be back to work," Dearborn said in a statement. "We have great confidence in him and the team to deliver value for our shareholders through growing digital audiences for our award-winning journalism, new creative content and product initiatives, and growing digital and diversified revenue streams."
Levinsohn will be joined at Tribune Interactive by the team he brought to the Los Angeles Times, including Mickie Rosen, who will serve as president of Tribune Interactive, and Lewis D'Vorkin, who will be chief content officer. D'Vorkin, a former top editor at Forbes, was removed as Los Angeles Times editor-in-chief last week after a rocky three-month tenure marked by a contentious relationship with the newsroom.
D'Vorkin was replaced by veteran Chicago journalist Jim Kirk. Tronc did not say whether it would appoint an interim publisher until the sale of The Times is finalized.
Levinsohn, 54, served as The Times' publisher for five months. He was the paper's 17th publisher and the fifth in the last decade.
His brief tenure at The Times was met with turmoil and rising suspicions in the newsroom. Staffers were spooked by his efforts to assemble a new team of reporters and producers that would be separate from the newsroom. Levinsohn unveiled his controversial plan to use contributors to churn out content for Tronc's digital platforms a day before he was placed on unpaid leave.
The Jan. 18 NPR report heightened tensions at The Times and prompted more than three weeks of upheaval and a barrage of negative news reports.
Times staffers immediately said that Levinsohn was unfit to lead the news organization, especially as it has been aggressively pursuing allegations of sexual harassment by Sacramento politicians and Hollywood entertainment figures.
"Levinsohn has lost credibility as the leader of one of the country's top newspapers," newsroom employees wrote in a petition signed by more than 200 staff members and sent to Tronc's board following the NPR report. Twelve top editors of The Times separately expressed deep concerns about Levinsohn to the board, writing: "Such behavior is unacceptable and jeopardizes The Times' 136-year legacy of integrity."
Tronc then brought in the Sidley Austin law firm to investigate the allegations contained in the NPR report, which did not include any claims made during his tenure at The Times.
The move came on the day that the National Labor Relations Board oversaw the counting of ballots in a unionization election. The paper's journalists voted 248-44 to join a union, in large part, because of a lack of confidence in corporate management. It was a historic step for a news organization with long anti-union roots.
Staff members also have been anxious about the prospect of leaving The Times' offices, where they have been located since 1935 in an iconic Art Deco building in downtown Los Angeles. The Times' lease is up for renewal this summer, and Levinsohn had expressed interest in relocating the newsroom to a campus-like setting in the Playa Vista area — an idea Tronc executives have since shot down.
Before joining The Times, Levinsohn worked at Guggenheim Digital Media, Yahoo and Rupert Murdoch's News Corp.
Los Angeles Times staff writers Richard Winton, James Rufus Koren and Roger Vincent contributed to this report.
Twitter: @MegJamesLAT
---
UPDATES:
2:30 p.m.: This article was updated to note that Ross Levinsohn has stepped down as publisher and chief executive of The Times.
This article was originally published at 8:20 a.m.
Inside the business of entertainment
The Wide Shot brings you news, analysis and insights on everything from streaming wars to production — and what it all means for the future.
You may occasionally receive promotional content from the Los Angeles Times.