Hollywood rolls out the red carpet for Saudi Arabia's crown prince, hoping to cash in on a new market
Mohammed bin Salman, the 32-year-old crown prince of Saudi Arabia, is sure to be treated like a movie star when his tour of the United States comes to Los Angeles this week.
The royal heir apparent, who learned English by watching films as a child, is expected to dine at producer Brian Grazer's Santa Monica home, attend an event at Rupert Murdoch's Bel-Air estate and meet with show business power players, including talent agency boss Ari Emanuel and Walt Disney Co. Chief Executive Bob Iger.
Mohammed's trip to Los Angeles — part of a coast-to-coast American tour marked by meetings with President Trump and Silicon Valley bigwigs — has elicited excited curiosity among entertainment industry executives who see the desert kingdom as a lucrative new market for movies — and a potential source of much-needed financing. Hollywood's biggest foreign financial partner, China, has mostly stopped writing checks because of a government crackdown on foreign investments and leveraged deals that once dominated headlines.
Cinema owners and studios in the U.S. and elsewhere have been salivating since Saudi Arabia ended its 35-year ban on movie theaters in December. The move was part of a larger push to modernize the kingdom's culture and diversify its oil-dependent economy. The nation's cinemas, once built out, could generate $1 billion in annual box-office receipts, industry experts said.
"They're all vying like crazy to get into the market," said John Fithian, chief executive of the National Assn. of Theatre Owners, a cinema industry trade group in Washington, D.C. "The kingdom's decision to open up the cinema business is historic and substantial."
It's easy to see why Hollywood would seek to woo the prince, despite the striking incongruity between its predominantly liberal values and the ultra-conservative mores of a country that only recently promised women the right to drive.
Saudi Arabia has 32 million people, most of whom are under 30 years old. Many have significant disposable income and a lack of entertainment options, a prime demographic for theater chains.
"It is a large market, by far the largest in the Middle East," the Saudi minister of culture and information, Awwad Alawwad, said at his office in the Saudi capital, Riyadh. "It is also an untapped market that hasn't been explored before."
Still, U.S. studios face enormous challenges in trying to crack the Saudi market, including heavy restrictions on what kinds of movies will be allowed in a country averse to depictions of sex and nudity (sorry, "Fifty Shades of Grey"). Films will be censored to ensure they reflect the kingdom's "moral values." Men and women could be segregated in theaters.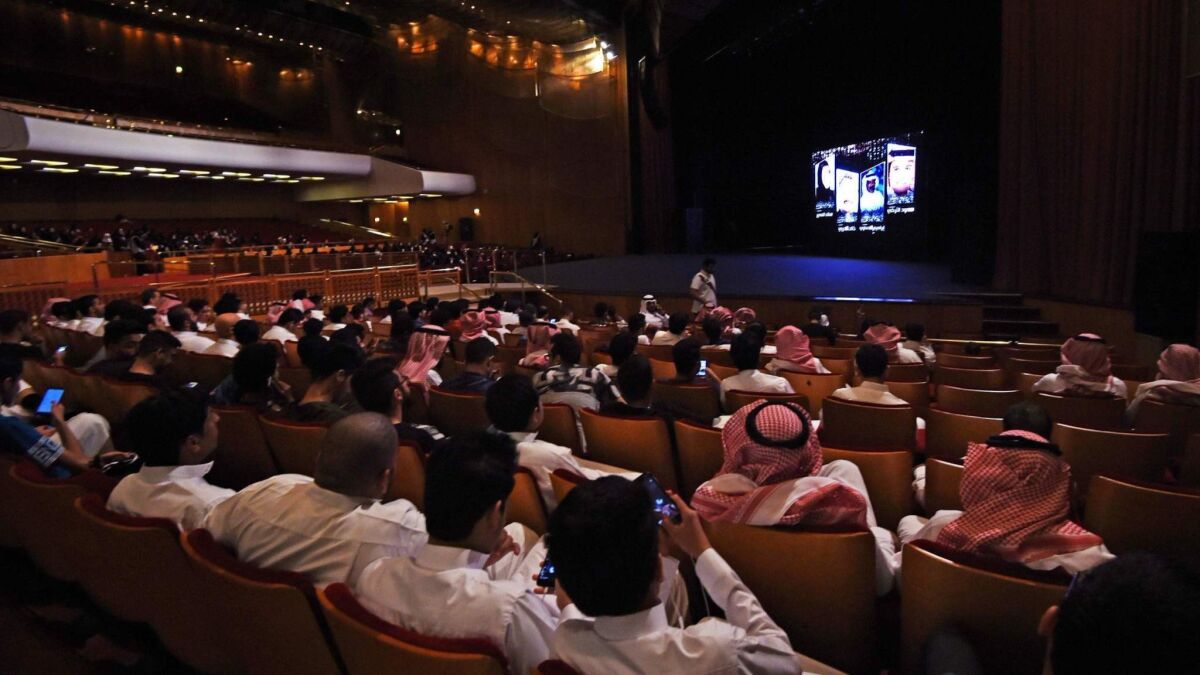 Saudi Arabia's interest in entertainment follows a long line of investors from foreign countries — including Japan, Germany, India and some Middle Eastern nations — who were lured by the glamour of Hollywood only to get burned.
"It's a courtship process," said entertainment business lawyer Elsa Ramo, an expert in film finance. "Everybody's in the dating phase right now."
Entertainment executives who meet with the prince and dignitaries are hoping to learn more about the country's plans. Some deals are already percolating. The Public Investment Fund — the kingdom's major sovereign wealth vehicle — is close to buying a stake of less than 10% in Emanuel's talent agency and media company Endeavor for at least $400 million.
Fund representatives declined to comment, but Saudi Arabia authorities said in February they plan to spend $64 billion on entertainment projects, including theaters and concert venues, in the next decade. About $10 billion is set aside for film investments.
"Saudi Arabia is investing across the board to expand both the creative output of Saudi artists and entrepreneurs, and to make Saudi Arabia a central hub in what is today a truly globalized entertainment industry," said Sandy Climan, president of Los Angeles investment and advisory firm Entertainment Media Ventures, who is a frequent visitor to the Middle East.
Signals of the kingdom's courtship strategy are beginning to emerge. On Wednesday, the country's General Entertainment Authority will host a lunchtime summit at the Four Seasons Hotel Los Angeles at Beverly Hills to discuss opportunities for the entertainment industry. The crown prince is not expected to attend the summit. However, Saudi dignitaries including General Entertainment Authority Chairman Ahmed Al Khateeb will be there. The government plans to launch its first film agency at the Cannes Film Festival in May.
Saudi Arabia, like China, wants to use its investments to learn about the global entertainment business and build a modern media industry. A major motivation for the country's plan is to drive tourism, and entertainment is a key part of that, experts said. Mohammed also wants to keep young people in Saudi Arabia from fleeing to neighboring nations such as Bahrain to watch movies on the weekends.
"M.B.S. [Mohammed bin Salman] clearly has put an emphasis on sports and entertainment to drive tourism and bring more skilled cultural trade to the region," said David Unger, CEO of Artist International Group, a talent manager specializing in international clients. "Film and television are an important part of culture, and hence a cornerstone to this strategy."
But unlike Chinese investors, the Saudis are not expected to make multibillion-dollar bids on American movie studios and production companies.
"If Hollywood is looking for another source of dumb money, we are grossly mistaken," said Dennis Rice, head of film marketing and distribution consulting firm Visio Entertainment. "They are very savvy and shrewd businesspeople."
A major goal of Mohammed's American tour is to sell the country as a society that is in the midst of major cultural and economic reforms. In a recent interview with CBS' "60 Minutes," the crown prince spoke fondly of the days before the royal family started enforcing strict observance of Islamic law in response to the 1979 seizure of the Grand Mosque in Mecca by religious extremists.
"We were living a very normal life like the rest of the Gulf countries. Women were driving cars. There were movie theaters in Saudi Arabia. Women worked everywhere," he told CBS' Norah O'Donnell. "We were just normal people developing like any other country in the world until the events of 1979."
Critics have said Mohammed's status as a reformer is exaggerated. Saudi Arabia remains a restrictive society that prevents dissent among its citizens and journalists. The recent arrest of dozens of officials, businessmen and princes at the Ritz-Carlton hotel in Riyadh was viewed by many as a power grab by Mohammed. Those arrested included Prince Alwaleed bin Talal, widely known in the U.S. for his investments in such companies as Euro Disney, Twitter and Apple. He was recently released from detention. Congress recently debated reducing military aid to Saudi Arabia over alleged atrocities in Yemen. Female liberal activist group Code Pink announced plans to rally Monday outside Endeavor's office in Beverly Hills to protest the crown prince's visit.
But those geopolitical issues haven't deterred U.S. cinema executives. AMC Theatres, based in Leawood, Kan., and the world's largest theater operator, said in December it had signed an agreement with the Public Investment Fund to develop theaters in the region. Boca Raton, Fla.-based iPic, known for its luxury dine-in cinemas, plans to build as many as 30 theaters in Saudi Arabia over the next 10 years.
And big-screen company Imax, which already has a lone screen housed at a science center in Al-Khobar, aims to operate up to 20 theaters in the country within three years.
"Saudi Arabians have high disposable income, so they're going to seek out the top of the pyramid in terms of the cinematic experience," said Imax Corp. Chief Executive Richard Gelfond. "It's a large opportunity."
Studio executives cautioned that there is still uncertainty about the Saudi market. The populace, for example, has yet to develop the habit of regularly going to theaters, said Andrew Cripps, president of international theatrical distribution at 20th Century Fox Film.
"Today there are no movie theaters, and you don't build an infrastructure overnight," Cripps said. "There's a lot of excitement, but you've got to give that infrastructure time to build."
A number of shopping malls under construction in Saudi Arabia have already included movie screens in their plans and at least 140 others have space that could be adapted for that purpose, Saudi officials said.
One challenge is to address restrictions that prevent unrelated men and women from sitting together in theaters, which presents design issues. Depending on government approval, cinemas could create separate auditoriums for men and for families, or they could put them on different sides of the same theater.
Executives from the National Assn. of Theatre Owners flew to Riyadh in December to meet with government officials and discuss how the cinema industry could work in the country, bringing floor plans to display various options.
Saudi officials say they are considering designating theaters as family venues, which would eliminate the need for separate seating.
Another major issue is censorship, which is common in the Middle East. Theater owners have argued for an age-based rating system that would allow for flexibility — similar to the Motion Picture Assn. of America's in the U.S. — rather than one-size-fits-all bans on certain kinds of content.
Saudi officials have embraced the idea and say they are studying how other countries do this. They expect restrictions on content will be similar to those enforced in countries such as Kuwait, Bahrain and the United Arab Emirates.
There's also the question of what movies the population will favor. American family films and blockbusters tend to succeed in the Middle East, but local language productions and movies from India are expected to draw much of the audience, said Imax's Gelfond.
"Not all the box office will be Hollywood box office," Gelfond said. "It depends on what Saudi audiences want to see."
Times staff writer Alexandra Zavis contributed to this report from Riyadh, Saudi Arabia.
---
Inside the business of entertainment
The Wide Shot brings you news, analysis and insights on everything from streaming wars to production — and what it all means for the future.
You may occasionally receive promotional content from the Los Angeles Times.