Sinclair agrees to sell 23 TV stations to gain approval for Tribune deal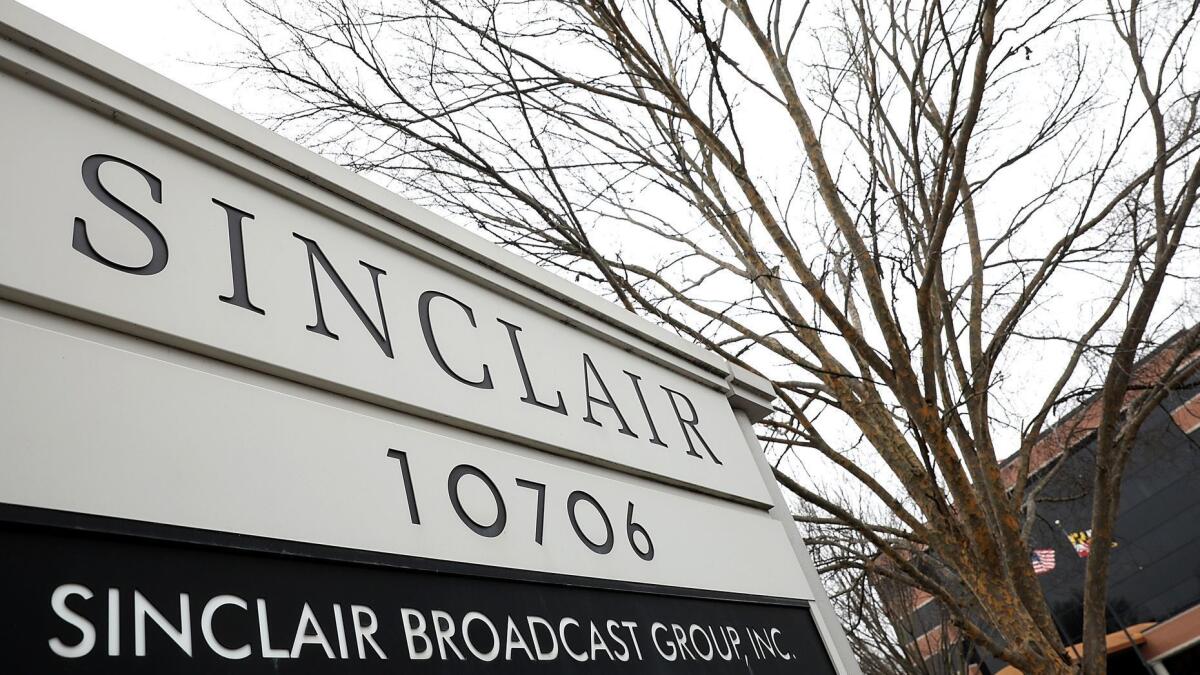 Sinclair Broadcast Group will divest 23 TV stations in order to clear the path for its merger with Tribune Media, the company announced Tuesday.
The sale of the stations would occur after the close of Sinclair's $3.9-billion acquisition of Tribune's 42 TV stations. The deal would give Sinclair ownership or operational control of 215 TV stations in 102 markets.
Sinclair did not disclose the price of the stations being divested.
Sinclair's announcement of the divestiture plans is expected to help move the deal along as it undergoes the scrutiny of the Department of Justice and the Federal Communications Commission for approval.
"While we continue to believe that we had a strong and supportable rationale for not having to divest stations, we are happy to announce this significant step forward in our plan to create a leading broadcast platform with local focus and national reach," Chris Ripley, president and chief executive of Sinclair, said in a statement.
Sinclair needed to divest the stations to comply with the limit on TV station ownership. Without the divestiture, the merger of Sinclair and Tribune would put the combined company over the current limit of stations that reach 39% of U.S. households.
The sale does not affect Tribune stations KTLA in Los Angeles or WPIX in New York; those are both still slated to go to Sinclair.
Once the stations are divested, Sinclair will still have agreements to operate many of the stations for their new owners. Such deals allowing companies to operate stations after transferring ownership are permitted under FCC local ownership deals.
One of the buyers of the divested stations is Armstrong Williams, a prominent conservative commentator. Sinclair has sold divested stations to Williams in the past in order to get larger acquisitions to comply with ownership regulations.
Sinclair is the largest owner of local television stations in the United States. It recently drew criticism for requiring the news anchors at its stations to read a scripted statement echoing claims by President Trump that TV news outlets offer "fake" or biased news.
In the divestiture deal announced Tuesday, Sinclair would sell Williams stations located in Seattle, Salt Lake City and Oklahoma City.
The buyer of stations in Houston and Dallas is Cunningham Broadcasting Co., which is named after the mother of Sinclair's executive chairman, David Smith. Those stations will also be operated by Sinclair.
Sinclair also announced it will divest the Tribune flagship station, WGN in Chicago. The buyer has not been named, but the station will also be operated by Sinclair.
One station, KPLR in St. Louis, would be sold to Iowa-based media company Meredith Corp. and nine would go to Standard Media Group, a New York-based limited liability company.
Sinclair also said it will unload seven other stations in Seattle, Cleveland, San Diego, Salt Lake City, Denver and Miami, but did not name a buyer. It's likely that 21st Century Fox will have an interest in acquiring those stations, as they are all Fox network affiliates.
Twitter: @SteveBattaglio
Inside the business of entertainment
The Wide Shot brings you news, analysis and insights on everything from streaming wars to production — and what it all means for the future.
You may occasionally receive promotional content from the Los Angeles Times.