Inside the deal that brought Sony's 'Spider-Man' back to Marvel's cinematic universe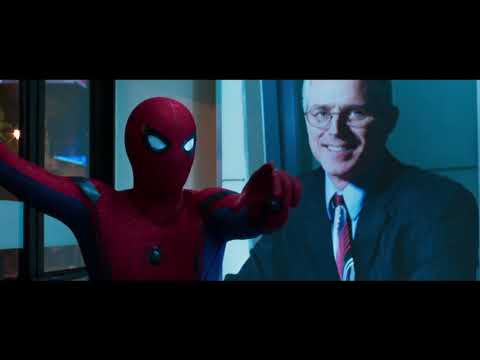 Watch the trailer for "Spider-Man: Homecoming."
Sony Pictures Entertainment was running out of options for its most valuable film franchise, Spider-Man. After 15 years and five movies of web-slinging, and $4 billion in global box office, the studio was struggling to give the character a much-needed reset.
So in early 2015, Sony's top two executives, Michael Lynton and Amy Pascal, flew to the Palm Beach, Fla., home of Marvel Entertainment Chief Executive Isaac Perlmutter, who'd spent months lobbying Sony to let his company, owned by rival Walt Disney Co., reboot the popular hero.
It was an extraordinary proposition for Sony -- to lend the keys to its lucrative property to a rival. But Sony was finally willing to swallow its pride to get a Spider-Man movie made by the most successful superhero producer ever, Marvel Studios President Kevin Feige. Over lunch at Perlmutter's swanky oceanfront residence, the executives hashed out budgets, sequel possibilities, and how Spider-Man would interact with other Marvel characters.
The results of that deal will be tested when "Spider-Man: Homecoming" hits theaters July 7. "Homecoming" is the first Spider-Man movie to exist in Marvel's broad "cinematic universe" of interwoven superhero movies, something fans of the comics have desired for years.
Marvel has long wanted to bring Spider-Man into the fold through its movies, because the character is one of the most famous from the comic books. His youth, cheeky attitude and unique abilities have earned him a cherished place in the Marvel canon.
"I never thought we'd be able to make a Spider-Man movie set in our universe, and here we are," Feige told the Times. "It truly was a dream-come-true scenario."
And exceedingly rare. Rival film companies typically don't team up on productions, except in unusual circumstances. In a famous example, Fox turned to Paramount to help finance James Cameron's "Titanic" when the 1997 movie went over budget.
Studios tend to hoard credit for their high-profile projects. But if Sony and Marvel's gamble works, it will pay off handsomely for both.
Early signs are encouraging. The $175-million "Spider-Man: Homecoming," starring Tom Holland as the title character, is expected to gross up to $100 million from the U.S. and Canada in its opening weekend, making it a bona fide hit, according to people who have reviewed audience surveys.
Sony, which financed the project, will reap the profits and keep its most important piece of intellectual property alive at a time when it could really use a box office hit. The studio has weathered a series of misfires that triggered management shakeups. Sony also hopes to use Spider-Man's popularity for spinoffs, including "Venom" and "Silver & Black," about female characters Silver Sable and Black Cat.
Disney-owned Marvel stands to benefit because it owns the lucrative merchandising rights to Spider-Man, which it acquired in 2011. It also gets to use Spider-Man in its own popular superhero movies, including last year's "Captain America: Civil War," which amassed $1.15 billion in box office sales.
"This was a way to get the new incarnation of Spider-Man on the right track," said Jason E. Squire, a film business professor at USC.
Redoing Spider-Man was always going to be risky. "Homecoming" is the third Spider-Man reboot since 2002, and audiences have already rejected several would-be franchise revivals at the multiplex this summer, including "Alien: Covenant" and "The Mummy."
"With a property like Spider-Man, you have such a huge responsibility to the audience to do it right," said Sanford Panitch, president of Columbia Pictures, the Sony unit releasing the new movie. "Allowing Marvel to bring him into their Marvel cinematic universe and bring back Peter Parker to his essence is delivering on that responsibility."
Lynton and Pascal, who left their leadership roles at Sony amid the box-office struggles, declined to comment. Pascal stepped down after the massive 2014 cyber attack on the studio blamed on North Korea. Shortly after announcing her departure, Sony said Pascal would produce the Spider-Man movie alongside Feige. Tom Rothman now runs Sony's movie unit.
Lynton exited this year to join Snapchat maker Snap Inc. He was replaced by former Fox television executive Tony Vinciquerra this month.
The Sony-Marvel deal was unusual because little money changed hands. Sony paid Marvel an undisclosed producers fee, but Marvel won't receive any of the profits. Instead, the companies are sharing their most popular characters.
For "Homecoming," Sony is getting a boost from Robert Downey Jr. as Iron Man (aka Tony Stark), who has a major presence in the film and marketing materials. Marvel and Disney got to use Holland as Spider-Man in last year's "Captain America: Civil War" and in the upcoming Avengers movie, "Infinity War."
"It's a real accomplishment for Marvel Studios to bring Spider-Man back into the fold without owning the intellectual property," Squire said.
Sony acquired the film rights for Spider-Man in 1999, and released the first movie, directed by Sam Raimi and starring Tobey Maguire, in 2002. Sony produced two successful "Spider-Man" sequels, one in 2004 and the other in 2007. Disney bought Marvel Entertainment in 2009 for $4 billion, giving it access to a host of superheroes, but not Spider-Man.
Then Sony rebooted the property in 2012 with "The Amazing Spider-Man," starring Andrew Garfield and Emma Stone. That film and its 2014 sequel delivered diminishing returns at the box office.
"The Amazing Spider Man 2" received mediocre reviews and took in $202 million domestically, half the haul of the first Raimi version. Globally, it was the lowest grossing movie in the series, with $709 million. That left Sony's leadership in a pickle.
The studio was considering multiple ways to keep the property afloat, according to Sony insiders. It could try again with "The Amazing Spider-Man 3" or develop a brand new standalone Spider-Man series. Another intriguing idea was to reintroduce Spider-Man through the studio's planned production of "Sinister Six," about a group of super villains. But most of those ideas felt too convoluted, knowledgeable people said.
Meanwhile, Marvel had shaken up the superhero business since it launched the first "Iron Man" in 2008. Over the next decade, Feige and his producing team built a successful series of interconnected superhero films featuring the likes of Iron Man, Captain America and the Incredible Hulk, along with more obscure characters such as Doctor Strange and Ant-Man. The company's 15 movies to date have hauled in $11.8 billion in global receipts.
"I don't think [Sony] had a choice but to do this, because they had nowhere else to go with this brand," said Bruce Nash, a movie business analyst with Nash Information Services. "They have to keep making 'Spider-Man' films. That's the truth of the matter."
The idea to bring in Marvel had been in the works long before there was a deal. Feige first pitched Pascal in 2014, during a lunch meeting on her office patio overlooking Culver City, to let him make the next Spider-Man movie.
Though Pascal was reluctant at first, the two executives continued to discuss the matter at her office and home, working out what a Marvel Studios "Spider-Man" movie would look like, said people familiar with the discussions but not authorized to comment. Feige wanted to bring Spider-Man and Peter Parker back to his essence — a teenager fighting crime alongside Avengers and dealing with grown-up themes, who also has to get to class on time. Finally, Pascal was convinced.
"We've been able to create this cinematic universe that now provides that backdrop onto which you can put Peter Parker and have that dynamic he was always meant to have," Feige said. "To Amy's credit and to Michael Lynton's credit, they realized this was the best thing for the character."
While Feige oversaw the creative direction, Pascal was instrumental in key decisions, including the casting of Holland, the development of the script, and the hiring of director Jon Watts, whose previous feature was the 2015 Kevin Bacon thriller "Cop Car." Pascal was also key in the development of Michael Keaton's character, Vulture, a powerful nemesis with working-class roots. The film was shot in Atlanta and was edited and scored on the Sony lot in Culver City.
"Because we were united in what we were trying to accomplish, it made for a very easy process," Panitch said. "We're getting a superhero movie produced by the greatest superhero movie producer in the world."
Inside the business of entertainment
The Wide Shot brings you news, analysis and insights on everything from streaming wars to production — and what it all means for the future.
You may occasionally receive promotional content from the Los Angeles Times.