L.A. businesses brace for writers' strike. One car lot is auctioning a third of its showbiz vehicles
L.A. businesses are bracing for a writers' strike. (April 27, 2017) (Sign up for our free video newsletter here http://bit.ly/2n6VKPR)
Hundreds of cars are crammed onto Picture Car Warehouse's dusty lot in Northridge, a hoard as diverse as the films and TV shows they've appeared in over the years.
There's a 2008 Smart Car that was in the TV show "Two and a Half Men," its windshield caked in a thin layer of grime. A 1964 Lincoln Continental limousine gleams in the afternoon sun, the sparkly blue paint bearing the Bud Light logo for a recent Super Bowl commercial. And near the entrance, a loafing 1948 Dodge Panel Truck from the film "Hail, Caesar!" sits on improbably small white-wall tires.
If all goes as planned, each will be sold at an online auction that ends Thursday.
Ted Moser, whose Picture Car Warehouse rents vehicles to film and TV productions, said he decided a few months ago to auction off about 200 of his 600-car fleet partly to cull his inventory. But there is another, more pressing reason: Moser is worried about a potential strike by the Writers Guild of America.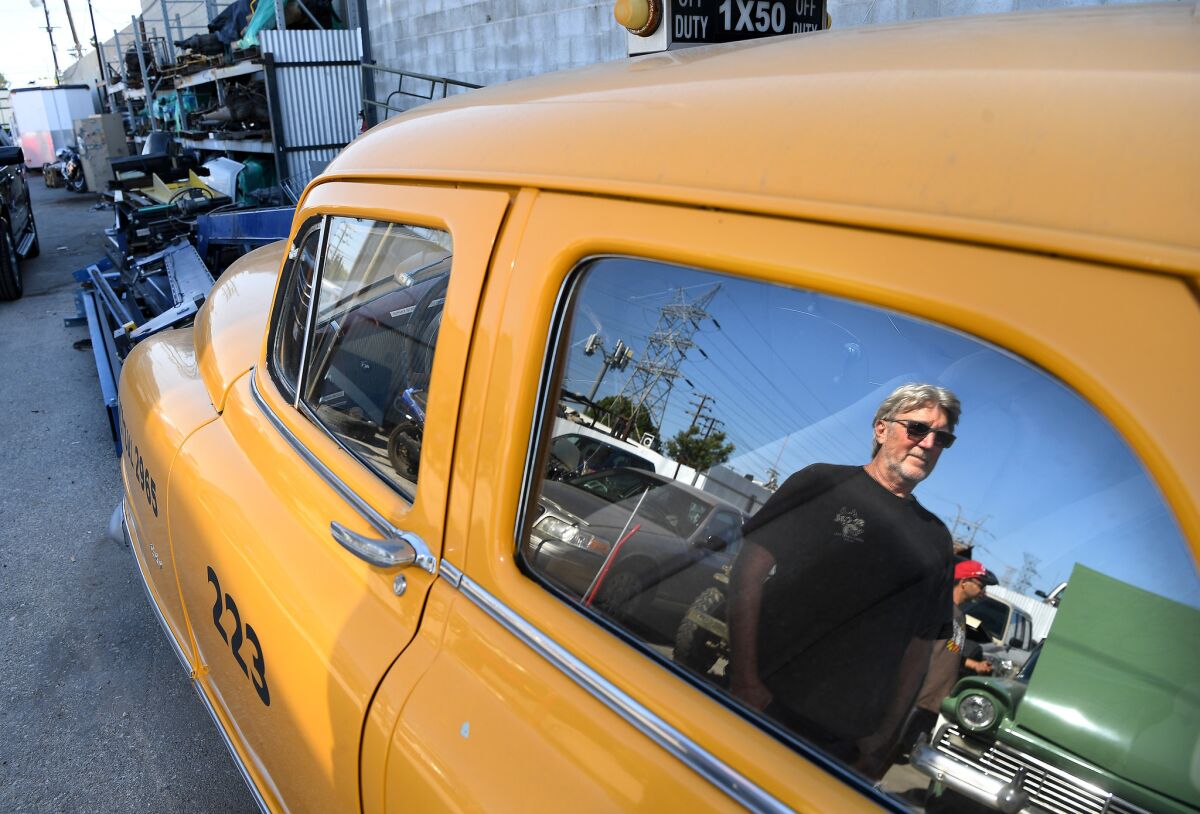 Small businesses that cater to the entertainment industry are on edge across Los Angeles, bracing for a work stoppage that could have a crippling effect on their operations.
A strike could begin as early as May 2 if the union can't agree to a new contract with the Alliance of Motion Picture and Television Producers. Though Moser is sympathetic to the writers, he said the walkout "could be devastating" to his business, which employs 22 people, including mechanics, drivers and painters.
And as WGA members voted by an overwhelming margin on Monday to authorize a strike, his anxiety ratcheted up another notch.
"Everybody is really worried about it," said Moser, 63. "We will have to lay off."
The guild's last major strike a decade ago disrupted scores of local businesses like Picture Car Warehouse that feed L.A.'s signature entertainment industry, which employs about 240,000 people.
The conflict lasted 100 days. According to the Milken Institute, that strike resulted in a $2.1 billion hit on the California economy.
"For companies that weathered the 2007-2008 strike, that was long enough to have a very clear material impact on their margins. And that business just doesn't come right back," said Kevin Klowden, managing economist at the Milken Institute. "If you are a smaller business dependent on productions … then you [now] need to say, 'How much cash do I have; how long can I weather inactivity?' "
Moser, who also works as a transportation coordinator on film and TV productions, opened Picture Car Warehouse in 2003 with 25 cars, and within a year, he added hundreds of vehicles. But he said the 2007-08 WGA work stoppage was especially tough for his business because it already had been weakened by the exodus of feature films to locales such as Georgia and New Mexico, where lucrative government incentives have enticed productions for more than a decade.
Moser said he avoided laying off employees during the last strike by giving his workers jobs building high-end custom cars for his show business clientele. But Moser, who got his start in Hollywood in the 1980s when he was hired as a mechanic for a TV pilot, was losing money.
"It was all you could do to stay open," he said. "I was investing everything I had in the company."
Picture Car Warehouse recovered after the last strike: Moser said his annual revenue hit a high of $4.5 million in 2010. But about 80% of his business comes from the L.A. area, and the recent upswing in local TV shoots hasn't offset losses from runaway film production, he said. Picture Car Warehouse generated $2.8 million in revenue last year.
Now, Moser hopes to raise $600,000 to $750,000 from the auction, which will give him some extra liquidity should a strike occur.
"But we would definitely scale back this time," he added. "I can't afford to weather the storm again like I did last time because it took me several years to recover from that."
Making cuts in advance of a strike
Like Moser, other business owners whose operations are dependent on film and TV productions are attempting to strengthen their balance sheets ahead of a potential strike.
Corri Levelle, owner of Sandy Rose Floral Inc., said a strike could force her to temporarily shutter her prop house, which employs five people and provides flowers to productions. Partly in preparation for a work stoppage, Levelle said she recently renegotiated her lease to give up roughly a third of her 6,400-square-foot warehouse in North Hollywood. She said the cost-saving measure could help her business survive a strike.
"If I hadn't been through it before, I think ignorance might be a little bit of bliss. But I've been through it, and it is really scaring me right now, honestly," said Levelle, who has owned Sandy Rose Floral since 1994 and laid off half of her eight-person staff during the 2007-08 strike.
Pam Elyea, co-owner of North Hollywood prop house History for Hire, said the last strike drained her financial resources. She and her husband, Jim, had saved up enough money to make a down payment on the purchase of a building that would've housed their business, but instead those funds went to keeping History for Hire operating.
"We blew through hundreds of thousands of dollars keeping our staff employed and paying our bills," she said.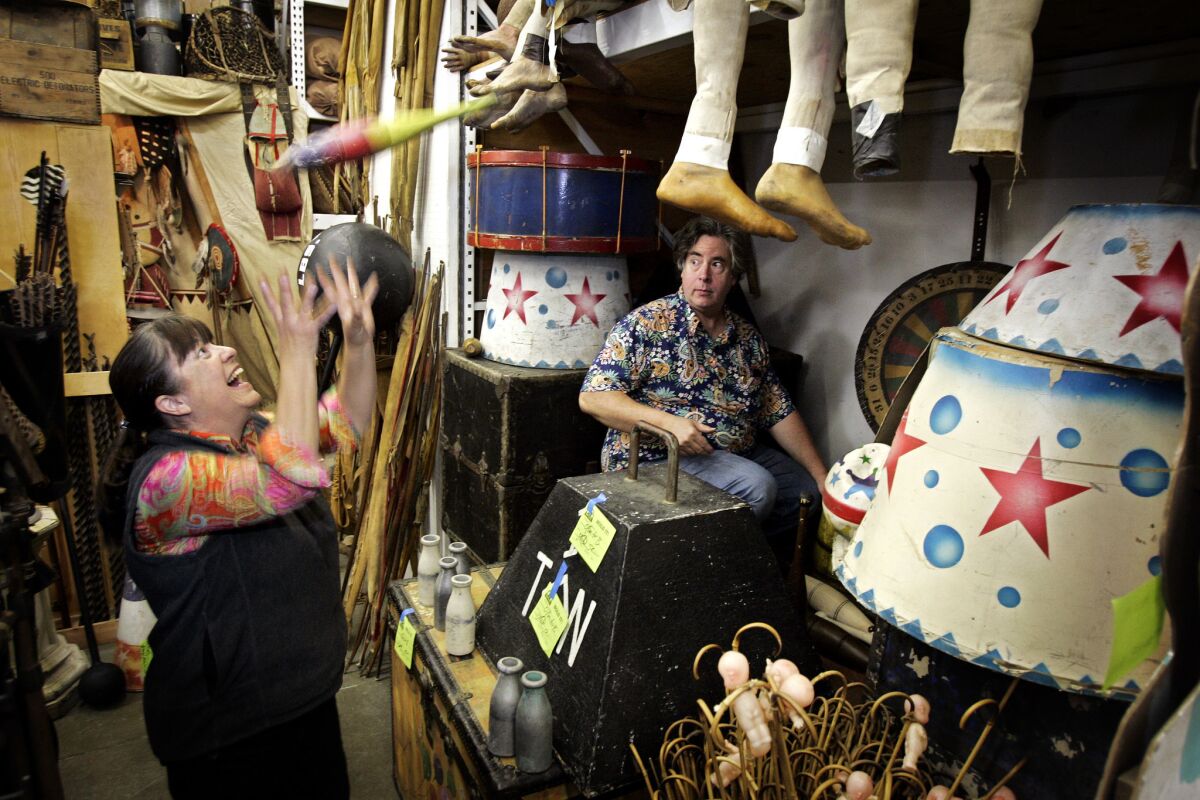 This time, Elyea has drawn up a plan if the writers strike: Overtime pay would be eliminated, and part-time workers would be laid off. If the work stoppage lasts for more than 30 days, she would "make more cuts as needed" to her 14-person staff. Already, Elyea said, she has dialed back spending to conserve money.
"There are certain expenditures we are not making. We are not buying new computers," she said. "We are not making investments in things until we know whether this strike is going to happen or not."
But other vendors are prosperous enough that they're hoping to ride out a strike without making major changes.
Mary Micucci, owner of Along Came Mary, a midcity catering company that has handled more than 450 film and TV premiere parties, said that "if you are a big company such as we are, you have money in the bank."
"As a businesswoman, you have to be lean around those times, and count your blessings and know that there is always money in the bank to cover those kinds of situations that come up — unless of course they last a year," she said. "That would be kind of scary."
A blue-collar business braces
Picture Car Warehouse's storage lot — which is dotted with piles of rusty wheels, motorcycles in various states of disrepair and shelves stacked with old motors — offers a glimpse at an unvarnished corner of Hollywood.
(It is quite literally unvarnished: Cars are regularly repainted to suit the needs of a given production. "We do a lot of recycling — that may be green the next week and blue the week after," said Moser, pointing to a red Jeep.)
Moser unloaded about 100 vehicles in two auctions last year, but he wants to streamline further. Many of the cars on the auction block are outdated — and haven't yet become desirably retro. He's selling more than 20 Ford Crown Victorias from the 1990s and 2000s that no longer are in demand as police vehicles or taxis. Moser thinks they'll fetch around $1,500 apiece.
But he's hanging on to most of his specialty cars from the 1940s, '50s and '60s. A small fleet of Plymouth and Dodge taxis used on "Mad Men" aren't in the auction, which is being conducted by New York-based Tiger Group.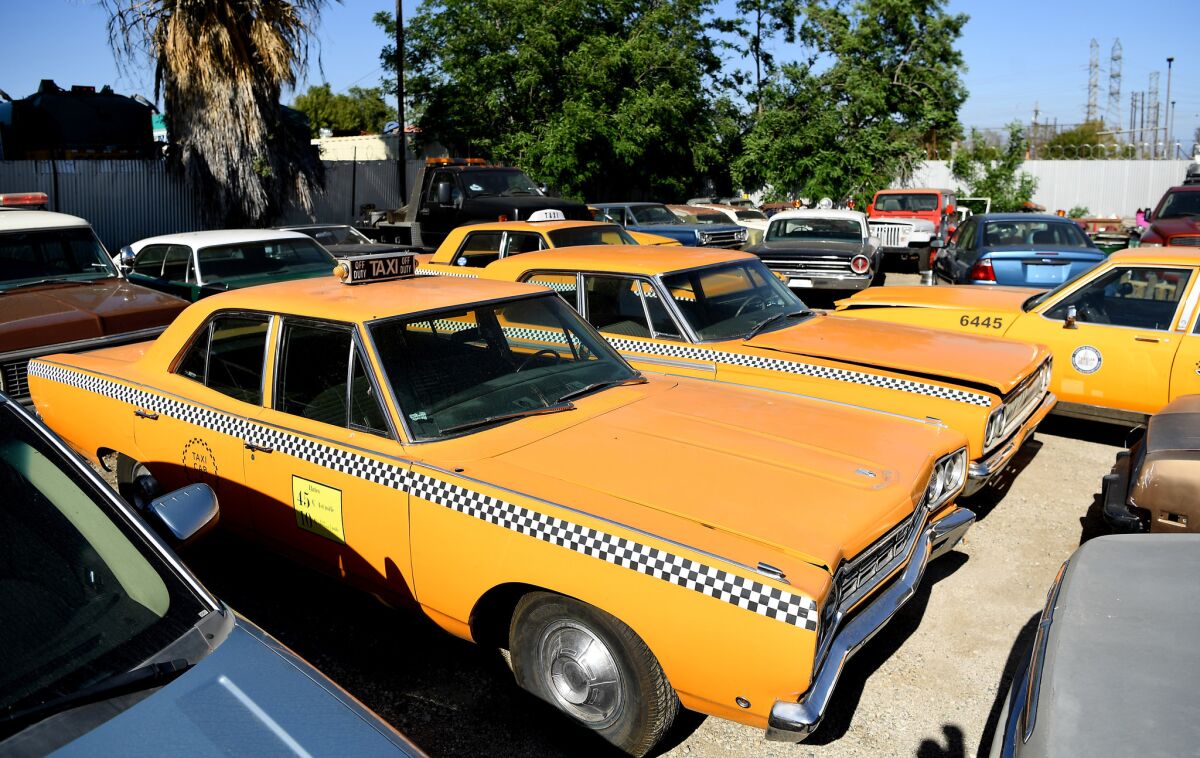 Though he's fearful of a strike, Moser said he understands the position of the WGA, which is seeking bigger contributions by employers to its healthcare plan, among other demands. He is, after all, a member of Teamsters Local 399 Hollywood. "I don't know that I blame anybody for it," he said of the prospective strike.
Moser said that outsiders often don't see the "blue-collar" side of the entertainment industry, whose ranks are filled with people like him. It's a part of Hollywood that stands to be hurt by a strike.
"I may start at 4 o'clock in the morning and work until midnight, and get up and start again at 4 o'clock in the morning because you have that much work to do," Moser said. "Shuttling cars, working on cars, moving equipment — it's hard work."
ALSO
Writers Guild of America members authorize strike as contract deadline looms
A strike by TV and movie writers may be just days away. Here's what you need to know
Op-Ed: I voted for a Hollywood writers' strike, but I don't want one
---
Inside the business of entertainment
The Wide Shot brings you news, analysis and insights on everything from streaming wars to production — and what it all means for the future.
You may occasionally receive promotional content from the Los Angeles Times.