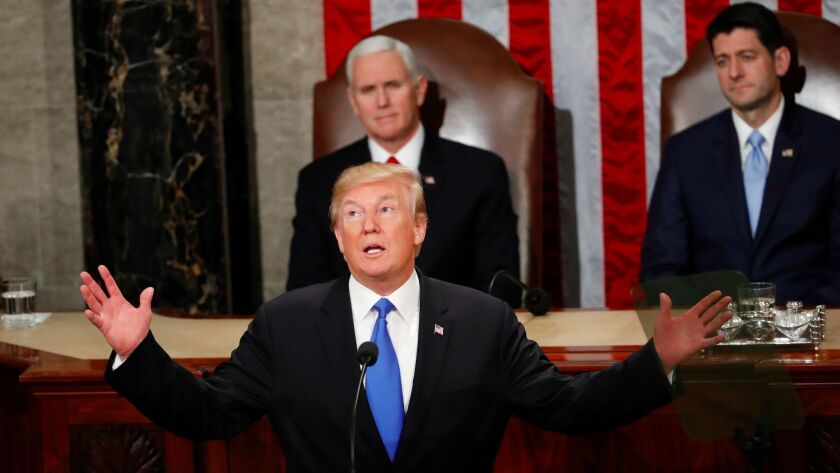 President Trump's first State of the Union address was watched by an estimated 45.6 million viewers on Tuesday, according to Nielsen data.
The audience across the broadcast and cable networks that carried the speech fell short of the 47.7 million who watched the president's address to a joint session of Congress in 2017.
The figure is also below the 48 million viewers who watched former President Obama's first State of the Union address in 2010.
President Trump's speech ran for 80 minutes, the longest since Bill Clinton clocked in at nearly 89 minutes in 2000. The address was largely seen as having a conciliatory tone aimed at recasting Trump as a unifying figure. While his brashness and bombast have been good for cable news ratings, the approach often is viewed as a hindrance to passing legislation in Congress.
Fox News Channel drew the largest audience for Trump's speech, with 11.5 million viewers from 9 to 10:30 p.m. Eastern.
It was the largest State of the Union audience for a cable news network and the first time Fox News Channel has topped the broadcast networks' coverage of the event.
Fox News held the previous audience record for cable with 6.5 million viewers for former President George W. Bush's 2006 address.
Fox News is a destination for Trump supporters who turn to the top-rated cable channel for its conservative prime-time commentators, such as Sean Hannity and Laura Ingraham.
NBC was second behind Fox News on the night with 7.1 million viewers, followed by CBS (7 million), ABC (5.4 million), the Fox broadcast network (3.6 million), CNN (2.55 million), MSNBC (2.54 million), Univision (2 million), Telemundo (1.44 million), PBS (1 million) and Fox Business Network (572,000).
While there is no official tally available, it is likely that a sizable number of people watched the speech online. CNN said the audience for its video stream of the speech peaked at 9:55 p.m. Eastern with 321,000 simultaneous users.
The largest audience for a State of the Union or address to Congress is 66.9 million viewers in 1993, the first year of Bill Clinton's administration.
Twitter: @SteveBattaglio
---
UPDATES:
2:30 p.m.: This article was updated with the official total released by Nielsen.
This article was originally published at 1:55 p.m.
---