Fox News backs Tucker Carlson as advertisers drop show following comments on mass immigration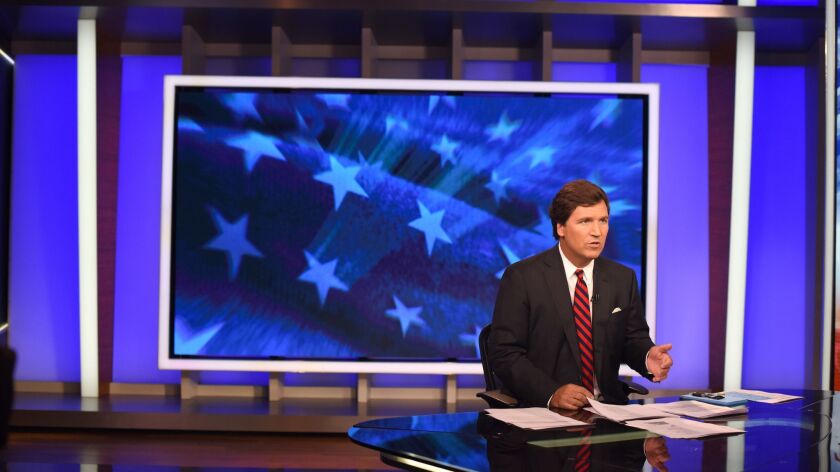 They targeted Sean Hannity and Laura Ingraham. Now they are turning to Tucker Carlson.
Media Matters for America, Sleeping Giants and other liberal activist groups are pressuring advertisers to drop "Tucker Carlson Tonight" on conservative-leaning Fox News after the host caused a stir last week when he described mass immigration as making the country "poorer and dirtier and more divided." At least eight advertisers said they won't advertise on the show following his televised comments.
It's the latest example of how activists are using advertiser boycotts to protest controversial media personalities and ply economic pressure on the media companies that employ them. The tactic is especially effective in the polarized world of cable news, where advertisers face a volatile landscape in which commentators often make incendiary statements, followed by a swift social media backlash.
"It's more important to protect the brand than promote the brand," said Jeff Greenfield, chief operating officer of C3 Metrics, a marketing research and data firm.
In what has become a familiar pattern, Carlson's on-air comments have prompted activists to use Twitter and other means to urge advertisers to drop the program.
Pacific Life Insurance was the first to pull its commercials, saying it would pause its ads and reevaluate its relationship with the show. IHOP, SmileDirectClub and Nautilus, the owner of Bowflex, also withdrew their advertising from the show.
"At our core, we stand for welcoming folks from all backgrounds and beliefs into our restaurants and continually evaluate ad placements to ensure they align with our values," IHOP said in a statement. "In this case, we will no longer be advertising on this show."
But several advertisers are sticking with Carlson, including Farmers Insurance, Mitsubishi, John Deere, Bayer and Sanofi.
Despite the advertiser flight, Fox News is defending Carlson, who is a ratings champion for the network.
"It is a shame that left-wing advocacy groups, under the guise of being supposed 'media watchdogs,' weaponize social media against companies in an effort to stifle free speech," said Carly Shanahan, a representative of the cable news network. "We continue to stand by and work with our advertisers through these unfortunate and unnecessary distractions."
Advertisers who had dropped Carlson were redirecting their commercials to other shows on the network, and no revenue had been lost for the network, Shanahan said.
Media Matters denied that it is a partisan organization. "We are clearly left-leaning. That doesn't mean we can't be honest," said Angelo Carusone, the organization's president, in an interview.
"Tucker can say what he wants. But let's not forget that he's a business. He's selling that time to advertisers."
On its website, Media Matters has described "Tucker Carlson Tonight" as a "fascist" program that is "steeped in white nationalist rhetoric." Carlson has repeatedly dismissed such labels, saying on his show that his arguments over mass migration are based in economics, not race.
Sleeping Giants said that Carlson's comments are part of a larger narrative that he has promoted almost nightly. "If you want to appeal to a diverse group of consumers and employees, why would you want to advertise on a show that denigrates many of them?" the group said in a statement to The Times.
The activist group has singled out Breitbart advertisers in the past and has increasingly targeted Fox News sponsors. Its tweets are often picked up by Hollywood celebrities, who retweet them to their social media fans. The snowball effect can put advertisers on the defensive, prompting them to react quickly.
Greenfield, of C3 Metrics, said that the companies boycotting Carlson are not the show's top advertisers, and that they could actually benefit from taking a public stance. "They are maybe looking to say, 'Hey, we can use this to garner some press for ourselves,'" he said.
Kantar Media said the top five advertisers on "Tucker Carlson Tonight" for the first half of 2018 were MyPillow, Rosland Capital, Jenny Craig, Nutrisystem and AstraZeneca. None has indicated that they are dropping the show.
Carlson struck a defiant tone on Monday's prime-time edition, indirectly referencing the ad boycott.
"The left would very much like you to stop talking and thinking about bad decisions they've made over the years that they happen to be profiting from. Shut up, they're screaming, including, to this show," he said.
Carlson devoted a segment of Monday's show to documenting the amount of trash generated by the migrant caravan that is currently stopped in Tijuana. He also commented on the impact of illegal immigration on the environment along the U.S.-Mexico border.
"While we do not advocate boycotts, these same groups never target other broadcasters and operate under a grossly hypocritical double standard given their intolerance to all opposing points of view," Fox News said in a statement.
In some cases, the boycotts have been effective. Breitbart has seen numerous companies pull ads from the right-wing site after activists applied pressure following the 2016 presidential victory of Donald Trump. Boycotts also hastened the demise of "The O'Reilly Factor" on Fox News, following the sexual harassment scandal surrounding host Bill O'Reilly.
Yet activists haven't succeeded in dethroning "Hannity" and "The Ingraham Angle," which like Carlson's show rank as Fox News' highest-rated prime-time programs.
Laura Ingraham landed in hot water in May when she criticized David Hogg, a gun-control activist and student at Stoneman Douglas High School in Parkland, Fla., the site of a deadly shooting in February. Sean Hannity went through his own advertiser boycott last year following his coverage of the death of Seth Rich.
"Tucker Carlson Tonight" ranks No. 1 in its time slot, with more than 2.8 million in total viewers, according to Nielsen Media Research.
Conservative activists have, to a lesser degree, also mounted advertising boycott efforts. They called on advertisers to yank commercials from CNN in an effort to target Kathy Griffin and Reza Aslan, both of whom were fired by the network.
---
UPDATES:
4:07 p.m.: This article was updated throughout with comments from Media Matters, Sleeping Giants and Fox News.
---
Inside the business of entertainment
The Wide Shot brings you news, analysis and insights on everything from streaming wars to production — and what it all means for the future.
You may occasionally receive promotional content from the Los Angeles Times.