Why 'Roseanne' and 'Will & Grace' are returning: TV networks playing it safe in a risky market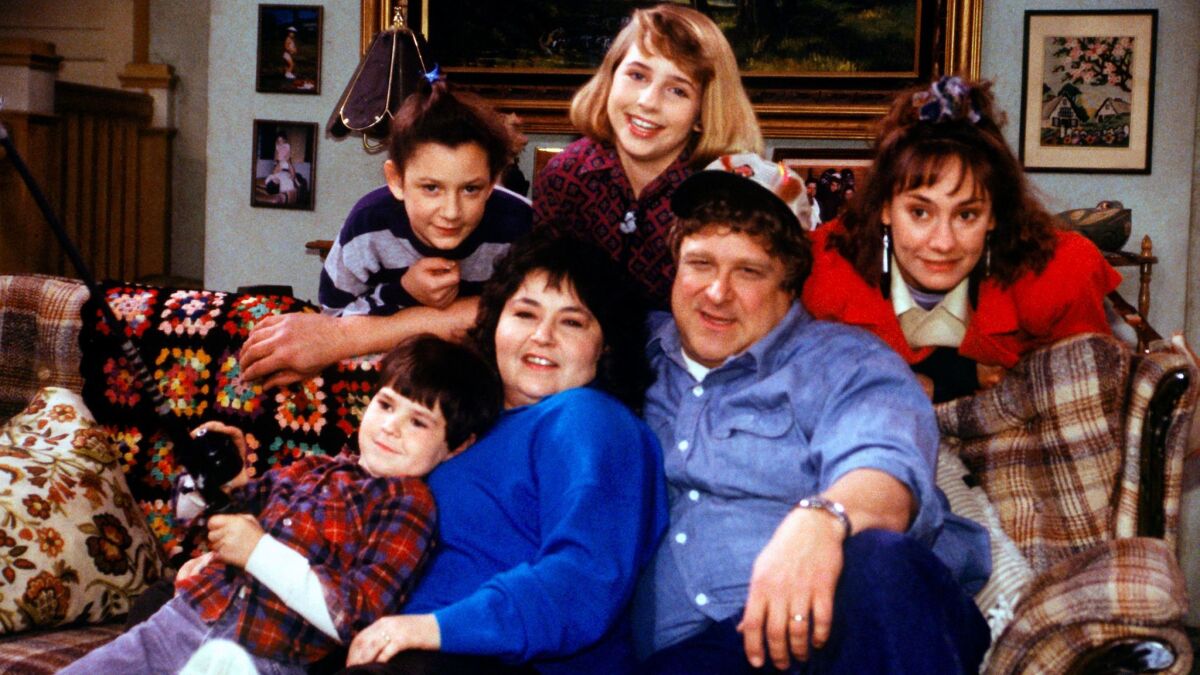 Network television wants to be America's security blanket.
That was the underlying message in this week's advertiser upfront sales presentations during which TV networks are vying for more than $18 billion in revenue for commercials on their fall schedules.
In the face of an increasingly risky and competitive market, where the costs of failure are higher than ever, TV networks are once again opting for shows that are safe and familiar to viewers. Much like their movie studio counterparts, who have relied heavily on reboots of old movies, network executives are reviving old shows at a rapid clip.
NBC is bringing back "Will & Grace," one of its top comedies from 1998 to 2006. ABC is returning "Roseanne," a hit from 1988 to 1997. Both shows will feature their original casts.
ABC is also bringing back Fox's former mega-hit singing competition "American Idol." The 1980s soap "Dynasty" is being revived at the CW. The disco-themed 1970s cop drama "S.W.A.T." is on CBS.
Jimmy Kimmel is making a series of specials in which big-name stars will do live performances of classic sitcom episodes. Think Kevin Hart as Gary Coleman's character in "Diff'rent Strokes."
While the established programs will be immediately recognizable to older TV fans, they may not do much to stem the migration of younger viewers away from traditional TV toward streaming services. Prime-time broadcast and cable TV viewing has declined 23% since the 2011-12 season among the 18 to 49 age group that advertisers want most, according to Nielsen.
"The digital platforms and streaming platforms have absolutely said, 'we are your home' to those viewers," said Warren Littlefield, a former NBC entertainment chief who now executive produces the critically acclaimed "The Handmaid's Tale" for streaming service Hulu. "And it would appear that the networks don't seem to be aggressively in the hunt for groundbreaking, edgier, younger audience appealing content."
Indeed, the audience for broadcast networks is growing older. The median age of audiences for ABC and NBC is 56, up from 53 and 50, respectively, in the 2011-12 season, according to Nielsen. The median age at CBS is 60, up from 56 during the same period. And the median age of Fox's viewers is 50, up from 47.1.
Jason Maltby, president of National Video for Mindshare, said he doesn't believe the networks are giving up younger viewers. But mining recognizable titles from another generation of television may be a tacit acceptance that "their bread and butter going forward is going to be on the older end of the audience spectrum."
In their presentations, the networks made it clear they want to be a safe harbor in a rapidly changing and uncertain world for viewers and advertisers.
After years of seeing digital video siphon away dollars from old-fashioned TV, the networks tapped into corporate anxiety over seeing ads run adjacent to objectionable material to get the money headed back in their direction.
"Family Guy" creator Seth MacFarlane played to those fears in a song during the Fox's event at the Beacon Theatre in Manhattan: "But if you're thinkin' ads on YouTube/Are the way to reach the kids/Just remember your commercials/Will be shown on ISIS vids."
Network executives said privately during the week that they sense that viewers want some escapism from the unpredictable administration of President Trump that has generated alarming headlines about campaign collusion with Russia and a possible nuclear showdown with North Korea. While CBS Chairman Leslie Moonves made his pitch to ad executives at Carnegie Hall on Wednesday, the Dow Jones industrial average dropped more than 300 points as impeachment chatter filled cable news all day.
"In today's unsettled environment, having television shows that feel positive and familiar are probably a good thing for viewers," said Miro Copic, a marketing professor at San Diego State University.
One network executive who spoke on the condition of anonymity said the atmosphere of insecurity is similar to the months following the terrorist attacks Sept. 11, 2001. After the attacks, viewers flocked to TV comfort food that season. CBS aired specials that reunited the casts of classic series such as "The Carol Burnett Show." Network television's next major hit broke out the following summer. It was the first season of "American Idol."
ABC's decision to revive "American Idol" after it was dropped by Fox in 2016 because it was no longer profitable shows how networks are hungry for programs that can still draw mass audiences to network television. Even if the singing competition doesn't turn a profit — many think it will not — ABC will get valuable exposure for promotions for other programs on the network.
Though streaming services are undeniably eroding viewing of traditional TV, networks and their production studios are seeing a benefit. Program sales to Netflix, Amazon and Hulu are now major revenue sources. Executives who sell programs to those services and overseas broadcasters say business has never been better because of the proliferation of buyers in recent years.
Help may be on the way for networks that still depend on people watching ads on their shows. Media buyers say they are a year away from Nielsen improving its audience measurement system so that the audiences who watch shows on digital platforms can be converted into ad dollars. Networks sell ads on their digital properties, but the bulk of their income still comes from advertising shown live or viewed on DVR playback.
Moonves pointed out that more people are watching CBS content on TV across different devices than they were more than a decade ago.
But broadcast TV shows aren't dominating the cultural conversation the way they once did. Littlefield said he expected the networks to be a little bolder after last season's success of NBC's "This Is Us," an ensemble family drama that kept viewers hooked with its intertwining stories.
"The audience embraced it and it's surprising that wasn't a stronger message reflected in the following season's programming," said Littlefield, who was the NBC executive who picked up "Will & Grace" in 1998, when a sitcom about the friendship between a gay male lawyer and a straight female interior decorator was actually a daring idea.
---
Inside the business of entertainment
The Wide Shot brings you news, analysis and insights on everything from streaming wars to production — and what it all means for the future.
You may occasionally receive promotional content from the Los Angeles Times.