Porn industry gets a boost from VR, but manufacturers aren't thrilled
Porn star Missy Martinez had never acted in a virtual reality production when she was cast in a cosplay parody of the video game series "Fallout," in which she plays a frisky "vault girl" wandering a post-apocalyptic wasteland.
Dressed in a tight, blue-and-gold space suit, Martinez approached the new experience with a beginner's sense of enthusiasm during a recent shoot in Woodland Hills. As she performed her scenes with porn star Ryan Driller, the crew instructed her to keep her eyes fixed on the camera to engage directly with viewers, who will experience the movie at home in 3-D and 180 degrees.
"It's great that I get to be so interactive. Thank God I'm such a ham," Martinez said after the shoot, adding that she would like to do more VR movies. "It's almost like being a guinea pig for new technology."
The multibillion-dollar adult entertainment industry, long concentrated in the San Fernando Valley, has always embraced the future, dating back to its early adoption of VHS in the late '70s. With VR, it is once again leading the way, as more production companies explore the erotic potential of the medium. Optimism about the technology is running high with some believing that virtual reality could even save the industry, which for years has been hit hard by piracy and amateur porn that is available on free tube sites.
The subscription model used by most VR porn services is providing a new revenue stream for production companies at a time when paying for porn was thought to be a thing of the past.
"There's finally money again," said Justin Dittrich, a Los Angeles-based director who has shot numerous VR adult movies. "It seems like the old days."
But the porn industry's plans to capitalize on VR is facing a roadblock from headset makers. Producers say they are being treated unfairly by major manufacturers who block porn apps from their online stores, thereby making it harder for consumers to access adult VR content. While apps aren't required for viewing porn, they provide a user-friendly interface that allows consumers to access and view videos without having to manually download each new movie.
Major VR hardware makers, including Samsung, Sony and the Facebook-owned Oculus, didn't reply to requests for comment. Apple also didn't respond to a request for comment.
"The official line is that they don't talk about it," said Daniel Peterson, founder and CEO of VRPorn.com, the Seattle-based site that provides adult VR clips. "But everyone knows it's a major factor driving VR."
The reticence is understandable. Porn still carries a stigma that mainstream businesses try to avoid, according to Neil Malamuth, a psychology professor at UCLA, where his areas of study include pornography and its effects on media and society.
"Pornography has been pretty important in the development and dissemination of various technologies, but I don't think the manufacturers from a business factor want too much publicity at this point for that aspect because there's still a great deal of anti-porn sentiment in the public."
Industry experts estimate that more than 50% of all VR content is porn-related and that adult content is a major driver of hardware sales, along with video games and NFL applications. The VR porn market saw an estimated $93 million in revenue for 2017 and could reach $1.4 billion by 2025, according to Gene Munster, who heads the research firm Loup Ventures.
But producers say manufacturers don't want to publicly acknowledge the market potential of VR porn.
"They know it, but they aren't going to accept it," said Xavi Clos, head of production at BaDoinkVR, the producer of the "Fallout" parody. The Rochester, N.Y.-based company is one of the world's leading makers of VR porn movies, which it distributes through its sites, including the fanboy-themed VRCosplayX. "They don't want this connection to us," he said. "But at least they aren't closing the door."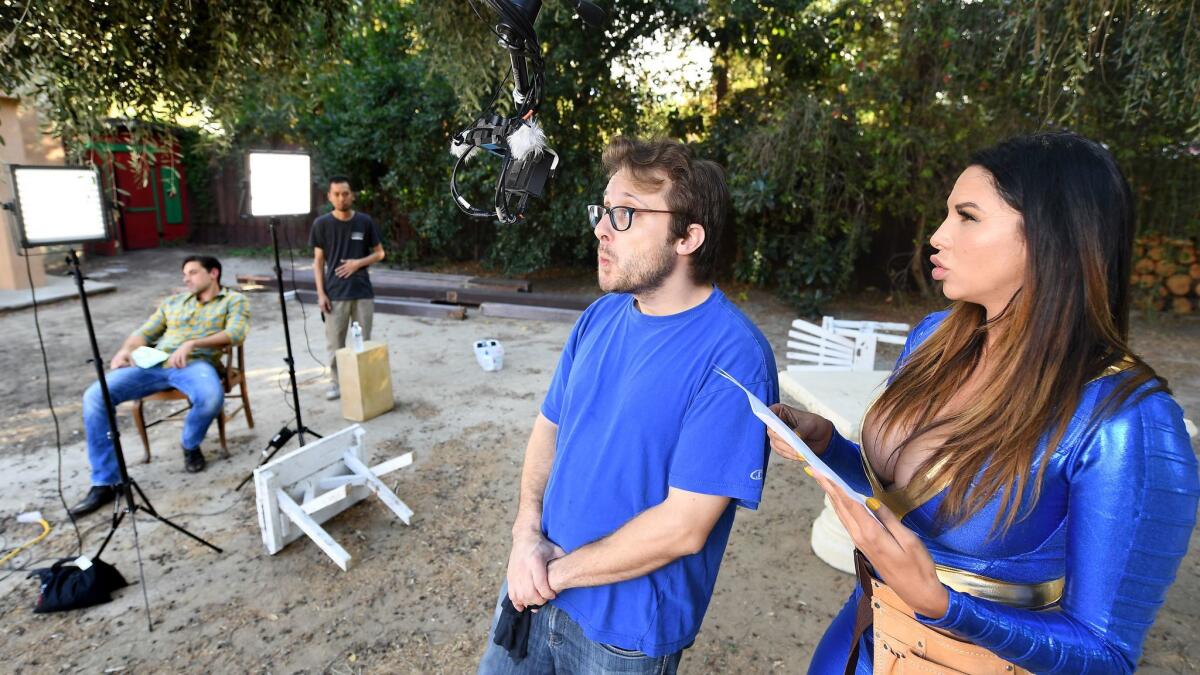 Consumers are free to view porn on VR devices without restrictions — provided that they can load the content in the first place. Since major manufacturers, including Oculus and Samsung, don't allow porn apps in their stores, viewers often have to resort to cumbersome workarounds to access adult movies.
For users of the Samsung Gear VR headset, that means having to first download video files to a headset-compatible Android phone and then manually moving them between folders to load the movie. With certain headsets, like Sony's PlayStation VR, users have to physically transfer files from a desktop to the headset using a thumb drive.
Apple also prohibits adult-content apps in its App Store, which means consumers with iPhone-compatible headsets also have to find workarounds. The company's App Store guidelines single out "overtly sexual or pornographic material" as being objectionable.
"I think there's some discrimination there," said Ian Paul, chief information officer at Naughty America, another major VR porn producer. "It bothers me a little bit that they're moralizing. They could very easily have some age verification. They're not doing it."
Naughty America said it is willing to invest in age verification technology that would allow its app to be available only to users over 18. But it said manufacturers haven't been responsive.
The San Diego-based company said it has asked manufacturers for new features that would improve the user experience but also to no avail. These include better head tracking — the technology that adjusts a user's view depending on head position — since many porn consumers watch movies while lying down on a bed.
"The consensus among the manufacturers was that they felt that it would break immersion if they let the users re-orient their field of view in a manner contrary to their physical orientation. I raised the issue of disabled or hospitalized users, but it fell on deaf ears," Paul said.
Despite these disagreements, Paul said the two sides cooperate in other areas, such as sharing information on product quality and usability.
"I don't want to paint the picture that it's us versus the manufacturers, because it's not."
Oculus VR co-founder Palmer Luckey — who left Facebook last year — has publicly criticized VR companies for what he sees as their two-faced treatment of adult content.
"It's this very strange situation where if you talk privately to people who work at major VR companies and you say, 'Hey, what do you think about VR porn?' And they say, 'Oh, I love VR porn!'" he said at an industry event in Japan in September.
"But then they go to a public panel at a game development conference, and they'll get asked, 'What do you think about VR porn?' They say, 'What is VR porn? I don't know anything about that.'"
Despite these hurdles, producers said demand for VR porn content is growing, though it still remains a niche market.
Pornhub, the popular free porn site, has seen traffic to its VR channel double since it launched last year. The site, which typically features short extracts from longer movies that producers upload as a marketing tease, sees about 450,000 to 500,000 daily views of VR videos. Naughty America produces two VR movies a week, up from one a week in 2016.
Shooting VR isn't significantly more expensive than a traditional porn movie, according to industry leaders. But the cost of editing is often higher due to the amount of digital post-production work required to render the images.
Experts say that the future success of VR porn depends on hardware adoption by consumers. So far, VR adoption overall has been slow in the U.S. with estimates hovering around 5% market penetration, though enthusiasm is stronger in other parts of the world, particularly Asia. Sony's PlayStation VR leads the global market with an estimated 49% of sales, according to a recent study from the research firm Canalys
"I don't think we'll see an industrywide shift until headsets gain critical mass within mainstream media," said Alec Helmy, who heads XBiz, the adult entertainment news publisher.
Porn industry leaders said VR nonetheless remains important because people are willing to pay for adult content again. Most VR producers charge consumers on a subscription basis, typically around $25 a month.
"With VR, you really do need high-quality video to have a good experience. To get that kind of video, you want to go to a trusted source," said Dinorah Hernandez, VR director at BaDoinkVR.
The bullish spirit is pushing even newer forms of VR innovation. Camasutra VR, an L.A.-based start-up, is betting on VR avatars — digital replicas of real-life porn actors who have been scanned in a process similar to the motion-capture technology used in Hollywood blockbusters.
"It's a fully interactive and immersive experience with a porn star," said the company's CEO, Adam, who declined to use his last name because he still has ties to the mainstream entertainment industry. He said he hopes to launch the new service next year.
He said the company is looking to build its own software distribution platform to circumvent the major VR vendors that don't like porn. "They don't want their well-curated stores filled with adult content. I understand why they don't want to," he said. "It's an industry that's frowned upon."
Inside the business of entertainment
The Wide Shot brings you news, analysis and insights on everything from streaming wars to production — and what it all means for the future.
You may occasionally receive promotional content from the Los Angeles Times.