'I really did it for my daughters': L.A. radio host Wendy Walsh on why she spoke out against Bill O'Reilly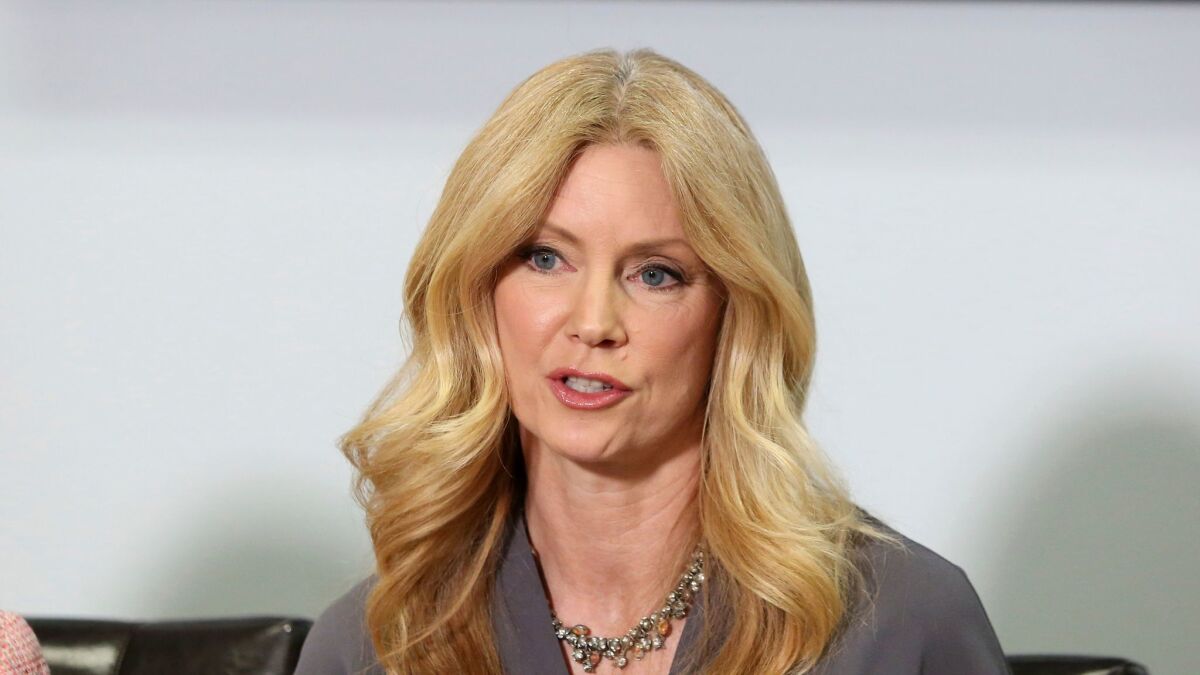 As Wendy Walsh pursued a career as a TV news correspondent and anchor in Los Angeles during the late 1980s and '90s, sexist remarks and bad behavior from supervisors were common.
She had bosses attempt to "stick their tongues down my throat," as she describes it. One of them once told her not to get up from a makeup chair until she looked "datable" to him, she said.
"I've had it all," Walsh, 54, told The Times in a recent telephone interview. "I'm a woman of a certain age who has been in the TV industry for a long time."
Walsh, now a psychologist with an advice show on radio station KFI-AM (640), has stepped into the spotlight with a sexual harassment accusation involving a job she didn't get. She contends Fox News anchor Bill O'Reilly went back on a stated commitment to get her a position as a paid contributor at Fox News after she rejected his advances at a 2013 dinner meeting at Hotel Bel-Air.
Walsh had been appearing as an unpaid guest in an occasional segment on "The O'Reilly Factor" called "Are We Crazy" and met with O'Reilly in the hope of turning it into a regular job. But at the end of the meeting, she said, he asked her to go to his hotel suite. She declined, and the opportunity disappeared.
The timing of the exchange falls outside of the statute of limitations for a sexual harassment lawsuit in California. Walsh is not seeking any monetary compensation from O'Reilly or Fox News. But she has chosen to go public with her story and also filed a complaint with the human resources hotline of Fox News parent 21st Century Fox, which is now having the matter investigated by its attorneys.
Walsh's attorney Lisa Bloom also filed a request Tuesday with the New York State Division of Human Rights to investigate sexual harassment and retaliation at Fox News.
Walsh had been contacted several months ago by a New York Times reporter who asked her to go public with her story. The newspaper was gathering cases for its recent report that detailed $13 million in payouts made by O'Reilly and Fox News to five women who asserted they were sexually harassed or verbally abused by the host over the last 16 years.
O'Reilly acknowledged the payments but denied the merits of the claims — saying he was targeted because of his fame. Fox News has said Walsh stopped getting invites to "The O'Reilly Factor" because the segment did not rate well with viewers.
Walsh was reluctant to speak out at first. She surveyed many friends and acquaintances to determine whether to relay her experience that she says led O'Reilly to renege on a commitment to give her a job.
"I started to notice this theme. Young women seemed to be strong, feminist and idealistic while the older women that I surveyed shrugged their shoulders and said, 'Oh I've had worse happen to me,'" Walsh said. "That's when I saw this generational divide that really bothered me. I thought, 'You know what? These young women feminists are leading us and they're our daughters. We should be leading them.' So I really did it for my daughters."
Walsh is the single mother of two daughters, 18 and 13, both of whom support her decision to go public. Since the New York Times report first recounted her claim, Walsh has held news conferences and made the rounds of cable news networks to discuss the matter.
Walsh said she is in a better position to speak out about sexual harassment than other women who work at Fox News.
"Many of these other women from what I understand were facing financial ruin or being blackballed by the industry," she said. "I'm a single mom. I live paycheck to paycheck. But I don't depend on Fox News for 100% support for my children as many of these other women might have."
Narcissistic personality disorder is not only accepted in the entertainment industry, it's often a requirement.
— Wendy Walsh
Walsh is aware of how precarious jobs in the TV news business can be. After graduating from Ryerson University in Toronto, she moved to L.A., where she held various jobs, including stints as a reporter and anchor at KCOP and West Coast correspondent for NBC's weekend edition of "Today." She also worked on the syndicated magazine show "Extra."
In the late 1990s, Walsh took a break from the business to have children. She also developed an interest in psychology, and studied to get master's and doctorate's degrees.
She has authored several books and now teaches psychology at California State University Channel Islands in addition to her media work. The occupational move was in response to seeing how many of the women she came up with in television were no longer working as they entered their 40s.
"I realized that they keep you on the air if you have something to say," she said, explaining the commentator role she has developed in recent years.
Walsh had only a two-hour dinner with O'Reilly and doesn't pretend that she can create a psychological profile of him. But in general, she believes that many people in the TV business have a characteristic that can lead to inappropriate behavior in the workplace.
"Narcissistic personality disorder is not only accepted in the entertainment industry," she said. "It's often a requirement."
Twitter: @SteveBattaglio
ALSO
NOW wants Fox News' Bill O'Reilly fired
Op-Ed: What we know, and don't know, about Bill O'Reilly
Bill O'Reilly, Brian Williams, Dan Rather and more: When TV anchors get bad press
---
Inside the business of entertainment
The Wide Shot brings you news, analysis and insights on everything from streaming wars to production — and what it all means for the future.
You may occasionally receive promotional content from the Los Angeles Times.