This Chinese billionaire rode into town late last year looking like a Hollywood conqueror. What happened?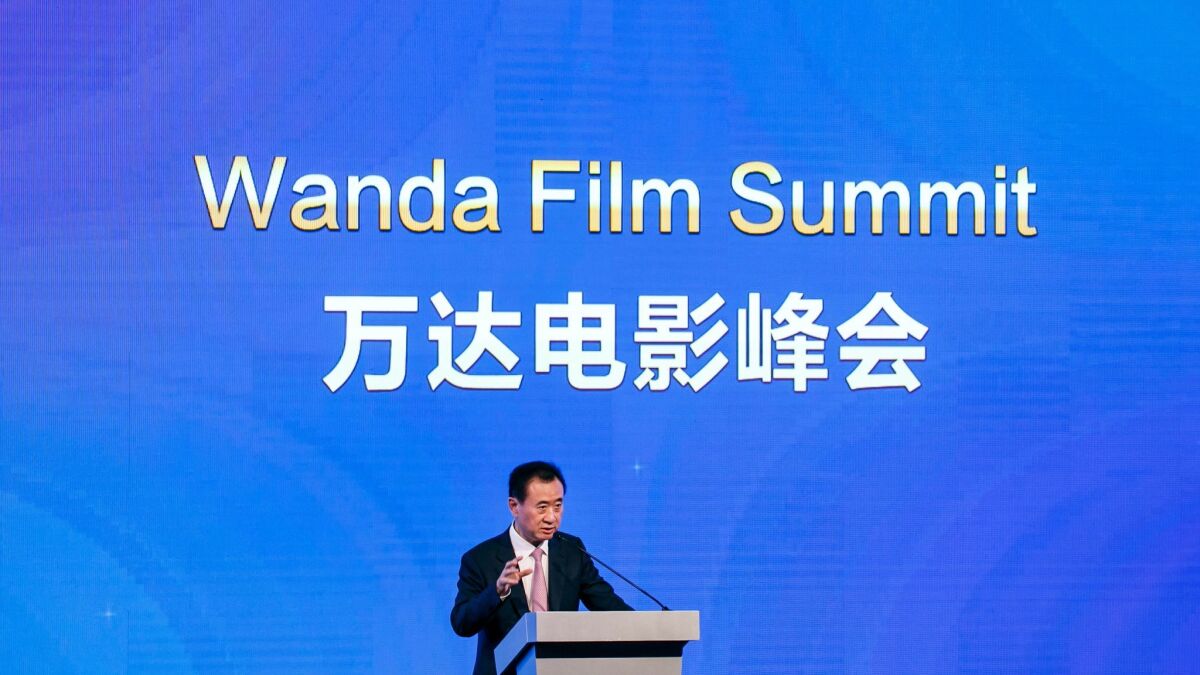 Chinese billionaire Wang Jianlin arrived in Los Angeles in October to a reception befitting a true Hollywood mogul. Movie business elite packed an auditorium at the Los Angeles County Museum of Art to hear him pitch his new $8-billion filmmaking complex in the coastal city of Qingdao.
Wang's Beijing-based conglomerate Dalian Wanda Group had recently bought movie producer Legendary Entertainment for an eye-popping $3.5 billion and was on the cusp of a deal to pay $1 billion for Dick Clark Productions, the company behind the Golden Globes telecast. It was time, he said, for Hollywood to acknowledge Chinese tastes and preferences.
Today, it's a different picture. Legendary is trying to recover from a series of box-office misfires, and the Dick Clark deal fizzled under heightened scrutiny from Chinese authorities and concern over the price tag. With China's banking regulator last month starting investigations into borrowing for overseas investment by Wanda and other companies, the narrative of Wang as a Hollywood conqueror is looking more like a tale of hubris meeting harsh realities.
At the very least, it's a humbling moment for the 62-year-old former army officer who said he wanted to buy one of the six major studios, a grand pronouncement for a country with few celebrity businessmen.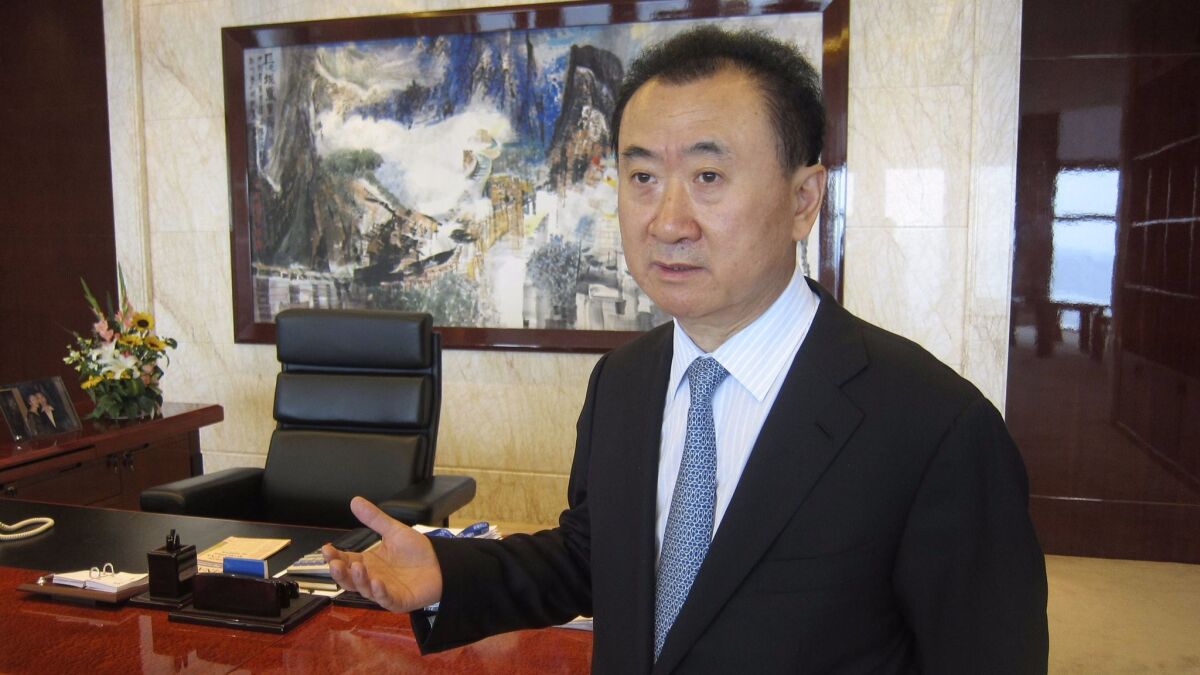 "Wang's boldness worked wonderfully because it brought deal flow and visibility to his company," said Marc Ganis, co-founder and president of Jiaflix Enterprises, which helps studios distribute movies in China. "But there is something to be said for modesty in China. When the celebrity CEO culture is applied in a culture that values modesty, there's going to be friction."
The Chinese government's scrutiny of its richest companies — part of a broader effort to stem perceived risks to its financial system — comes amid the country's slowest economic growth in years. At the forefront of the concern is debt. In May, Moody's downgraded China's sovereign credit rating for the first time since 1989.
Wanda was very public about what they were doing, and that backfired on them.
— A Hollywood producer who asked to remain anonymous
The clampdown could have far-reaching consequences for Hollywood, which has been looking to China's wealthy businessmen including Wang to fund its movies and market them in the world's second-largest box-office market.
Government action has been a problem for Wang, who made no secret about his desire to invest in American films and studios. During his visit to Los Angeles to promote his Qingdao studio project, he chastised Hollywood for its reliance on reboots and remakes. "We have to make Hollywood go back to storytelling," he told the crowd.
Many Hollywood veterans privately grumbled that those statements were reminiscent of past outsiders from countries such as Germany and India who wanted a piece of the action and saw their investments falter. Money and will power aren't the only things in play in Hollywood.
"Wanda was very public about what they were doing, and that backfired on them," said a Hollywood producer who has done work in China but asked to remain anonymous to protect industry relationships.
Wang made his name as a businessman by turning around a state-owned developer in the city of Dalian, and later transforming it into a moneymaking real estate and entertainment enterprise. Wanda is now known for its Wanda Plazas — sprawling developments that include shopping, hotels, restaurants and often movie theaters.
Wanda began its Hollywood buying binge in 2012, with the purchase of AMC Theatres for $2.6 billion. Wanda then successfully used AMC to roll up other circuits including U.S. rival Carmike Cinemas and major European chains, making it the world's biggest theater owner. AMC's stock surged as a result.
But its entries into the content side of the business haven't gone as smoothly. Legendary has suffered recent disappointments including "Warcraft" and "The Great Wall," a $150-million co-production that failed to become a global hit.
"His brand has taken a hit," Stanley Rosen, a political scientist at USC and a China film expert, said of Wang. "He's had problems in both China and the U.S."
The misses triggered management shake-ups. The company is still trying to find a new chief executive after founder Thomas Tull exited in January. Wanda was in advanced talks to bring aboard former Fox film boss Jim Gianopulos to turn Legendary into a full-fledged studio, but he went to lead Paramount Pictures instead.
Jack Gao, Legendary's interim CEO, told Hollywood trade magazine Variety in May that Wanda has committed $1 billion in financing to Legendary to turn it into a major media giant. Legendary production head Mary Parent, a well-respected executive and producer, is leading an ambitious slate that includes the sequels to "Pacific Rim" and "Godzilla."
"Wanda is fully committed to its strategy to invest in and build current and new entertainment assets in international regions including the U.S.," Gao said in a statement. "AMC and Legendary have proven to be strong assets and we look forward to building out those platforms in support of our strategy."
Nonetheless, Wanda had to reconsider its aggressive approach to Hollywood after two of its biggest potential deals fell through. Wanda was close to an agreement to buy 49% of Viacom Inc.-owned Paramount Pictures last year, but that plan was scuttled by Viacom's controlling shareholders.
Then, in November, Wanda said it would pay $1 billion for Dick Clark Productions, which would have been its first purchase of an American TV production company. That deal collapsed in March after the Chinese government and Wanda balked at the asking price.
The buying spree also sparked a backlash in the United States. U.S. lawmakers raised concerns about Wanda's moves in Hollywood, citing misgivings about the potential influence the communist country could wield over American film and TV content. Wang has long had close ties with the Communist Party elite — a New York Times investigation in 2015 said relatives of several top officials own stakes in his company.
With capital tightening up and no other logical takeover candidates for sale, Wanda has to focus on building its entertainment strategy through Legendary and AMC.
"Money got them into the position of power they're in now. Now it's all about execution," said Los Angeles-based producer and former studio executive Randy Greenberg. "How do they get all those companies to work together? That's what Wanda has to figure out."
In a rare interview with the Financial Times, Wang recently said he would refocus the company on domestic investment.
"The development of domestic business is certainly our main focus," he told the paper, "because China's entertainment market, tourism market, sports market have just begun. These [domestic] areas must be the focus of our investment."
For example, the company just opened its new Harbin Wanda City, a sprawling cultural tourism project in northeast China with an outdoor theme park and the world's largest indoor ski resort.
Local projects also include Wanda's "movie metropolis" in the coastal city of Qingdao that is set to fully open next year, representing a major test for the company. The project is intended to draw production companies and studios with its 30 soundstages and a rebate program to cover 40% of production costs.
Few U.S. producers have signed on, though Wanda's Legendary filmed part of the new "Pacific Rim" movie in Qingdao. Analysts caution that it's too early to evaluate the plan, saying China is still learning about the process of making movies. Four Chinese productions are currently filming at the facilities.
"It hasn't been shown yet that Qingdao will be successful attracting a lot of Hollywood," USC's Rosen said.
Analysts said foreign investment might pick up if restrictions are eased after the 19th Party Congress, a major political conclave scheduled for fall. Wanda is reportedly one of five companies being assessed by China's banking regulator for excessive risk. The chairman of another company, Anbang Insurance Group, was detained by police last month.
News of the banking investigation sent waves through the Chinese stock market last month. Shares of Wanda Film Co., Wanda's entertainment subsidiary, were suspended June 21 after falling about 10% in midday trading in Shenzhen. Wanda's shares were hit the same day by online speculation that a bank had ordered its traders to dump Wanda's bonds. Wanda denied the claim that banks had sold off its bonds.
Wanda Film Co. currently trades at about 52 yuan ($7.65) a share, down about 20% from mid-October when Wang spoke at LACMA.
Minxin Pei, a political scientist at Claremont McKenna College, said that the targeting of Wanda and its corporate ilk sends a potent message in the run-up to the party congress this fall that Chinese President Xi Jinping is a leader who won't stand for overzealous investment.
"The government wants to be credible and wants to show these tycoons who the real boss is," Pei said. "If you go after medium-level billionaires, you don't make much of a statement."
ALSO
Wanda Group partners with Sony Pictures, giving China's richest man a leg up in Hollywood
Chinese billionaire Wang Jianlin makes aggressive moves in Hollywood
Schumer calls for scrutiny of Wanda Group and other Chinese investors, noting China's restrictions on U.S. films
---
Inside the business of entertainment
The Wide Shot brings you news, analysis and insights on everything from streaming wars to production — and what it all means for the future.
You may occasionally receive promotional content from the Los Angeles Times.