'Casablanca' and other Warner Bros. classics added to Turner's FilmStruck streaming service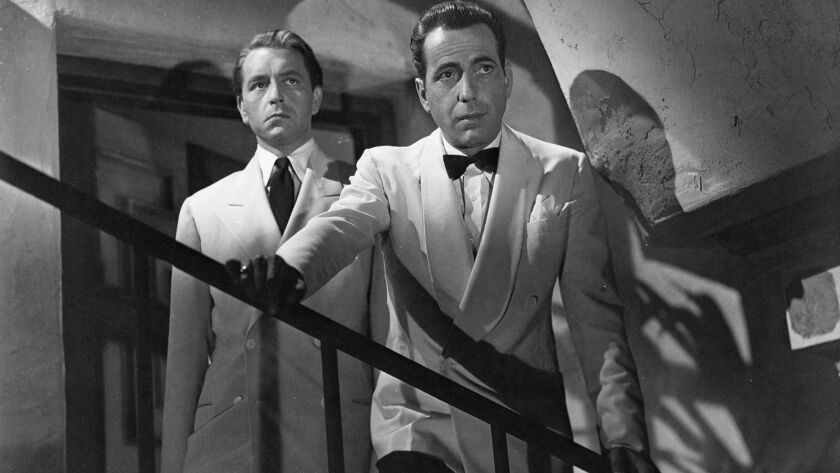 Classic Warner Bros. films including "Casablanca," "Citizen Kane," and "Rebel Without A Cause" are joining Turner's nascent FilmStruck movie streaming service.
The move, announced Monday, marks the first time that consumers have access to dozens of Warner Bros. classics as part of a subscription streaming service. Adding the titles is designed to boost the $6.99-a-month FilmStruck service, which launched in November 2016 and has attracted a small but loyal base.
"The No. 1 request from FilmStruck fans has been, 'Can we get the Golden Age of Hollywood movies?'" Coleman Breland, president of Turner Classic Movies and FilmStruck, said in an interview. "This is really the next evolution of FilmStruck."
Some also might call it a continuation of a beautiful digital friendship between two divisions of Time Warner Inc.
Burbank-based Warner Bros. and Atlanta-based Turner haven't always collaborated, but they got together nearly a year ago to launch the children's cartoon subscription service, Boomerang. The results were encouraging, Breland said.
Warner Bros. has tightly held its popular film classics, including those acquired over the years such as "The Thin Man." It has not licensed them to a third-party subscription video-on-demand service such as Netflix. But Turner was different.
"It was a no-brainer," said Craig Hunegs, president of Warner Bros. Digital Networks. "Turner has built a great service in FilmStruck, and it's perfect because we are all in the same company."
For Turner, the streaming service should engage classic movie buffs under the age of 50. Compare that with the Turner Classic Movies cable channel, in which 80% of the audience is older than 55, Breland said. The streaming service is expected to draw customers in their 20s, 30s and 40s.
The Turner-Warner Bros. partnership comes as Time Warner and other traditional media companies are scrambling to respond to the threat posed by Netflix, Amazon and Apple Inc. With such internet giants shaking up the entertainment landscape, the two Time Warner units had added incentive to come together to create a stronger digital product.
About five years ago, Warner Bros. began experimenting with its own classic movie streaming service, called Warner Archive Collection. The $9.99-a-month service began "back in the early, creaky days of streaming," Hunegs said.
Not surprisingly, Warner Archive did not catch on. It was relatively expensive for a streaming service, it did not have a buzzy-enough name for a direct-to-consumer product, and the technology soon became outdated. Rather than spend significant sums to revamp the service, Hunegs six months ago began working with Breland to bulk up FilmStruck with the Warner Bros. titles.
Warner Archive will shut down and its subscribers will be transferred to FilmStruck, Hunegs said.
"It was just obvious that this was the way to go: to partner with a sister company, to have one service rather than two and to collapse these films into FilmStruck," Hunegs said. "And the fans have been clamoring for the films we have."
Executives declined to provide subscriber numbers for FilmStruck or Warner Archive.
In addition to the $6.99-a-month service, FilmStruck offers a $10.99-a-month plan that includes the Criterion Channel, which includes other classic titles and art-house fare. Customers also can opt for a $99-a-year plan.
FilmStruck is available on various devices, including Roku, Apple TV, Google Chromecast and Amazon Fire TV.
---
Inside the business of entertainment
The Wide Shot brings you news, analysis and insights on everything from streaming wars to production — and what it all means for the future.
You may occasionally receive promotional content from the Los Angeles Times.