Weinstein Co. bankruptcy could hurt victims' chances for compensation, legal experts say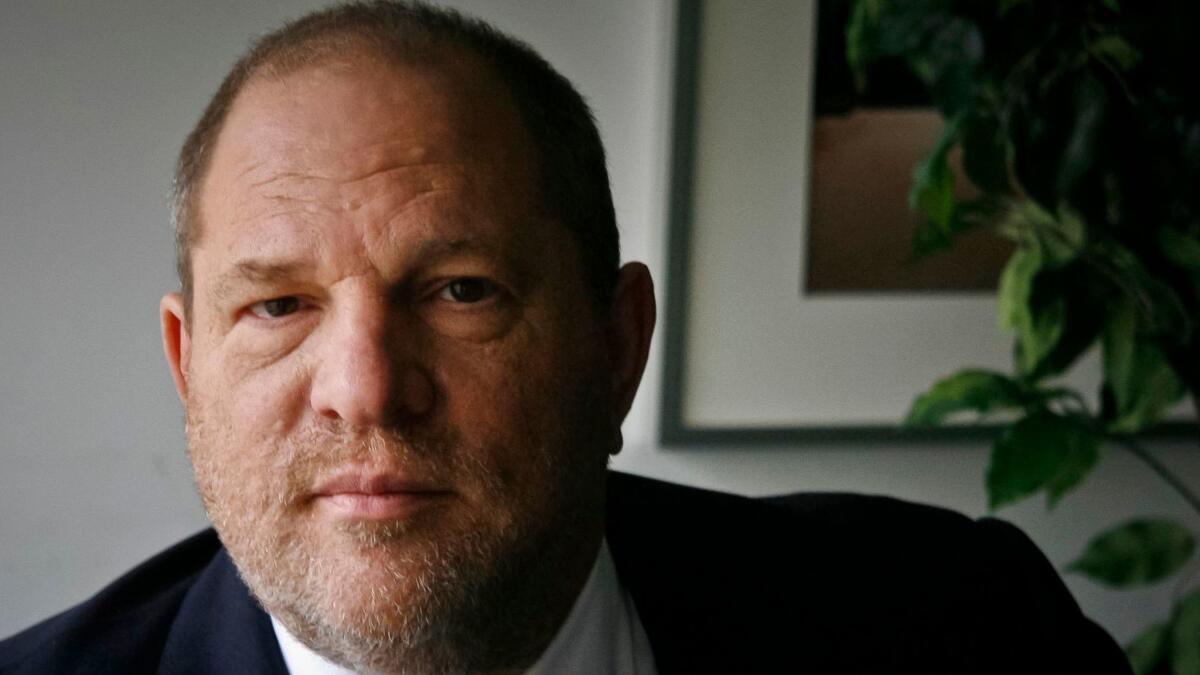 Former Obama administration official Maria Contreras-Sweet's surprise bid to buy Weinstein Co. came with a basic promise: remake the tarnished studio as a female-friendly workplace and fairly compensate women who'd accused Harvey Weinstein of sexual abuse.
But those hopes were quashed Sunday night when Weinstein Co.'s board of directors said the company would prepare to file for bankruptcy protection "over the coming days" after talks with Contreras-Sweet's team of bidders collapsed.
The company did not specify the timing of the filing and whether it would be a Chapter 11 reorganization or a Chapter 7 liquidation. Experts said the former is most likely.
The announcement took the potential buyers by surprise. The two sides had been scrambling to revive the purchase after a lawsuit from the New York attorney general's office hobbled the potential transaction, which was valued at $500 million, including debt.
Contreras-Sweet and her backers, including billionaire Ron Burkle, had promised to set up a victims' litigation fund worth tens of millions of dollars.
"Based on our discussions, it was my understanding that we were close to signing the transaction documents in a couple of days," Contreras-Sweet said Monday, in her first public statement about the talks since her offer was revealed in November. "Regrettably, it appears that this transaction has now ended."
Some victims' rights advocates worried about whether Weinstein's accusers will be left in the lurch. In a Chapter 11 bankruptcy process, which forestalls claims by creditors until the company can reorganize, the accusers would take a back seat to the studio's secured creditors, who themselves would be paid pennies on the dollar, victims' attorneys and legal experts said. Bankruptcy would also halt numerous lawsuits against the company from women who accused the studio of negligence or facilitating Weinstein's abuses.
"The bankruptcy is extremely unfortunate for Weinstein's victims," said lawyer David Ring, who represents an Italian actress who filed a police report accusing Weinstein of raping her in 2013. "It will delay justice for them and quite possibly prevent them from recovering any compensation for the harm done. It's a cowardly move by a cowardly company."
Attorney Gloria Allred, who publicly supported the Contreras-Sweet bid early on and represents multiple alleged victims, said in a statement she was "very disappointed" in the outcome of the talks.
"We were hoping for a solution that would create a fund to compensate Mr. Weinstein's many victims," Allred said. "We had confidence that fund would have been created if the company had been sold."
Weinstein Co. declined to comment beyond its Sunday statement.
Before Sunday, Contreras-Sweet's team and Weinstein Co.'s board had spent multiple days working toward a transaction that would satisfy the demands of the New York attorney general's office, which sharply criticized the proposed deal as an agreement was about to be signed. New York Atty. Gen. Eric Schneiderman demanded that the two sides present a deal that would adequately compensate victims and ensure that employees were protected in the future.
On Feb. 16, the board fired Weinstein Co. President and Chief Operating Officer David Glasser, whom Schneiderman accused of failing to adequately respond to women's complaints about Weinstein. The board said it had terminated Glasser "for cause" but did not give specifics. Glasser has threatened to sue Weinstein Co. and its board members for wrongful termination.
Company representatives and the bidders met with the attorney general for three hours Wednesday in an effort to salvage the deal.
"We are disappointed that despite a clear path forward on those issues — including the buyer's commitment to dedicate up to $90 million to victim compensation and implement gold-plated HR policies — the parties were unable to resolve their financial differences," Eric Soufer, a spokesman for the New York attorney general's office, said in a statement.
Talks ultimately fell apart for financial reasons, according to people close to the situation. In a letter to Burkle and Contreras-Sweet provided to The Times, Weinstein Co.'s board said it had demanded the buyer provide interim financing to keep the studio in business and retain employees as a transaction closed.
However, the board said, the bidders on Saturday night provided an "incomplete document that unfortunately" did not deliver on their promises.
There "is no provision for necessary interim funding to ensure your future employees were paid; instead, you increased the liabilities left behind for the company, charting a financial path that will fail," the board members wrote. "In short, the draft you returned presents no viable option for a sale."
Additionally, the board members wrote, the company balked at "new contingencies" in the deal related to the recently fired Glasser. The company declined to elaborate on what those contingencies were.
Representatives of Burkle and Contreras-Sweet were unavailable for comment.
Saddled with massive debt and a lack of hit films, Weinstein Co. was in a precarious financial situation long before dozens of women accused its co-founder of sexual harassment and assault starting in October.
Now accusers seeking payment will have to make their claims through the Byzantine bankruptcy court system, legal experts said.
"The consequence of the lawsuit, whether intended or not, is to make it more difficult for victims to be compensated through a government initiated or managed compensation fund," said Paul DerOhannesian, an Albany, N.Y., lawyer who specializes in sexual assault cases.
The bankruptcy does not end all hope for victims' compensation, though. People close to the bidding process said companies may buy Weinstein Co.'s assets out of bankruptcy and then sell them to create a victims' fund with the proceeds.
Zoe Brock, a model who is part of a class-action lawsuit against Weinstein Co., said she's not unhappy with the outcome.
"I'm in it for accountability and to teach big companies and boards that from this day forward they must protect the little guys instead of the sharks," Brock said. "If the bankruptcy helps prove to big corporations that a bunch of fed-up, abused women can help take down a huge company and a few titans, then let that be a lesson to them all."
A bankruptcy would also bring some transparency to a process that has been widely criticized. New York production company Killer Content made a play for Weinstein Co. early on, only to pull out in January out of frustration with the company's handling of the sale. Killer Content declined to comment Monday.
Contreras-Sweet's bid was the only known offer that would have kept Weinstein Co. out of bankruptcy. Few insiders think it's likely talks will revive.
"Inspired by the #MeToo movement, I started down this path with a vision of providing a turning point for the company and, indeed, serve as an example for a cultural reversal in an industry anxious to shed a mantle of shame," Contreras-Sweet said. "While our efforts did not materialize as we had hoped, I am grateful for my investors who saw the compelling value of a women-led board."
Times staff writer Richard Winton contributed to this report.
Inside the business of entertainment
The Wide Shot brings you news, analysis and insights on everything from streaming wars to production — and what it all means for the future.
You may occasionally receive promotional content from the Los Angeles Times.