Actress Natassia Malthe says Harvey Weinstein raped her in 2008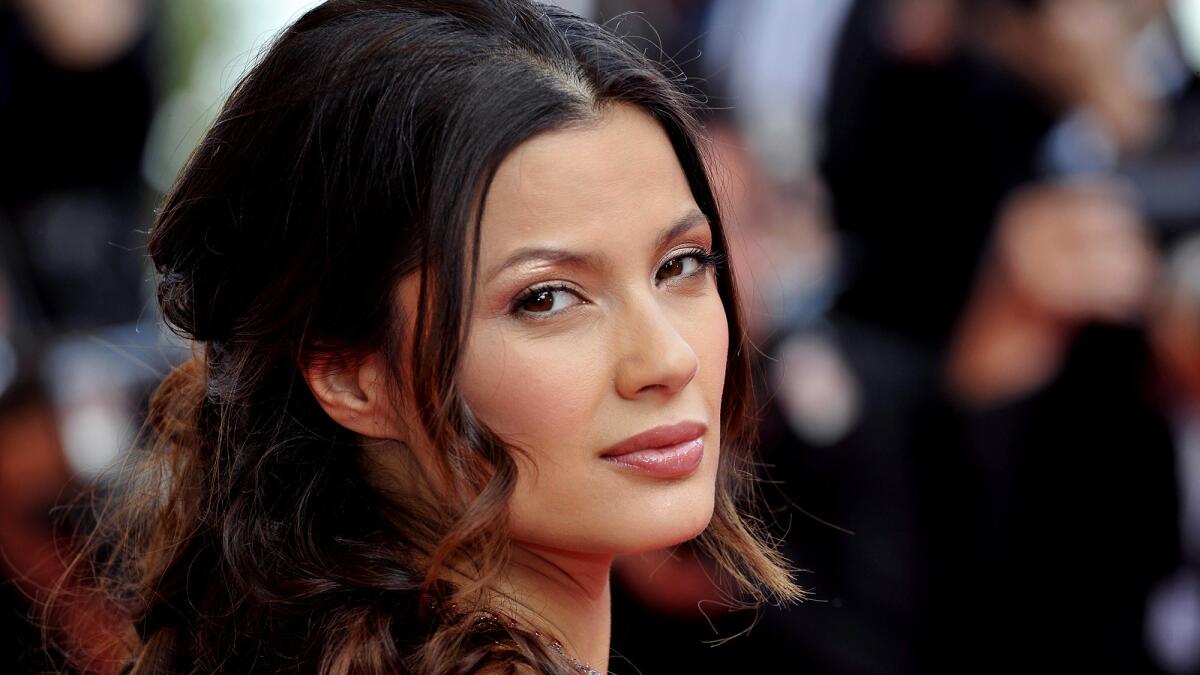 Natassia Malthe is the latest woman to accuse Harvey Weinstein of sexual assault.
The Norwegian-born actress said Wednesday that the Weinstein Co. co-founder raped her at the Sanderson hotel in London in February 2008.
Malthe made the accusations at a news conference held with her attorney, Gloria Allred, at the Lotte New York Palace Hotel in Manhattan.
Allred represents a number of women who are accusing Weinstein of harassment or sexual assault. She also said Wednesday that she wants the Weinstein Co. to create a fund for women who can prove they were victimized by Weinstein.
Malthe told reporters that in 2008 she was in London for the BAFTA awards as a spokesperson for the electronics company LG. She met Weinstein at a party and was photographed with him. Weinstein asked where she was staying, and she told him, she said.
Later, after she returned to her hotel and went to bed, she said, Weinstein pounded on the door and asked her to let him in.
"I opened the door," Malthe said. "His clothes were messy and his face did not look normal."
Malthe said Weinstein barged into the room, took off his pants and sat on her bed. "He said that he could give me a part in an upcoming film, with the implication being that I had to sleep with him in order to get it," she said.
Malthe said that after she told him she was not interested, Weinstein pushed her back and forced her to have sexual intercourse with him. "I laid still and closed my eyes and just wanted it to end," she said. "I was like a dead person. Afterwards I lay there in complete disgust. After he was done he put his pants back on and hurriedly left the room."
Malthe said she did not hear from Weinstein again while she was in London but did receive a script for the film musical "Nine," which Weinstein was producing.
She said that when she returned to Los Angeles, Weinstein contacted her to set up a meeting with Rob Marshall, the director of "Nine." Although she was "uncomfortable because of what Harvey had done," she said, she went ahead with a dance audition.
Malthe said while she trained for a role, Weinstein asked her to meet him at the Peninsula Hotel to talk about the film. She told him there would be "no hanky panky" and he assured her there would not be, she said. But when she arrived, she said, a woman in the room performed oral sex on Weinstein and asked Malthe to join them in a threesome. She declined and abandoned her efforts to get a role in the film, she said.
Allred said Malthe did not report the sexual assault to London police but declined to specify why. Allred also said Malthe has not yet decided whether to cooperate with any police investigations of Weinstein's behavior.
Allred said she has asked the Weinstein Co. to "create a substantial fund which would be held in trust" to compensate any victims of Weinstein.
"It is time for the Weinstein Co. to put their money where their mouths are," Allred said. "Many of Harvey's victims may be without a legal remedy because so much time has passed since they were victimized, but the shame and anguish that Harvey's many victims experienced and the harm that his acts have caused to their careers and health continue and must be addressed."
Full Coverage: Harvey Weinstein sexual harassment scandal >>
Malthe is best known for starring in the "BloodRayne" horror-action franchise for filmmaker Uwe Boll, for whom she also starred in direct-to-video sequels "Alone in the Dark II" and "In the Name of the King II."
Her credits include "Skinwalkers," "This Means War," "DOA: Dead or Alive" and "Disturbing Behavior," as well as a part in the TV series "Fringe," but her biggest break was a villainous turn as the Marvel Comics character Typhoid opposite Jennifer Garner in 2005's superheroine bomb "Elektra."
Although trained in singing and dancing, dramatic and lead roles have eluded Malthe throughout her 20-year acting career.
In a 2009 interview, Malthe said trying to make it in Hollywood came with a price.
"The issue of integrity comes up a lot," she told Toro Magazine. "I experienced situations that made me want to quit acting. … In L.A., you're competing with women who play games and who will do all sorts of things to get a part."
Among Allred's other clients is Mimi Haleyi, a production assistant on a Weinstein Co. TV show who said Tuesday that Weinstein forceably performed oral sex on her in 2006.
Haleyi said the attack occurred during a visit to Weinstein's apartment in New York when she was in her 20s. After she fought off his advances, she said, the mogul forced himself on her and performed oral sex. She tried to deter him by telling him she was menstruating, but he persisted, she said.
Also this week, actress Dominique Huett said Weinstein sexually abused her in 2010 in Beverly Hills, and she sued his company for negligence, marking the first civil suit over his alleged abuses since the scandal came to light. Huett is represented by Florida-based attorney Jeffrey Herman.
More than half a dozen women have accused Weinstein of sexual assault or rape, and more than 50 women have publicly detailed a range of inappropriate behavior they say he engaged in. Police in Los Angeles, New York and London have opened criminal investigations.
A spokeswoman for Weinstein has said that "allegations of nonconsensual sex are unequivocally denied."
Times staff writer Jen Yamato contributed to this report.
ALSO
Harvey Weinstein accuser says his company was negligent in his abuse of women
Harvey Weinstein faces assault claims from two more women, and his company is sued for negligence
How Harvey Weinstein used his fashion business as a pipeline to models
---
UPDATES:
3:45 p.m.: This article was updated with information about Natassia Malthe's career.
1:30 p.m.: This article was updated with additional details of the allegations by Natassia Malthe and comments from Gloria Allred.
This article was originally published at 12:05 p.m.
Inside the business of entertainment
The Wide Shot brings you news, analysis and insights on everything from streaming wars to production — and what it all means for the future.
You may occasionally receive promotional content from the Los Angeles Times.