A revitalized Brian Williams stays up late for MSNBC — and President Trump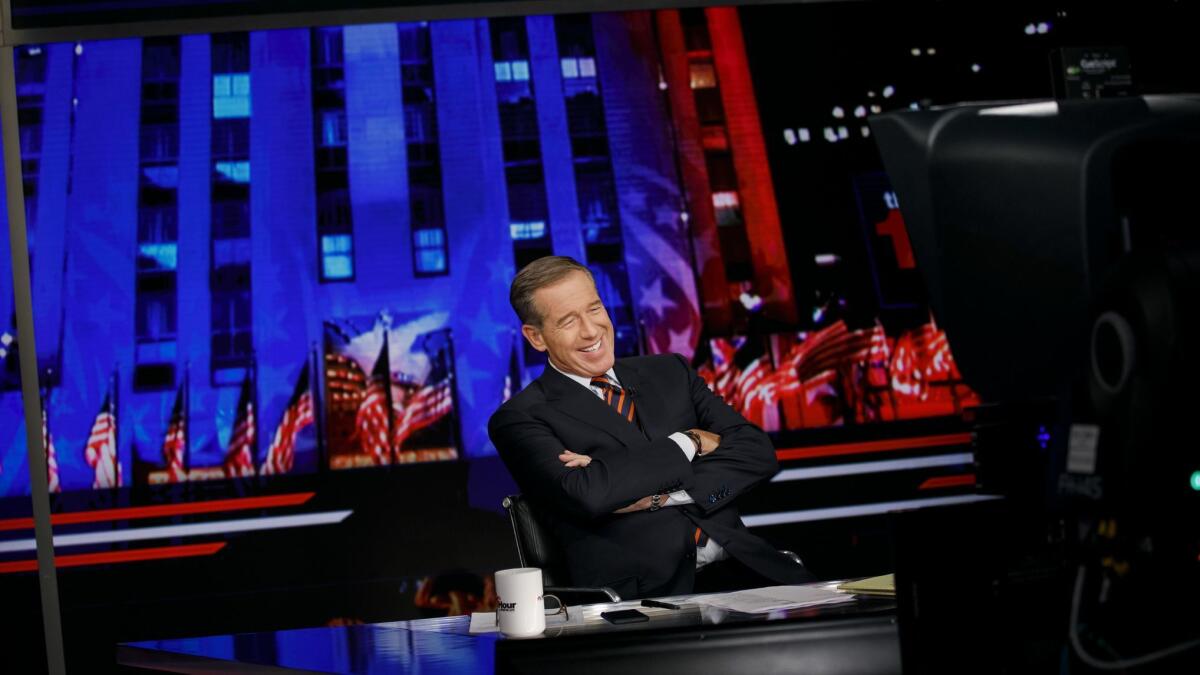 Reporting from New York —
The third-floor studio at NBC headquarters in midtown Manhattan is nearly desolate as 11 p.m. approaches on a recent weeknight.
Stagehands are using the quiet time to start construction of the set for MSNBC's coverage of the congressional midterm elections on Nov. 6, which has been building Super Bowl-like anticipation in the cable news business.
But there is activity at the anchor desk in the darkened space filled with flat video screens and rolling camera jibs as NBC News veteran Brian Williams prepares for the next edition of his late-night program "The 11th Hour." While a makeup artist applies a touch-up, he quips about having a new hairpiece (he actually doesn't wear one).
He bemoans the sad state of his beloved New York Giants to technicians on the floor. His crisp baritone voice is just as relaxed at airtime when he debriefs the rotating cadre of White House reporters ("our journalists," as he often calls them) who appear nightly to offer up their latest scoops or analysis on the Trump presidency.
"The 11th Hour" has given Williams a voice in the national conversation again, a scenario that seemed highly improbable 3½ years ago, when the former "NBC Nightly News" anchor was at the center of a scandal that shook the network to its core.
"I think I'm the recipient of something that is uniquely American," he said during a recent interview at his Rockefeller Center office. "People like a comeback."
Williams' program has contributed to the NBCUniversal-owned cable channel's record ratings and profits this year as the nonstop political news cycle continues to transfix viewers. Kagan, a media research group within S&P Global Market Intelligence, is estimating net revenue of $846 million for MSNBC in 2018, up from $798 million last year. "The 11th Hour" drew an average of 1.7 million viewers in the third quarter of 2017, topping Fox News and CNN in the time slot.
Both CNN and Fox News have added live news and discussion programs to the 11 p.m. hour since Williams emerged.
MSNBC — and Williams' resilience — has been a major bright spot for NBC News, which has seen more than its share of turmoil in the last 12 months with the firing of its biggest star, "Today" co-anchor Matt Lauer, over sexual misconduct allegations. The division is currently embroiled in an ugly split with Megyn Kelly, who flamed out on "Today" after creating a stir with her on-air remarks defending the use of blackface.
Williams was at the center of a network imbroglio in February 2015, when he falsely told viewers he was in a helicopter hit by enemy fire while covering the U.S. invasion of Iraq for NBC News in 2003. The lapse, which raised questions about the veracity of his other reporting, led to his removal from the prestigious anchor chair at "NBC Nightly News" after having signed a new contract that paid him more than $10 million annually.
The public stumble made Williams the butt of jokes on late-night shows on his own network where he occasionally appeared as an entertaining guest — a sign that some people thought he was done.
After a six-month suspension, Williams was given a second chance by NBC News Chairman Andy Lack, who helped groom the anchor's career in the 1990s.
Lack had Williams return as an MSNBC breaking news anchor, charged with handling extended coverage of Pope Francis' visit to the U.S., the terrorist attack in Nice, France, and the attempted military coup in Turkey. It was a demotion back to the role Williams held before he succeeded Tom Brokaw on "NBC Nightly News" in 2004.
But while the traditional broadcast evening news programs still have the larger audiences, cable news increasingly has become the go-to source for real-time coverage of President Trump's made-for-TV activities, whether he is riling up supporters at rallies or delivering provocative tweets. Personalities on Fox News, CNN and MSNBC have seen their audiences and public profiles expand.
Williams, who has always been at his best doing live broadcasts in a studio, has been among the major beneficiaries. "This is just a happy coincidence," he said.
Veteran network executives and producers believe the memory of Williams' transgressions has faded with the help of "The 11th Hour" and the tsunami of political news the program covers.
"Brian's got all of the requisite skills and there's a lot of news going on and he's capitalizing on it," said Joe Peyronnin, a journalism professor at New York University and a former network news executive. "This is what he loves to do and it shows."
Lack came up with the concept of "The 11th Hour" during the final weeks of the epic 2016 race for the White House as a way to deal with the daily surfeit of stories it generated. Williams was given a half-hour each night to summarize developments along the campaign trail at 11 p.m. Eastern — a time period when cable news typically replayed its prime-time programs and viewers headed to their local newscasts, "SportsCenter," "Seinfeld" episodes or their beds.
"The 11th Hour" was supposed to last only through the 2016 campaign season. But the program is entering its third year this fall. The format of the program — which expanded to an hour in April 2017 — allows Williams to use a more conversational style than an evening news anchor is allowed in 22 story-packed minutes. "Later, the president warns a foreign country not to let their people come here, or as we call it — Tuesday," Williams said on one recent broadcast, an example of his casual tone.
Williams doesn't do the reporting for "The 11th Hour," leaving it to the top political journalists from NBC News, and more often, non-broadcast outlets such as the New York Times, the Washington Post, the Los Angeles Times and the Associated Press.
Those reporters stay up late to preview their stories breaking that evening on their websites and in the next day's print editions, often after getting quirky, fawning introductions from Williams ("Also with us tonight, Pulitzer Prize-winning author and historian Jon Meacham — it's been weeks since his last book came out").
Williams acknowledges the circumstances of his career did not give him "the luxury" of planning a show like "The 11th Hour." He credits the audience for accepting him again after his fall from grace. He answers every e-mail and occasionally tracks down letter-writing viewers to thank them with phone calls.
Williams' body tenses up a bit when he is asked about the period in 2015 when his career appeared to be in jeopardy. He is reluctant to go into detail, but he expresses gratitude for the support of family members and friends and his bosses at NBC News and parent company Comcast, who believed he was remorseful over his actions.
"All I will say … is you have to go deep to properly examine everything," he said. "I would not diminish the fact that this company saw me in a new and different role. I'm professionally happy and grateful in equal measure."
Williams said he still turns on the "NBC Nightly News" in his office each night (usually after watching his sportscaster son Doug on regional cable network SNY). But he maintains he is happy to call MSNBC his home. "I say I'm home because I have no desire to leave this time slot, maybe ever," he said. "Everything about it works."
Trump's rhetorical flourishes and unpredictability have helped "The 11th Hour" thrive, much in the way ABC's "Nightline" turned into a late-night franchise after starting out as a recap of news about the American hostages held in Iran in 1979 and 1980. Williams even borrows the early introduction of that program (originally called "America Held Hostage"), noting how many days the Trump administration has been in power.
"We certainly are tied inextricably to this presidency," Williams said. "It's on the air every night because there has never been a more unusual presidency."
Williams (who describes himself as "classically trained" in the news business) does not deliver the harsh condemnations of Trump often heard from MSNBC's liberal prime-time hosts Chris Hayes, Rachel Maddow and Lawrence O'Donnell (although he and Maddow will co-anchor MSNBC's midterm election coverage). As his guests present their reporting or analysis, Williams will throw in a sly aside without taking a side.
"If you listen closely, you pick up on it but he's not attacking anybody," said his executive producer Colleen King. "He's fun."
But it's hard for Williams not to react when having to lead a discussion of how Trump called porn star Stormy Daniels "Horseface." (Williams told viewers Trump kept up the attack on Daniels "even with adults present during the AP interview in the Oval Office.")
"We are covering the falling of norms every night," Williams said. "You have to call those out and say, 'Folks, just so you know, this is a first for an American president.' "
Twitter: @SteveBattaglio
Inside the business of entertainment
The Wide Shot brings you news, analysis and insights on everything from streaming wars to production — and what it all means for the future.
You may occasionally receive promotional content from the Los Angeles Times.