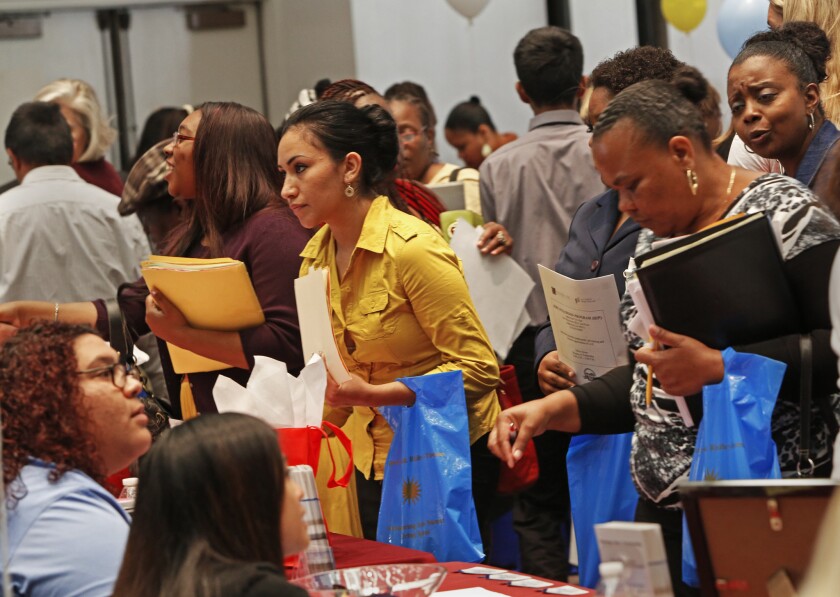 Reporting from Sacramento —
California unemployment insurance workers wrongly denied hundreds of thousands of claims for jobless benefits that were overturned later on appeal by administrative judges, a new state audit concluded.
As a result, those who lost their jobs were forced unnecessarily to file time-consuming bureaucratic appeals and wait months to receive badly needed benefits, State Auditor Elaine M. Howle said in a report to the Legislature.
The findings, released Thursday, confirmed the main points of a February story in The Los Angeles Times that prompted state lawmakers to seek the audit.
The story and the audit noted that the Unemployment Insurance Appeals Board reversed about half of all claims denied by the Employment Development Department over a four-year period ending in April.
The audit's main conclusions were that EDD workers did not adequately determine whether alleged false statements by claimants were willful, did not always contact claimants and employers to gather necessary information and conducted insufficient fact-finding before denying unemployment benefits.
The auditor recommended that the agency "change its practices and update its training to ensure that its staff have demonstrated that all of the necessary elements of a false statement are adequately supported before disqualifying a claimant for unemployment benefits."
Howle also recommended that EDD caseworkers attend hearings at the appeals board when it is cost-effective to do so.
The employment agency disagreed with the auditor's assertion that it does not always follow legal precedent set by appeals court judges and does not always gather necessary information before denying benefits.
Advocates for the unemployed and working poor praised the audit for addressing long-standing concerns.
"The state auditor hit the nail on the head with its analysis and recommendations, making it crystal clear that EDD has some serious leg work to do to improve the fairness and accuracy of the claims determination process," said Maurice Emsellem of the National Employment Law Project.
"EDD has made major progress responding to the phone claims crisis and other issues," he said, "but now it's time to work on the underlying reliability of the initial determinations and re-determinations as well."
Twitter: @MarcLifsher
---