Aerojet gets a big boost in race to develop rocket engine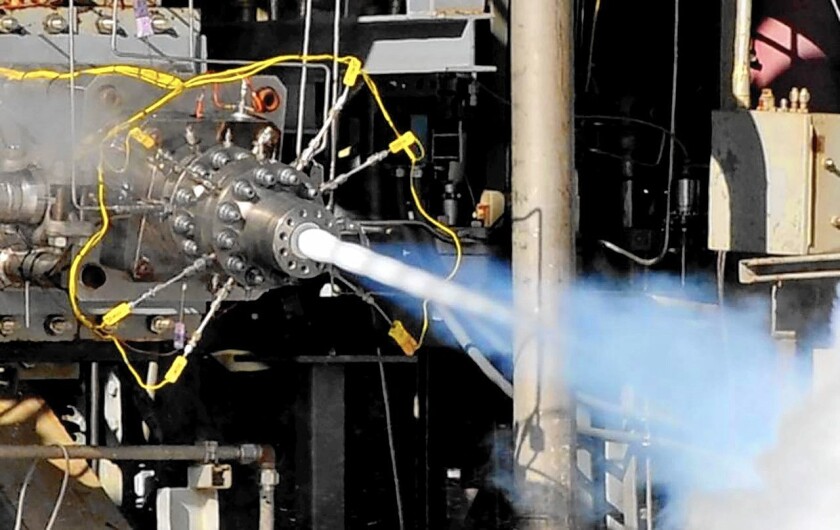 Aerojet Rocketdyne has won a slot in the race to develop a U.S.-built engine to blast government spy satellites into space.
The Sacramento manufacturer has formed a partnership with the Air Force and a joint venture of Boeing Co. and Lockheed Martin Corp. to create a replacement for the Russian engine used to propel many government satellites into orbit.
The partnership gives Aerojet a much-needed boost as it competes with Amazon.com founder Jeff Bezos' Blue Origin to develop an American engine for United Launch Alliance's Vulcan rocket.
"I think they've been given a fresh breath of life with this decision," said Marco Caceres, senior space analyst at the Teal Group, an aerospace and defense research group.
The partnership will fund the continued development of Aerojet's AR1 engine, which is fueled with liquid oxygen and kerosene. The booster engine is slated for completion in 2019.
Under the agreement, the Air Force will invest two-thirds of the money needed to complete development. Initially, the Air Force will contribute $115.3 million, and Aerojet and ULA will supply $57.7 million.
The total potential investment from the government is $536 million. Aerojet and its partners' potential investment is $268 million, for a total agreement value of $804 million.
"This is big," Aerojet Chief Executive Eileen Drake said in an interview. "We're very, very pleased that the Air Force and the United Launch Alliance recognize our progress and our company's investment and commitment."
Aerojet's business is split evenly with 50% in defense and 50% in space. Drake said both businesses are "very, very strong" and that its contract backlog as of November 2015 was $4.1 billion — the highest number in corporate history.
The partnership comes as Aerojet faces major challenges to its space launch business, said Loren Thompson, aerospace analyst at the Lexington Institute, an Arlington, Va., think tank.
ULA had been working primarily with Bezos' Blue Origin to develop an American engine for the Vulcan rocket.
The BE-4, a liquid oxygen and liquid natural gas rocket engine, has been funded by Blue Origin with investment from ULA.
On Monday, ULA and Blue Origin announced a partnership with the Air Force to develop the BE-4 engine and ULA's Advanced Cryogenic Evolved Stage rocket propulsion system, which is an upper-stage engine for the Vulcan rocket.
See more of our top stories on Facebook >>
ULA Chief Executive Tory Bruno said his company is continuing to work with Blue Origin and Aerojet to pursue two options for the next-generation American engine.
If ULA went with Blue Origin for its liquid engines and used another rocket engine provider for its solid fuel engines, the move "could significantly diminish Aerojet's business mix," Thompson said.
"This partnership will greatly bolster Aerojet's prospects for remaining in the launch business as a robust competitor," he said of Aerojet and ULA's partnership with the Air Force.
Aerojet's AR1 engine is intended to replace the Russian-built RD-180, which powers ULA's Atlas V rocket. Aerojet said the AR1 engine can also be used for ULA's Vulcan rocket, which will be powered by an American engine and launch for the first time in 2019.
Congress has put limitations on the use of Russian rocket engines to blast government satellites into orbit, and imposed a deadline of 2019 for the development of an American-made rocket engine.
Analysts say the competition between Blue Origin and Aerojet could come down to cost versus reliability.
"There is more of a potential payoff with a Blue Origin engine, but there's also more of a risk because it's new technology," Caceres said. "There's less of a risk with Aerojet, but it might be more expensive."
Drake didn't specify whether the new partnership would add jobs at Aerojet's Canoga Park or Sacramento operations, where most of the AR1 design and engineering work is done, but she said the award would benefit the state's industrial base.
"We are a major company headquartered in California, so it's great for our future, as well as any suppliers that we might have in the California area," she said. Aerojet employs about 4,800 people nationwide, with 1,100 in Canoga Park.
California was once a hub for conventional airplane manufacturing, but most of the state's aerospace industry growth now comes from drone development and space-related technologies. In Southern California, the industry has pivoted toward guided missile and space vehicle development, according to a report released Tuesday by the Los Angeles County Economic Development Corp.
In 2014, Southern California employees in the missile and space vehicle parts sector totaled 35.9% of the region's aerospace industry workforce, compared with 6.6% in 2004. Southern California companies make up 20% of the nation's employment in this area, according to the report.
"We're always going to have aircraft and aircraft parts, which we are very strong in, but the growth of the industry is going into space," said Christine Cooper, senior vice president of the LAEDC and lead author of the aerospace industry report.
The total number of direct jobs in the Southern California aerospace industry in 2014 was 85,500, a 1.4% decline from the 86,700 jobs in 2013, Cooper said. These tallies do not include public employees, such as those who work for NASA or NASA's Jet Propulsion Laboratory. If they did, the total number of aerospace workers in the region would be more than 100,000.
Total industry employment in the region has declined continuously since 2006 at an average rate of 1.8% a year, according to the report. Some traditional industries, such as aircraft instrument manufacturing, are also being farmed out to other sectors outside of aerospace, she said.
Twitter: @smasunaga
SIGN UP for the free California Inc. business newsletter >>
ALSO
California high court opens door to wrongful foreclosure suits
Olympus Corp. to pay $646 million to settle kickback case
FBI isn't the only agency that failed to unlock the San Bernardino killer's iPhone
---
Your guide to our new economic reality.
Get our free business newsletter for insights and tips for getting by.
You may occasionally receive promotional content from the Los Angeles Times.