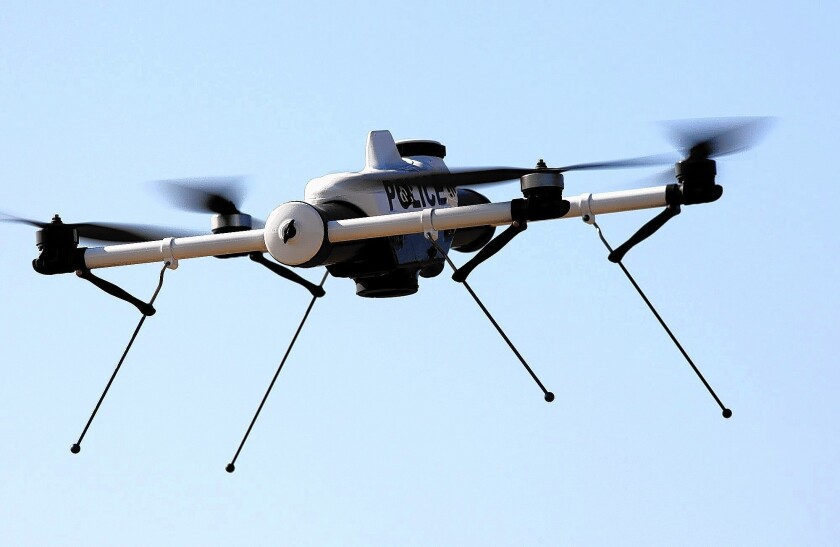 Boosted by an increase in sales, Monrovia-based drone maker AeroVironment Inc. exceeded analyst estimates and reported $8.1 million in fiscal fourth-quarter profit, a turnaround from the same period a year earlier.
The company posted net income amounting to 36 cents a share Tuesday for the quarter that ended April 30. That's compared with a loss of $795,000, or 1 cent a share, for the same period last year.
Analysts on average had forecast a profit of 22 cents a share.
AeroVironment is the Pentagon's top supplier of small drones — including the Raven, Wasp and Puma models — that give troops on the ground a bird's-eye view of what's happening over a ridge or around a bend. The company also makes charging systems for electric vehicles.
AeroVironment said total quarterly revenue increased about 36% to $73.5 million compared with $54.1 million last year.
The results were reported after the close of regular trading Tuesday, when AeroVironment shares fell 58 cents, or 1.8%, to $30.96. After the market closed, the shares were up $1.74, or nearly 6%, to $32.70.
In a conference call, AeroVironment Chief Executive Timothy E. Conver said the company's drone sales remain strong despite the decrease in the number of troops in the Middle East and a tightening Pentagon budget.
AeroVironment, which makes small spy drones in Simi Valley, hopes to diversify its customer base in the coming years with the Federal Aviation Administration's impending introduction of regulations allowing small drones into U.S. airspace in 2015.
Drones are not allowed to fly in the U.S. except with permission from the FAA. But as interest in drones has increased among police departments and businesses, the agency has appeared willing to ease restrictions.
In June, the company's Puma drone became the first unmanned aircraft system, or UAS, flying over land in commercial use with the FAA's authorization.
"The time, rigor and resources we have invested to develop, test and qualify military small UAS are allowing us to satisfy FAA requirements for reliability and safety certification and facilitating approval of our systems for commercial operation," Conver said.
Drone sales for the quarter increased nearly 42% to $60 million from $42.4 million a year earlier.
Net income for fiscal 2014 was $13.7 million, compared with net income for fiscal 2013 of $10.4 million. During the year, the company received $4.7 million from a gain on its investment in Swedish drone maker CybAero.
AeroVironment's revenue was $252 million in fiscal 2014. The company now expects sales between $250 million and $270 million for fiscal 2015, up from the firm's previous estimate of $230 million to $250 million.
---