Domestic airfares hit a record low, but fees help airlines make healthy profits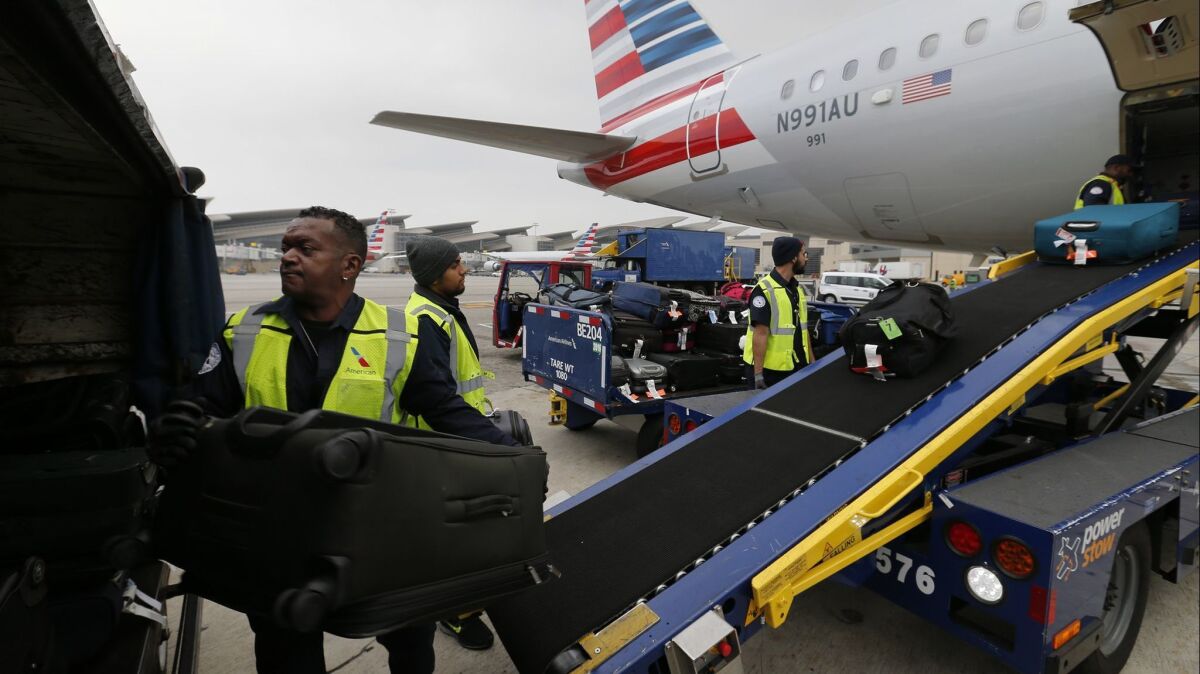 The price of a domestic airline ticket has hit a record low, but airlines are still collecting strong profits thanks to passenger fees and other charges.
In the July-through-September quarter of last year, the average domestic airfare was $343, according to data released Thursday. Adjusted for inflation, that's the lowest average price in any quarter since the U.S. Bureau of Transportation Statistics began keeping track in 1995.
The $343 average fare, which is calculated based on the prices of round-trip and one-way tickets sold in the quarter, was down 0.4% from a year earlier and down 2% from 2018's April-through-June quarter, according to the bureau.
"Intense competition across the industry continues to drive fares to historically low levels, as prices have declined over the past several years," said Vaughn Jennings, a spokesman for Airlines for America, a trade group for the nation's carriers.
Competition from low-cost carriers such as Spirit, Southwest and Frontier have led larger rivals Delta, United and American to offer no-frills fares, called "basic economy" tickets. Those tickets come with many restrictions, such as no upgrades, no cancellations and no opportunity to select a seat.
The low fares and high consumer confidence in the U.S. economy have helped boost demand for travel.
In January, 75.2 million passengers flew on domestic and international flights on U.S. carriers, the second-highest monthly total of all time, according to the Bureau of Transportation Statistics. The top month was July of last year, when 75.8 million passengers flew.
The nation's carriers continue to generate healthy profits, driven in part by fees passengers paid to check bags and to change flight reservations as well as by revenue from loyalty reward programs, airline-branded credit cards and commissions for booking hotels and rental cars for fliers.
"Airlines have been wanting to diversify their revenue stream for a while so that fare fluctuation plays a smaller role in their profitability," said Jay Sorensen, president of IdeaWorks, a Wisconsin consulting firm on airline revenue .
Federal statistics show that a bigger share of the revenues collected by airlines comes from passenger fees and other charges than in the past.
In the first nine months of 2018, U.S. airlines collected 74% of their revenues from airfares and 26% from passenger fees and other charges. That's a solid shift from 1995, when airlines got nearly 88% of revenues from airfares and about 12% from fees.
The nation's airlines pulled in record-high profits in 2015 and 2016, when fuel prices dropped dramatically while demand rebounded from the economic recession. Although fuel prices have climbed in the last few years, airlines are still comfortably in the black.
In the July-through-September quarter of last year, the nation's airlines earned a combined $3.8 billion, marking the 22nd consecutive quarter that they reported an after-tax profit, according to the Bureau of Transportation Statistics.
---
Sign up for the California Politics newsletter to get exclusive analysis from our reporters.
You may occasionally receive promotional content from the Los Angeles Times.