Airbnb takes a toll on the U.S. lodging industry, but Los Angeles hotels continue to thrive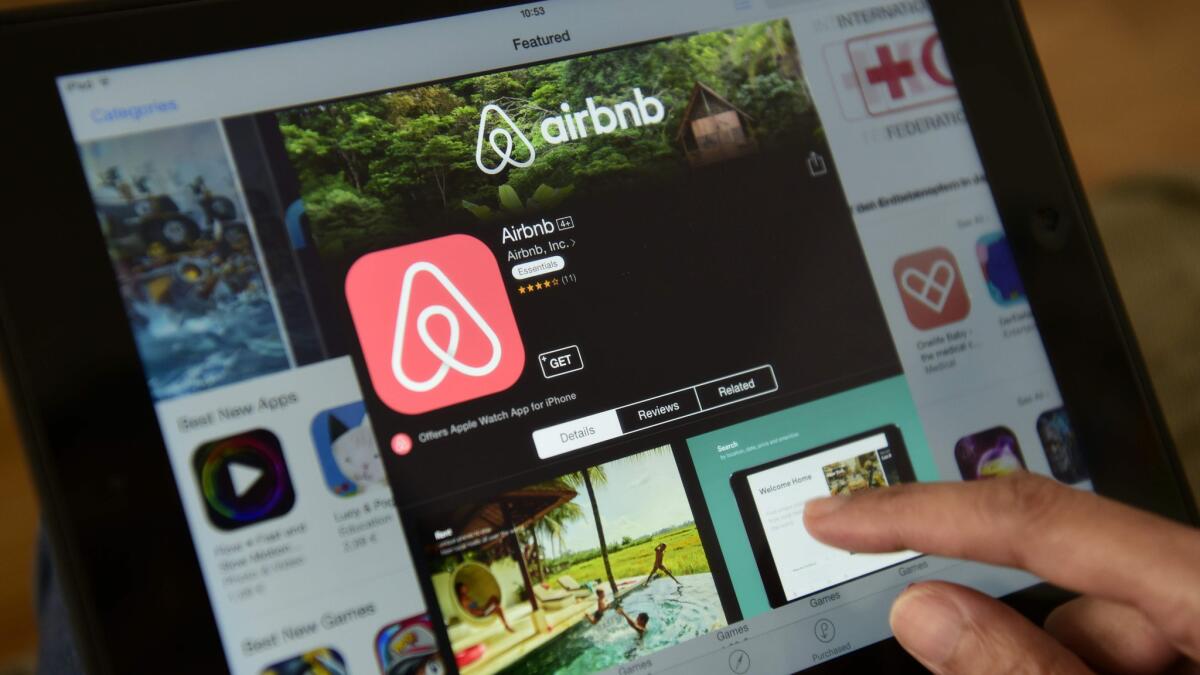 The U.S. hotel industry's robust recovery from the recession is expected to slow down next year partly because of growing competition from short-term rental companies like Airbnb.
That is one of the conclusions of a Moody's Investor Service analysis that provided a rare look at data on how short-term rentals are affecting the lodging industry.
The Moody's report noted that Airbnb has been growing rapidly, to more than 2 million listings worldwide from 300,000 listings in 2014. In comparison, the conventional lodging business offers 15.7 million hotel rooms around the globe.
Moody's revised its outlook for the lodging and cruise industries to stable from positive, with occupancy declining as much as 1% in 2017 "due to increasing supply, the likely toll from Airbnb competition and weak corporate profit growth," the report said.
Moody's and other analysts previously had been unable to discern an impact of short-term rentals on traditional hotels because the lodging industry has been flourishing since the recession ended in 2009, masking any harm from Airbnb and other rental sites.
But now that the growth in the hotel industry has begun to slow down, Moody's report shows that hotel occupancy data and overnight rates are dropping faster in those cities with a high concentration of Airbnb rentals, such as New York and Miami.
In Los Angeles and San Francisco, which have lower concentrations of short-term rentals compared with New York and Miami, occupancy and overnight rates have taken less of a hit, said Margaret Taylor, senior vice president at Moody's.
For example, in New York, Airbnb rentals represent nearly 25% of all lodging, according to Moody's. The average daily hotel rate in New York fell 1.6% in 2015 compared with the previous year and declined 2.9% in the first eight months of 2016 from the year-earlier period, Moody's said.
In Los Angeles, where Airbnb rentals represent about 12% of all lodging, the average daily hotel rate rose 7.5% in 2015 and 9.2% in the first eight months of 2016, according to Moody's.
"It does appear from what the data show is we have some markets, like New York, are impacted more and other markets like Los Angeles not as much," Taylor said.
Other factors, such as business travel spending and the strength of the U.S. dollar compared with foreign currency, are also factors in U.S. hotel rates, she said.
Airbnb spokesman Nick Papas played down the effect of Airbnb on the hotel industry, suggesting that short-term rentals are drawing new travelers.
"Hospitality is a large and growing market and for us to win, no one has to lose," he said. "We know Airbnb is helping more people travel, many of whom would have stayed home without us, and that's good news for everyone."
To read more about the travel and tourism industries, follow @hugomartin on Twitter.
ALSO
After the massive hack, here's what you should do if you have a Yahoo account
New home sales drop 7.6% in August nationwide but rise in the West
Towering development is proposed for L.A.'s Arts District: an 'opportunity for density'