Airbnb estimates its home-sharing platform added $920 million to L.A. economy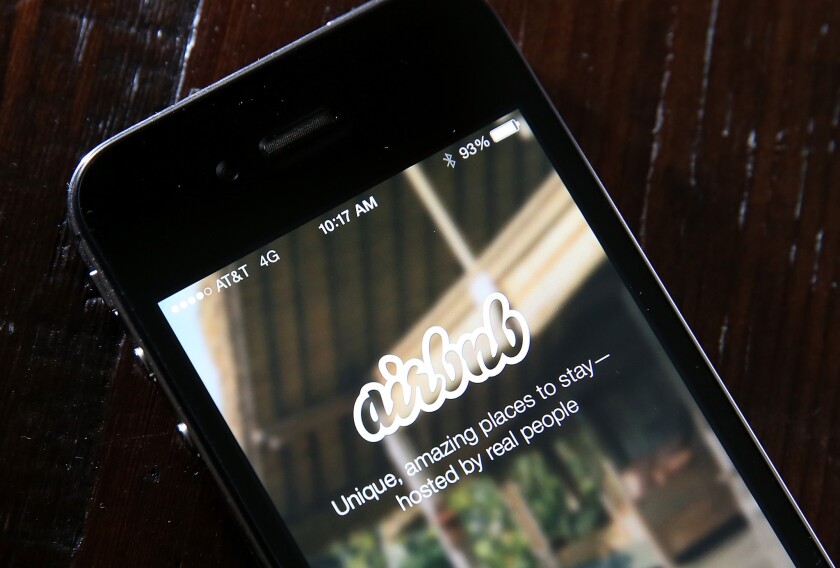 Home sharing in Los Angeles through the Airbnb online platform injected $920 million into the local economy last year, the San Francisco-based home sharing business estimates.
That is nearly three times higher than the economic impact Airbnb attributed to its home-sharing business between May 2013 and April 2014. The number of Airbnb hosts in L.A. also nearly tripled in that same period.
Airbnb released the latest data as the city of Los Angeles considers plans to regulate and collect data from the home-sharing business.
See more of our top stories on Facebook >>
A trade group for the nation's hotel industry questioned the data.
"This 'estimate' is a cynical attempt to distract from the fact that Airbnb and the illegal hotels it facilitates are exacerbating the affordable housing crisis that is hurting working class residents and undermining neighborhoods across Los Angeles," said Vanessa Sinders, vice president of government affairs for the American Hotel and Lodging Assn.
Airbnb has offered to collect taxes from guests who rent from Airbnb properties in L.A., but the city has yet to hash out an agreement. Instead, city officials have focused on first adopting rules to regulate and, if necessary, fine Airbnb and its hosts who don't comply with the rules
SIGN UP for the free California Inc. business newsletter >>
But Airbnb has been reluctant to share data about its hosts in L.A., a requirement that city officials say is vital to the regulations.
Residents have complained that some Airbnb hosts have turned residential homes into loud commercial operations, and hotel managers grouse that Airbnb homes have an unfair advantage in drawing visitors.
Airbnb responded with data that says nearly 3,000 home-sharing hosts — or nearly a quarter of all hosts in Los Angeles — have used Airbnb to make enough extra money to avoid eviction and foreclosure.
Airbnb hosts in Los Angeles collected a median of $7,000 in 2015, down from about $7,900 in the 12-month period that ended in April 2014. Airbnb attributed the drop in income to several factors, including an increase in the number of hosts in L.A. and a change in the type of rooms being rented out.
According to Airbnb, home sharing through the online platform has generated more than $920 million in economic impact, which includes all money that the hosts collect and all the money that the guests spend during their visits to Los Angeles, plus other indirect activity that is spurred by that spending. For the 12-month period that ended in April 2014, Airbnb estimated the economic impact at $312 million.
If Airbnb were to collect the transit occupancy tax that hotels pay, it would have collected $23 million last year, according to Airbnb.
The online renting platform also said Los Angeles had about 12,370 Airbnb hosts in 2015, compared with approximately 4,490 hosts in the 12-month period that ended in April 2014.
Twitter: @hugomartin
MORE BUSINESS NEWS
A high-tech hub just voted to call Uber's bluff on tougher regulation
Lending Club CEO Renaud Laplanche resigns after internal review
More investors seeking financial advice are turning to lower-cost options
---
Must-read stories from the L.A. Times
Get the day's top news with our Today's Headlines newsletter, sent every weekday morning.
You may occasionally receive promotional content from the Los Angeles Times.