Tenants say Airbnb and landlord violated L.A. rental laws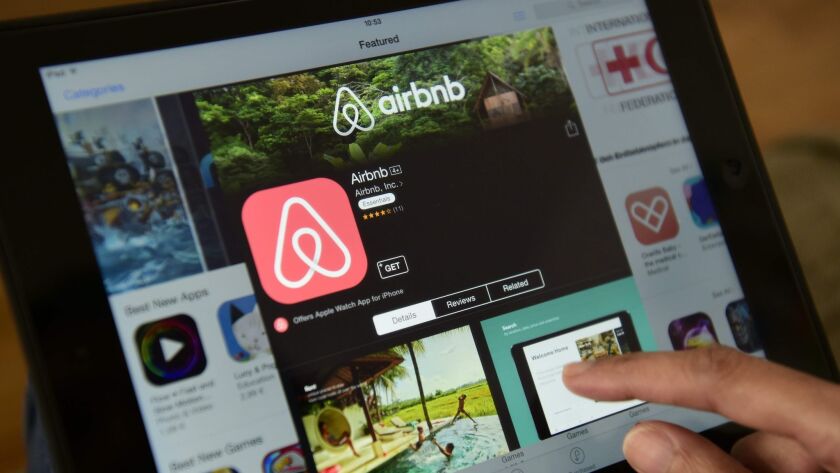 Airbnb did not evict six renters last year from their Hollywood apartments but the short-term rental site is nonetheless being sued for playing a role in renting the properties after the apartments were vacant.
If successful, the lawsuit filed in Los Angeles County Superior Court late last week by Los Angeles-based nonprofit Eviction Defense Network could open Airbnb to legal challenges from tenants who believe they have been illegally evicted to bring in higher-paying short-term renters.
An Airbnb spokesman declined to comment on the lawsuit but added that the online platform has "long opposed landlords who remove housing from the market."
In the lawsuit, six tenants who were evicted from their apartments on North Formosa Avenue in July say the landlord notified the city that the units were going to be taken off the market. Instead, the apartments were listed for higher rates on Airbnb, the complaint said.
The lawsuit echoes a previous lawsuit filed in 2015 that also named Airbnb as a defendant. In that case, five tenants were evicted from their apartments in the Fairfax district of Los Angeles and the units subsequently appeared on the Airbnb site. A judge overseeing the 2015 lawsuit has allowed the case to move forward, with a trial date tentatively set for June 5, according to an attorney for the plaintiffs.
Both lawsuits accuse the landlords of violating Los Angeles' 1978 rent stabilization ordinance, which establishes specific reasons a landlord can give for evicting tenants, such as to redevelop a property. In both cases, the lawsuits say the landlords notified the city that the properties were going to be taken off the rental market permanently.
After the evictions, both lawsuits claim, the apartments were posted on Airbnb as short-term rentals to generate higher rents. Airbnb not only posted the apartments as available, according to the lawsuits, but collected the rent, helped resolve disputes and gave landlords advice on how to attract more renters.
"Airbnb is equally liable with owner defendants as their partners in a joint venture," according to the latest lawsuit filed by the Eviction Defense Network.
Also named in the lawsuit is the residential management company Wiseman Residential. A representative of the company said he had not seen the lawsuit but promised that the Formosa Street apartments listed in the lawsuit are slated for demolition to make room for a new development.
"These buildings will be dirt in February," said Benjamin Cohan, president of Wiseman Residential.
To read more about the travel and tourism industries, follow @hugomartin on Twitter.
ALSO
American Apparel auctions off its assets
Candy maker Mars is buying L.A.-based animal hospital chain for $7.7 billion
VW executive who was in charge of following U.S. emissions rules is arrested
---
Your guide to our new economic reality.
Get our free business newsletter for insights and tips for getting by.
You may occasionally receive promotional content from the Los Angeles Times.