Demand for air travel is strong, but higher fuel costs are cutting into airline profits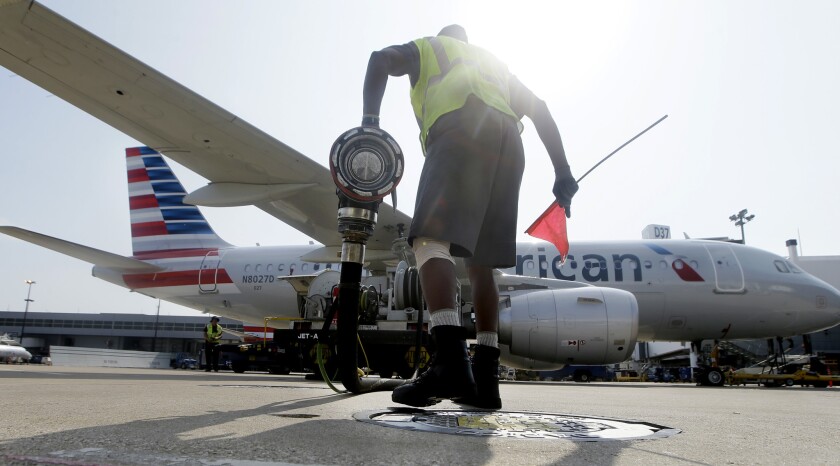 The nation's airlines are wrapping up the busiest summer travel season on record and are expecting a surge in demand for airline tickets for the upcoming holiday season.
But higher fuel costs are eating into airline profits, with the nation's biggest commercial carriers reporting net profits for the second quarter of 2018 dropping more than 27%, compared to the same period in 2017, according to federal data released Monday.
The U.S. Bureau of Transportation Statistics reported that the U.S. airline industry — represented by the 21 biggest carriers — collected after-tax net profits of $3.4 billion in the April-through-June period, down from $4.7 billion in the same period in 2017.
The reason for the decline is also outlined in the latest transportation statistics.
Airlines expenses jumped to $43.4 billion in the second quarter of the year, up from $38.5 billion in the same period last year, according to the bureau. The report shows that the airline industry spent $21.8 billion in fuel in the first seven months of the year, up 34.5%. During that period, a gallon of jet fuel sold for an average price of about $2.11, compared to $1.62 per gallon in the same period last year.
Expenses have also increased because several airlines have approved higher wages in contracts with employee groups to reflect the overall improvement in the industry since the economic recession and the Sept. 11, 2001, terrorist strikes forced nearly every major carrier to file for bankruptcy.
Still, the surging demand for air travel has kept the industry profitable for 21 straight quarters.
The Transportation Security Administration reported earlier this month that the agency screened a record 253 million passengers and crew members between the Wednesday before Memorial Day until the Tuesday after Labor Day, a 6% increase compared to the same period the previous year.
Demand for air travel is expected to be high during the Thanksgiving, Christmas and New Year's holiday season, according to a forecast released Monday by Wichita State University, which recommended that travelers book at least eight weeks before travel to get the best prices.
Twitter: @hugomartin
---
Your guide to our new economic reality.
Get our free business newsletter for insights and tips for getting by.
You may occasionally receive promotional content from the Los Angeles Times.