Airlines make you say you're male or female. Coming soon: a nonbinary gender option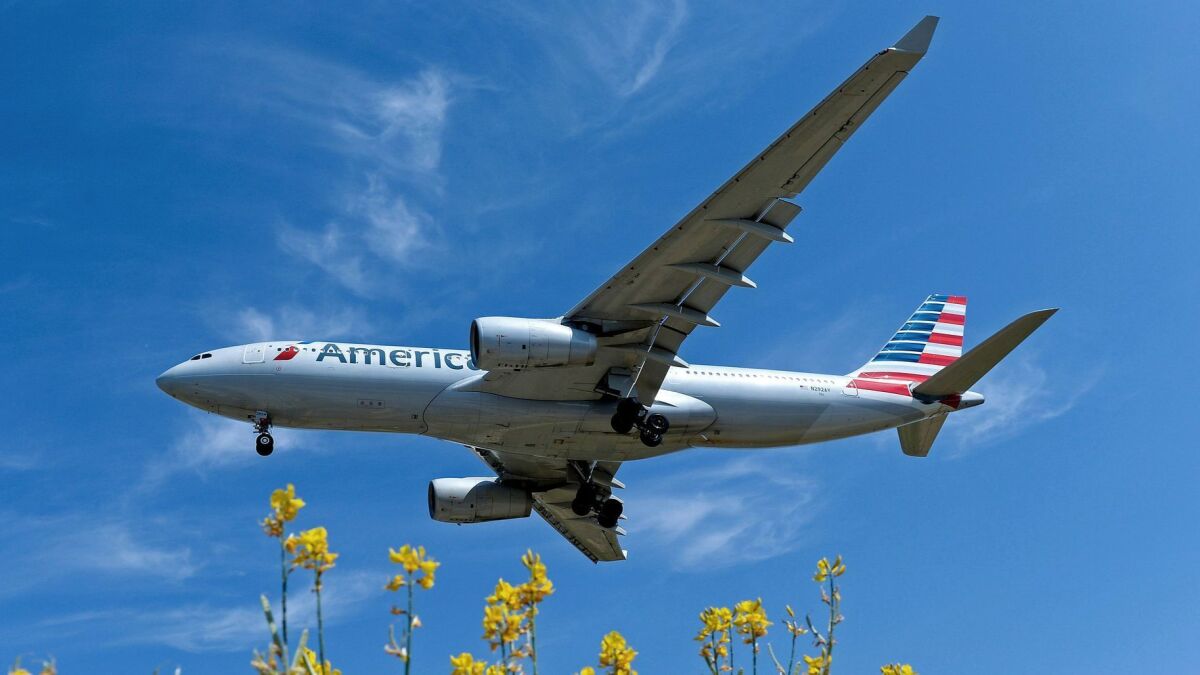 When people buy plane tickets, they have to select a "gender" option: male or female. But those two categories don't cover everyone, so some major airlines are planning to offer more choices.
Airlines for America and the International Air Transport Assn., two trade groups that represent major air carriers, recently approved a measure that will let their member airlines add "unspecified" and "undisclosed" as identification options. That way, the airlines' systems could align with recent changes in some states and countries that allow people to designate their gender as "X" rather than "M" or "F" on government IDs.
The measure, first reported by the Daily Beast, goes into effect June 1. Each airline will be able to decide whether and when to change its own system.
People who do not conform to gender stereotypes have long faced disrespect, discrimination, harassment and violence, and the airline groups' decision marks a step toward systemic representation.
American Airlines is already working on adding the nonbinary option, although it's unclear when that will be complete, a representative for the carrier said Friday. Other airlines making the change include Delta, United and Alaska Airlines, according to the Daily Beast.
The Transportation Security Administration doesn't have an official policy on processing IDs with gender-neutral markers, although U.S. airlines are required to collect name and gender information. California, Oregon, Colorado, Arkansas and Minnesota, as well as Washington, D.C., offer a nonbinary gender marker — "X" — on driver's licenses and identification cards.
The California Department of Motor Vehicles, which began offering a nonbinary option Jan. 1, said it had issued 606 driver's licenses and identification cards with the "X" gender marker as of Wednesday. Official documents with a nonbinary gender option also come from Australia, New Zealand and Canada, among other places.
Beck Bailey, deputy director of the Human Rights Campaign's Workplace Equality Program, called the airline trade groups' decision "a necessary shift."
In addition to recognizing the reality of nonbinary people and making them feel represented, Bailey said, the decision could pave the way for greater privacy options. As a society, we "tend to ask for data we don't really need. A lot of times we ask for a person's gender and don't necessarily need that piece of information," he said.
The airline trade groups did not describe how they decided to make the change or why it's happening now. The International Air Transport Assn. said in a statement that it acted "at the direction of" its members.
Airlines for America emailed a statement saying: "U.S. airlines value a culture of diversity and inclusion, both in the workplace and for our passengers, and we work hard each day to accommodate the needs of all travelers, while delivering a safe, secure and enjoyable flight experience."
The decision doesn't erase all the challenges nonbinary and transgender people face during air travel, Bailey noted. People who don't conform with gender stereotypes still face hostility, invasiveness and aggression, "from TSA … pat-downs to interactions at service counters throughout the day."