Alfred E. Mann, entrepreneur behind the rechargeable pacemaker and an artificial retina, dies at 90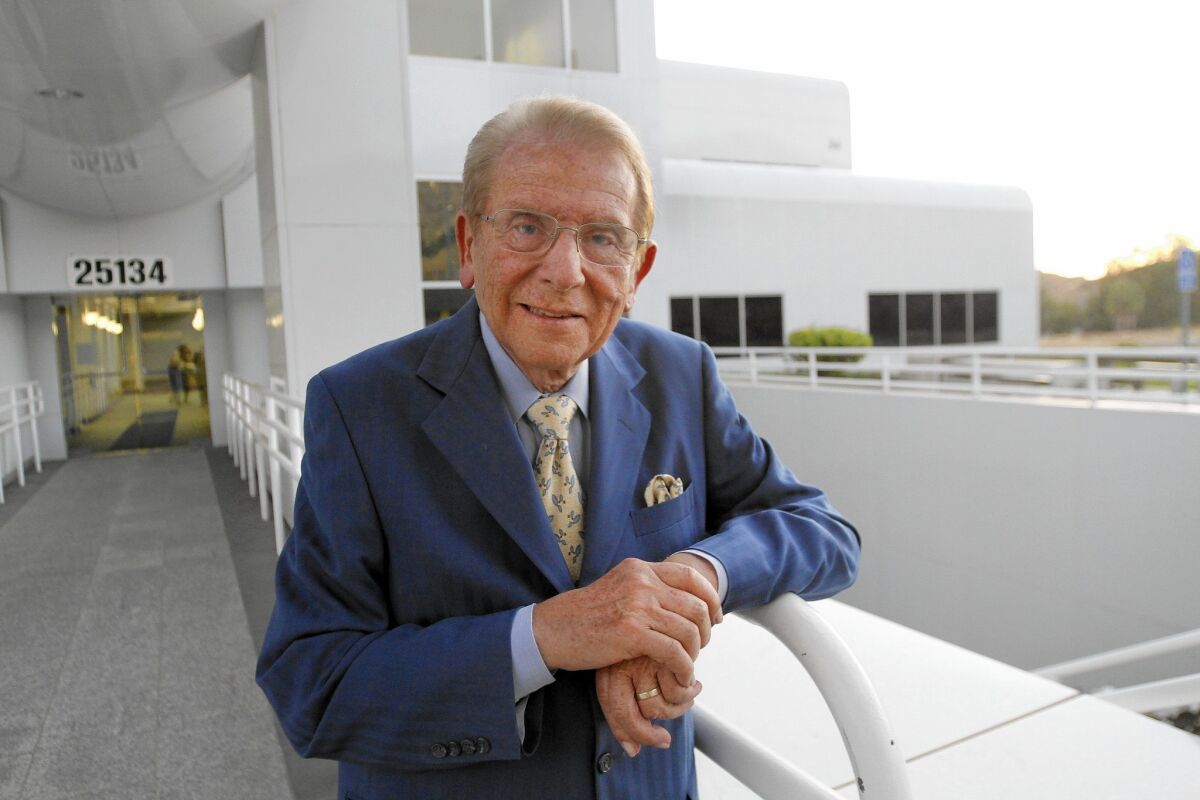 Over the years, biotech pioneer Alfred E. Mann's companies developed devices that helped the blind to see, the deaf to hear and the paralyzed to control their limbs.
But as he began his 10th decade, Mann thought he wasn't done yet. When people asked when he would retire, he would say at age 140.
The Los Angeles entrepreneur and philanthropist was 90 when he died Thursday in Las Vegas, where he had spent the last several years of his life.
But nearly up to his death, Mann, who had a lifelong reputation as workaholic, was seen at his desk.
"That's a common thing — I walk into the room, he's working, and he wants to finish something before we can talk," said David Hankin, chief executive of Valencia's Alfred Mann Foundation, who met with Mann a few weeks ago. "That is very much Al Mann."
Those who knew Mann said the businessman was driven by a simple yet profound desire: to cure the afflictions that plague humanity.
"He cared about people," said Robert Greenberg, chairman of Second Sight, a Sylmar company that Mann founded to develop an artificial retina for the blind. "It wasn't work to him — it was a mission."
His generosity expanded to his employees, whom he made sure managers treated with respect.
When Second Sight opened its doors, Greenberg recalled that Mann told him, "I want to make sure you understand the importance of the person who cleans our office because without them we cannot do this."
A trained physicist who started his business career in aerospace, Mann had a knack for spotting revolutionary technologies that he could help develop and bring to market.
Over the course of seven decades, Mann founded 17 companies in fields ranging from defense to medical devices to pharmaceuticals. He sold many of those companies over the years, amassing a fortune that topped $2 billion in 2007.
"He was a visionary who could see pathways forward that other people didn't see," said Jon Lasch, executive director of the Alfred E. Mann Institute for Biomedical Engineering at USC, which the businessman endowed with a $100-million donation in 1998.
Most of the companies founded by Mann, a longtime Beverly Hills resident, were based in the San Fernando Valley or Santa Clarita.
"Al almost single-handedly brought the medical device industry to Los Angeles," Greenberg said.
Mann paid a price for his commitment. He acknowledged his family life suffered from the long hours he put in. He was thrice divorced and had seven children. He stayed with his fourth wife, Claude, for more than a decade until his death.
"I know I will be first in his heart, but not his first priority," Claude told The Times in 2014. "His first priority will always be work and doing what he does best."
Mann also was a prodigious polymath who designed his own mansion in Beverly Hills atop Mulholland Drive. The home featured a koi pond that stretched from the yard into the home, separated by a translucent wall that automatically moved up and down depending on the weather.
Mann was born in Portland, Ore., in 1925. His father, an English immigrant, was a grocer; his mother, a Polish immigrant, was a singer and pianist.
He graduated from high school at 16, served in the Army Air Corps during World War II — though he didn't see combat duty — then settled in Southern California, where he earned two physics degrees from UCLA.
In 1956 he was hired by the U.S. military to help improve guidance systems technology for missiles. He later won a contract to design solar cells for spacecraft. Those opportunities led him to found his first two companies, Spectrolab Inc. and Heliotek Corp., both of which he sold in 1960.
In 1969, researchers at Johns Hopkins University asked Mann if he could help create a longer-lasting pacemaker. The company that grew out of that meeting, Pacesetter, was sold to German engineering firm Siemans in 1985 for about $150million.
Mann later turned his attention to developing insulin pumps to treat diabetes. It resulted in his career's biggest score. In 2001, he sold his Northridge pump maker, MiniMed to medical device giant Medtronic for $3.3 billion. He netted nearly $900 million on the sale.
------------
For the record
11:53 a.m., Feb. 27: An earlier version of this story said Alfred Mann sold MiniMed and a second company to Medtronic for $3.3 billion. That sum only reflected the sale price of MiniMed.
------------
Mann was already in his mid-70s, and the deal would have been the capstone of most business careers. But he wasn't done. He was still juggling other enterprises, including Advanced Bionics, a Sylmar maker of cochlear implants that he sold, bought back a portion of and sold again.
But much of his attention focused on MannKind Corp., a Valencia firm that had a portfolio of potential products, including an inhalable form of insulin called Afrezza that was once seen as a potential blockbuster drug.
However, sales have been disappointing since Afrezza hit the market a year ago, prompting French pharmaceutical giant Sanofi, which had an agreement to market the drug, to drop the product.
The company's struggles marked a rare stumble for Mann, who spent close to $1billion of his own money to develop Afrezza and get it approved by the Food and Drug Administration.
"The guy is unrelenting," John Mastrototaro, a former MiniMed employee, told The Times last year. "I actually thought it was a bad idea for him to get into the pharmaceutical space after all his success with devices."
Last year, Forbes estimated his net worth at $1.5billion, though the drastic fall in the price of MannKind shares has taken a toll on his wealth.
For years, Mann said he intended to leave most of his money to charities, including his foundation and engineering institutes he created at several universities, among them Purdue and Technion, an elite technology school in Israel.
"When my success exceeded my expectations, I began to think of a way to return to society what it has given to me," Mann told The Times in 1998.
After he donated $100million to USC in 1998, colleagues praised him for his wide-ranging contributions. "He's literally working on making the blind see, the deaf hear and the lame walk," said Jeff Greiner, then president of Advanced Bionics. "That's a pretty fantastic legacy if it comes to pass."
Mann is survived by his wife and children, Brian, Howard, Richard, Carla, Alfred Jr., Kevin and Cassandra.
melody.petersen@latimes.com
james.koren@latimes.com
Our six-week newsletter will help you make the right decision for you and your property.
You may occasionally receive promotional content from the Los Angeles Times.