Here's why Amazon is paying so much more to stream 'Thursday Night Football'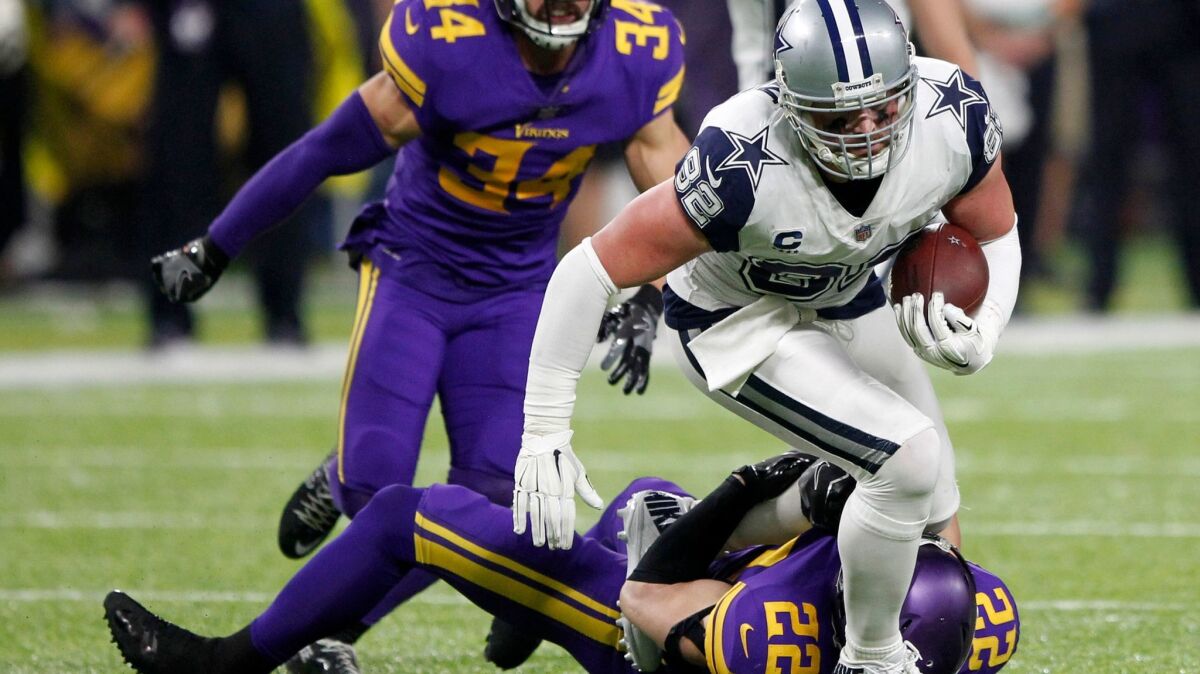 The website where you can order diapers and groceries and watch critically acclaimed TV series like "Transparent" now wants to be the place you can turn to for live sports.
Amazon Inc., the world's fourth-most valuable company, said Wednesday that it has secured the rights to stream NFL "Thursday Night Football" next season for its Amazon Prime subscribers, wresting the contract from Twitter Inc. reportedly for about five times the price at $50 million.
That's a small sum to pay, analysts say, for a company that has already upended the retail industry, established itself as a prime player in cloud computing and made forays into logistics. Now it wants to boost its streaming TV cred with the addition of live sports.
"By buying these rights, Amazon clearly demonstrates that they understand the unequaled power of live sports to attract consumers," Michael Nathanson, a senior analyst for MoffetNathanson, said in a research note Wednesday.
Amazon is betting that the NFL package will entice a host of new subscribers to join Amazon Prime, which gives customers access to streaming video and free shipping, among other perks, for a $99 annual fee. The company would need to add over 500,000 new customers to cover the price tag for the Thursday NFL games. Though Amazon has never disclosed how many Prime subscribers it has, it's believed to be in excess of 60 million, said Colin Sebastian, an analyst for Baird.
"Our focus is on bringing customers the best premium video programming, when and how they want to watch it," Jeff Blackburn, Amazon's senior vice president of business development and entertainment, said in a statement. "Streaming 'Thursday Night Football' on Prime Video is a great step for us toward that vision, and offers tremendous new value for Prime members around the world."
Sebastian said Amazon's investment in original content for its streaming TV service has helped boost the number of Prime subscribers. It's another example of how the company's expansion into areas like logistics and cloud computing exist to serve Amazon's primary goal: getting people to buy more stuff from its website.
"Amazon has a lot of infrastructure to support its core business," Sebastian said.
Though Twitter paid only a fraction of what Amazon is paying for the NFL partnership, it broadcast the games for free and was beholden to advertising to generate revenue. When the deal was announced a year ago, it was billed as part of Twitter's new live-content strategy to garner more users. However, Twitter shares have sunk more than 10% in the last year.
"This helps kill the bullish Twitter narrative, that they will be the next worldwide player in live sports," Nathanson said.
Twitter declined to say whether it made a bid for next season's Thursday package, but emphasized that the loss of the contract to Amazon did not change its commitment to adding more live content — including the NFL's.
"The NFL was a great partner to launch our strategy and we will continue to work with them to bring great content to our passionate sports fans," a Twitter representative said.
Analysts say the NFL viewed Twitter as a trial balloon for digital partners.
The "NFL essentially used Twitter as a proof of concept last year to validate a new source of revenues which, while small in absolute terms, is already showing significant inflation and, more importantly, bringing additional bidders into the NFL orbit," analysts for Barclays said in a note to clients Wednesday.
Other experts say Amazon's subscription model will give the company some cushion to determine how to best deliver its football games, a luxury Twitter didn't have with advertising revenue. It doesn't hurt either that Amazon founder Jeff Bezos has a reputation for willingly absorbing losses so he can refine a business model.
"Five times the price [of Twitter] is irrelevant," said Michael Pachter, a research analyst with Wedbush Securities. "Amazon is experimenting, and $50 million is a drop in the bucket."
Amazon will not have a monopoly on the 10 Thursday games included in the deal. Those games can also be broadcast by NBC or CBS, as well as the NFL Network. Verizon also has a contract to show Thursday, Sunday and Monday games over its mobile app.
Football is something of a holdout in the streaming sports sphere, and a highly lucrative one at that. Baseball and basketball both boast streaming services that allow viewers to watch most games. Amazon's deal might amount to something of a showcase for the NFL to show that it can deliver live sports successfully, even as competitors like Facebook and Google circle the waters as potential alternatives.
Amazon is estimated to be investing more than $3 billion in original content for shows like "The Man in the High Castle." But even after it paid $970 million in 2014 to buy Twitch, a streaming video service popular among gamers, it has yet to make live content a key feature on its own service.
"This is Amazon taking the opportunity to show that it can broadcast live events at scale," said Glenn Hower, an analyst for Parks Associates. "Amazon may see this as an investment, a steppingstone as it were, to attract future live events."
Follow me @dhpierson on Twitter
Sign up for the California Politics newsletter to get exclusive analysis from our reporters.
You may occasionally receive promotional content from the Los Angeles Times.