American Airlines warns that fares may rise, but investors still aren't happy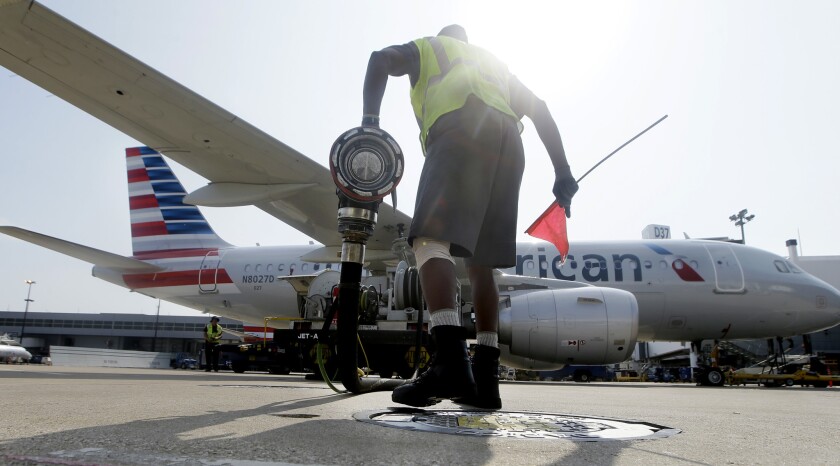 American and Southwest joined United Airlines in reporting expectation-beating earnings and unveiling expansion plans.
But investors, fearing that more flights might lead to a fare war, pounded airline stocks for a second day even as American Airlines signaled that higher fuel costs will probably force it to raise fares.
American Chief Executive Doug Parker told analysts Thursday that the Fort Worth-based carrier generated reasonable income last year even as fuel costs rose 20.8% to $5 billion. That will probably cause fares to rise industrywide to match the higher costs.
"Fares are too low for oil prices this high," Parker said. "Over time, you'll see adjustments. It takes time."
Investor worries began Wednesday when United Airlines reported that it plans to add 4% to 6% to its passenger capacity this year and maintain that pace through 2020.
"A lot of folks won't buy your stock because the belief is we're on a long-term trajectory to just dilute margins and take profits right back to break even and you have problems with balance sheets looking forward," Brandon Oglenski, an analyst from Barclays, told United Airlines executives during the earnings call Wednesday.
Before the economic meltdown a decade ago, airlines battled each other by adding extra planes and new routes in markets dominated by competitors, usually leading to air fare wars. The low prices convinced some fliers to switch airlines but the tactic led to higher expenses for the airlines, upsetting shareholders.
The big airlines consistently have earned more than analysts have projected thanks to steady demand growth over the last few years amid low fuel prices. But with fuel costs on the rise and a decline in international visitors to the U.S., airlines are likely to face turbulence in the next few years.
"When fuel costs are rising, it's going to be tough for airlines because they can't cut capacity or raise fares fast enough to react," said Seth Kaplan, managing partner for the trade publication Airline Weekly.
American took in $258 million in net income in the final three months of the year, down from $289 million for the same period in 2016. In the same period, fuel costs jumped 23%.
For the entire year, the airline reported $42 billion in revenue, up from $40 billion in the previous year. But higher expenses pushed income down to $1.9 billion for the entire year, compared to nearly $2.7 billion in 2016.
Excluding one-time advantages and costs, American earned 95 cents per share, beating the average Wall Street expectation of 92 cents per share, based on a Zacks Investment Research survey.
Parker tried to allay the fears that American's expansion might contribute to a fare war by noting that American plans a more moderate pace of growth than United, 2.5% to 3% for the year.
He said the carrier plans to use the higher capacity primarily to add extra flights from cities the carrier already serves to new destinations. One example is new service from Oklahoma City to Philadelphia, he said.
"That doesn't start fare wars," Parker said. "That doesn't engender enormous competitor response."
Southwest Airlines, the nation's biggest domestic carrier, reported $5.3 billion in revenue for the fourth quarter, up from $5 billion in the same period in 2016. The carrier's earnings per share of 77 cents for the fourth quarter beat the Zacks Consensus Estimate of 76 cents.
For the first half of the current year, Southwest said it plans to increase its overall capacity "in the low 3% range" and boost it to about 7% during the second half of the year.
Shares of American declined 3.2% to close at $53.05; Southwest lost 3.2% to $60.19; United Continental Holdings Inc. fell 4.3% to $66.08. Alaska slid 4.1% to $62.07; JetBlue dropped $1.36, or 6.2%, to $20.69; Delta Air Lines Inc. slipped 3.5% to $54.81.
To read more about the travel and tourism industries, follow @hugomartin on Twitter.
---
UPDATES:
4:20 p.m.: This article was updated with additional analysis.
This article was originally published at 11 a.m.
---
Must-read stories from the L.A. Times
Get the day's top news with our Today's Headlines newsletter, sent every weekday morning.
You may occasionally receive promotional content from the Los Angeles Times.