American Apparel is losing CEO Paula Schneider, who was supposed to turn it around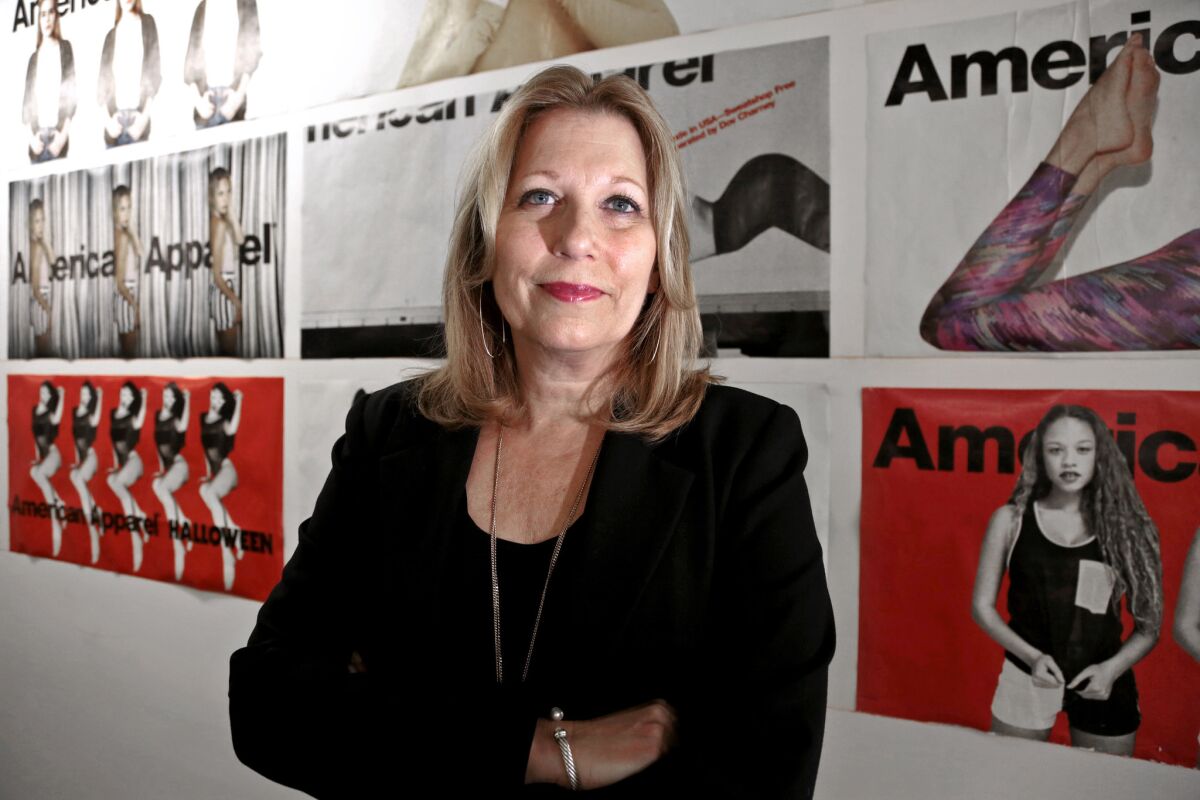 Paula Schneider, the chief executive tasked with turning around American Apparel Inc.'s flagging business, is leaving, according to two sources close to the company.
Chelsea Grayson, the company's general counsel and chief administrative officer, will take the reins as CEO on Oct. 3 — opening yet another chapter for the Los Angeles clothier that has been wracked by turmoil in recent years.
American Apparel also recently saw the departure of Chairman Paul Charron, a former CEO of Liz Claiborne who had joined the board in March. He was succeeded by fellow board member Brad Scher, founder of consulting firm Ocean Ridge Capital Advisors.
Schneider's exit comes as American Apparel is looking for possible buyers, said the two sources, one of whom was not authorized to comment and the other of whom did not want to publicly discuss a sensitive matter. The company has hired Houlihan Lokey, a Los Angeles investment firm, to explore a possible sale.
Schneider, a longtime retail executive, was brought on in January 2015 after American Apparel's board ousted founder Dov Charney as chairman and CEO. She intended to bring order to a company saddled with debt and losing money. Over her nearly two-year tenure, American Apparel filed for bankruptcy protection and was taken private.
A source close to the company said Schneider is leaving for personal reasons. But in her resignation letter to the board, obtained by Women's Wear Daily, Schneider said selling the company may hamper its turnaround efforts.
"The sale process currently underway for all or part of the company may not enable us to pursue the course of action necessary for the plan to succeed nor allow the brand to stay true to its ideals," Schneider's letter said. "Therefore, after much deliberation, and with a heavy heart, I've come to the conclusion it is time for me to resign as CEO."
Scher sought to reassure employees that Schneider's departure would not affect the company's day-to-day operations, according to a letter to workers obtained by The Times.
"Business will continue as usual," he wrote. "You will keep your current salary, and at the same hours. Everyone will come to work, do their jobs and get paid on payday."
Grayson, the incoming CEO, joined American Apparel nearly two years ago, at the same time as Schneider. Her background is on the legal side of mergers and acquisitions, not retail. In his letter, Scher described Grayson as having "a deep understanding of the business."
American Apparel still manufactures all its clothes in the United States, mostly in downtown L.A. But according to two sources close to the company, it is looking to move that work to a lower-cost part of the nation such as Tennessee or North or South Carolina.
Follow Shan on Twitter @ByShanLi
ALSO
Column: Pricing drugs by their 'value' to sick people is a recipe for ripoffs
It's strange Yahoo took 2 years to discover a data breach, security experts say
Why do customers flock to one dress and ignore another? Stores turn to heat mapping to figure out.
---
Sign up for the California Politics newsletter to get exclusive analysis from our reporters.
You may occasionally receive promotional content from the Los Angeles Times.